Kid Party Entertainment
Looking for some great Kid Party Entertainment Ideas? Decorating your house with lots fun party supplies, blowing up balloons and hanging streamers can be lots of fun. Also, preparing snacks or even making your own birthday cake can be rewarding at best. However, those details at a kids party are only half the battle. Keeping kids entertained is the other!


If you are having a party at your own home, than decide on a few fun Kids Party Games. Some games are can be easy altered to fit your theme. Pin the tail, musical chairs or planning a scavenger hunt are great ways to add your own twist and make it fit your party.

Having a craft centre is also a great way to keeping busy party goers from becoming bored or worse getting into trouble. Pick up some simple craft materials like stickers, feathers, buttons, pipe cleaners, pop poms, glitter glue, foam cut outs, popsicle sticks, tissue paper, crayons or markers. With those materials, your options are endless. Simply print out some coloring sheets, or purchase coloring books for kids to take home at the end of the party. Or, make puppets using brown lunch bags, and then have a puppet show!

Let kids decorated their own cookies! With some icing, sprinkles and, chocolate chips your guests will be entertained and happy to eat their new creation!


---
More Great
Kid Party Entertainment
Piñatas are a hit at any party! You can get almost any type of theme related pinata you want, or be creative and make your own. This is however when safety is a must! Please play responsibly.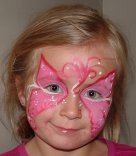 You can also do some Face Painting. Either pick up some face paint and attempt on your own, or hire a professional to come to your house. The kids will love it!

The same goes for making Balloon Animals. Your guests will be amazed, and they will have a favour to take home with them.

Hire a kids party entertainer. Do you remember the first time you saw a Magician? If you were like me, you were a kid and still to this day wonder how those two rings became attached! Hiring a Magician for your party does two things: Entertains your guests, and supports local talent.

When I turned 5, my mom got our neighbour to come over to my party dressed as a Clown. My friends and I loved it! I knew who she was, but my friend didn't and my friends loved her! She stayed to play games, sing some songs and help give out party favours. (Thanks again Ann-Marie!)

Kids love to dance and sing, and a party is the perfect place to do both! Set up a karaoke machine and a stage and let the kids entertain you! I am sure you'll be amazed! You can need be too prepared when it comes to kid party entertainment!



Share Your Entertaining Ideas Here!

From Kid Party Entertainment to
Kids Parties
Teen Party Ideas Adult Party Ideas |
Perfect Party Supplies Discount Newsletter |
Share Your Party Ideas Party Blog |
Site Map |