18th Birthday Party Ideas

| | |
| --- | --- |
| | Host a sensational celebration with these 18th birthday party ideas. It might be hard to believe, but you are a legal adult. So, party on, spoil yourself, and have fun.  |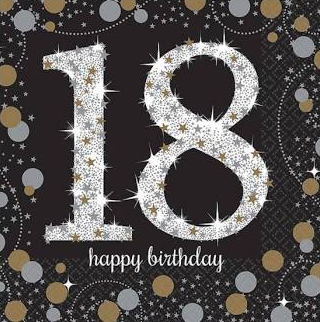 Host a sensational celebration with these 18th birthday party ideas. It might be hard to believe, but you are a legal adult. So, party on, spoil yourself, and have fun. 
---
18th Birthday Party Invitations

Be simple for your party invitations and send out a group text at least a week before. Make sure to tell them the theme and if they need to bring anything or dress up a certain way. Then, the day of send a reminder about an hour before to make sure everyone shows up on time. Add a fun saying like "my childhood has expired" or "apparently now I'm a legal adult".
---
18th Birthday Party Decoration Ideas

Have Mylar balloons of the number 18
Have a stack of post-it notes and have the guests write kind messages on them when they arrive. Then, post them on a board that has a marker outline of the number 18 to create a kind positive 18 message board. 
Photo booth - set up an area to take pictures with a shimmery backdrop
Have helium balloons resting against the ceiling with ribbon for people to grab
Have an 18th birthday tiara or hat for the guest of honor
---
18th Birthday Party Activities and Games

Photo collage - when every guest arrives take a 0.5 photo with the guest of honor.
Brunch party - have your friends over for an elegant brunch with orange juice and sprite in champagne glasses and chocolate croissants with strawberries. 
Picnic date - have everyone bring a towel or blanket and pillows to create a comfy spot in the park. Bring food and drinks in coolers to keep cold. For the cake, give everyone a plastic wine glass to use as their place, this makes no cutting of the cake. 
Disposable cameras - when everyone arrives give them a camera, have them take candid pictures, and after get them developed and share in an online file. 
Dress as a celebrity - have the guests choose their favorite celebrity and come dressed as them with clothes, hair, makeup, music, etc.
Karaoke - rent a karaoke machine or use a microphone and sing. Make the mood more intense by lowering the lights and using a spotlight.
18th photoshoot - do a photoshoot outside or inside and rank the photos from 1 to 18 by the end. For one of the photos, cut out the number 18 on a piece of paper and tape it to an empty toilet paper roll. Then, tape the whole thing around a flashlight to create the number 18 across the background/being the focal point of the picture when posing. 
Have a pizza party chill movie night by ordering in some pizza and just hanging out.
Play darts - set up the dart board in a carefully chosen spot, as not everyone is a master dart player and you do not want holes in your walls. 
Rent a hotel room/summer house - this is more a more expensive option
Photo scavenger hunt - have a list of items and go to the mall. You have to take a picture of each occurrence to prove you say it. 
Extreme nerf gun - divide into teams or have every person for themselves and give everyone a nerf gun. Then, spread out around the neighborhood, establishing boundaries and start. To make it more difficult, you have to send a picture of your location every so many minutes. This is especially fun at night and can be played until there is an ultimate winner. 
Go to the beach - spend time in the sun and then go out for ice cream 
Spa day - go to the spa, get your nails done, get a facial, etc.
Decorate sunglasses - get cheap trendy sunglasses and write over the lenses with permanent marker 
Bracelet making - have lots of colors of embroidery thread and make bracelets using simple patterns, like square-knot or ladder. You could also make bracelets using beads and necklace string (it is stretchy). These make fun party favors. 
Presentation night - assign each guest a different funny topic (i.e. if everyone was a pasta, what would they be) and they then have to make a short presentation with pictures on the topic and present it to the group. 
---
18th Birthday Party Food Ideas

Aesthetic minimalist cake that has thick icing swipes and the number 18 in small white lettering
Have a layered cake with 18 candles 
Chocolate covered strawberries 
Fruit kabobs with strawberries, pineapple, and blueberries
Order pizza, or make individual pizzas
Go to a restaurant
Fruit punch with berries, lemon or lime slices and ice
Candy bar or candy kabobs 
Golden cake pops
Large nachos that take up the whole counter
Make your own tacos



Aesthetic minimalist cake that has thick icing swipes and the number 18 in small white lettering
Have a layered cake with 18 candles 
Chocolate covered strawberries 
Fruit kabobs with strawberries, pineapple, and blueberries
Order pizza, or make individual pizzas
Go to a restaurant
Fruit punch with berries, lemon or lime slices and ice
Candy bar or candy kabobs 
Golden cake pops
Large nachos that take up the whole counter
Make your own tacos
---
18th Birthday Party Ideas - Favors

Fun sunglasses
A mason jar filled with candy
Bracelets from the party or emodiary string
Aesthetic stickers
Printed photos from the party