Girly Girl Theme Parties

Do you have a little princess who wants a Girly Girl theme party? Why not make her dreams come true and have a party that only girls know how to do. Turn your house into a castle or spa. Have a royal ball for your princess and her friends. Throw a craft party and make some jewellery like beaded necklaces or bracelets. Paint faces or give make-overs.

---
Top Girly Girl Theme Parties


Tangled Party
---
More Fun Girl Parties
Spa Party/Makeover Party - Girly Girl Theme
Book some time at a spa and have you and your friends get your nails, hair or make up done at the same time. Afterwards, go out on the town and show off your new look. This may cost you a few, but lots of fun and great for girl bonding. On the other hand, you can turn your house into a Spa. Set up stations for nails, hair, make up, facials etc. Play some relaxing spa music, light some scented candles and serve some fun drinks in champagne flutes. Take some glamour shots and a group photo to send home with your guests.
---
Girly Girl Theme Slumber Party
Having a sleep over with your friends is tons of fun. Invite your guests to bring or wear their pyjamas and bring their pillows. Have some of your favourite snacks, watch some movies and play a few fun games.
Truth or Dare: You choose to tell the truth, or to do a dare. Your friends decide what question to ask or what dare to do!
Spin the bottle: Depending on who is at your party you can choose different tasks to perform for this game. Have everyone sit in a circle. One player spins the bottle. The person the bottle points to after it stops spinning will do what was decided. For this game, I'm not going to give any suggestions, you can figure it out!
The Story Continues: You'll need a note pad and pen. The first person writes the first sentence in the story. Past the pen and pad and have the next person write the next line. Keep passing it around until your story is finished. Read it! and Laugh!
---

Cooking Party - Girly Girl Theme
Invite your guests over to help you prepare a meal or to bake some treats. You can have a decorating your own cookie party. Or, make and decorate some cupcakes with rose shaped icing. You can also organize a cookie swap party where everyone brings one or two dozen of their favourite cookies. Divide all the cookies up and everyone goes home with some of every kind! This also works great for squares or other treats for around the holidays.
---
Dress up Princess Party
Send out some butterfly invitations and invite your fellow princesses come dressed in their favourite princess ball gown, equipped with their tiara and slippers for a royal ball. Play classical music like Tchaikovsky or Mozart and have the girls practice their ballet. Have a Mirror Mirror on the wall. Rent an inflatable bouncy castle and decorate with Pink balloons, streamers and bouquets of flowers. This party can also be a Pretty in Pink Party where everyone dresses in pink and all your decorations are pink. Play some fun princess party games.
Find The Pea Game: Place a pea or marble under one of three pillows. Have the girls try and guess which pillow it is under by sitting on it or lying their head on it.
Glass slipper toss
Candy Guess
Hide a glass slipper and have a Treasure hunt
Put together a Princess puzzle race
This party can turn into a:
---
Girly Girl Theme Craft Party
Make your own jewellery. Buy some beads and other jewels, string and claps and make your own necklaces or friendship bracelets. You also decorate and make your own tiara for your princess party. Use pink glitter glue, stickers, feathers, jewels and any thing else you have. Another fun craft is first build a puppet theatre. You can make one out of and old big box by breaking it open and cutting a hole in one side. Have fun and decorate. Use grey duct tape to make it look like bricks for your castle. You can also build some towers. Then have all your guests make their own puppets for a puppet show. This is lots of fun. If you first pick a theme or story like Cinderella or another fairy tale you can make your puppets to match the characters in the story. You can use brown lunch bags, popsicle sticks, old socks or whatever you can think of. Have your video camera ready to capture the performance.

---
Chocolate Party
The name of this theme party explains it all. Everything to do at this party revolves around chocolate. Be creative. You can have a chocolate fondue. Or chocolate cake and ice cream with chocolate syrup and sprinkles and the list continues! And of course lots of other chocolate treats for you and your guests to enjoy!
---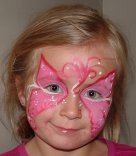 Face Painting
Hire a face painter to come to your house and transform you and your friends into whatever they what! Princess, Fairy, butterfly, or any other animal. If you are a little artistic, you can buy at home do it yourself face painting kits and attempt it your self!
---
Girly Girl Theme Favours
Glow bracelets
Stickers
Colouring Book with crayons
Tiara
Friendship Bracelets
Hair Elastics
Nail Polish
Ear rings
Lip Stick
Music CD
Candy necklaces
Candy rings
Share your Girly Girl Theme Ideas!

More Kids Party Ideas


Teen Party Ideas Adult Party Ideas |
Perfect Party Supplies Discount Newsletter |
Share Your Party Ideas Party Blog |
Site Map |