Learn About Us At
Perfect Party Ideas.com
Hi! My name is Steve and this is my family! Welcome to the About Us section of perfectpartyideas.com.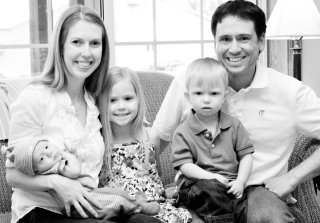 I live in a small village in Ontario, Canada. My childhood started here, and though there have been many moves to both coasts of the country, my wife and I have settled back here to be close to family, and to raise our 5yr old daughter, 2yr old and now 1 month old boys. I grew up being the third of four boys, and I have lots of aunts, uncles and cousins. This of course entails many parties and lots of "Perfect Party Ideas!"
I was raised on a farm and learned the value of hard work. Spending most of my adult life working on a farm myself, and spending many hours away from home in the barn or in the fields, I missed that quality time with my wife and kids. When my wife went back to work after being home on leave with our 2nd child, we decided to go against the stream of society and I quit my job at the farm to stay home with the kids. This way we could avoid putting them through the Daycare system, raise our own children and watch them get on and off the school bus. Hard to grasp for most people, but it made sense to us and I love it!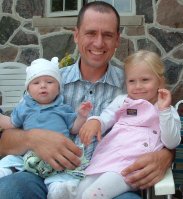 With my new found energy (from not having to get up at 4am) I started to explore different ventures of the web and how to start a home based business. ( I figured I had to pull my weight some how!) I stumbled upon Site Build It! a company that claimed to be able to teach anyone with a hobby or passion how to make a profitable Web site. What started out as curiosity, snowballed into a real "work at home" job. I took those party ideas and developed this web site to share with others. I would work on the site early in the morning, during the kids nap time and even after the kids went to bed. I was hooked! I couldn't believe how much I was learning and having fun at the same time! It's also been away to express my creativity and the more time I spendt at home with the kids, the more I knew I wanted to do this full time!!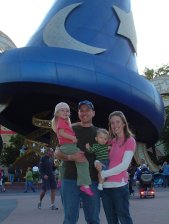 Imagine that! Me, farmer Steve, who knew just how to check my email, turned stay at home dad and then webmaster (well that's debatable).

Now that my wife is on leave with our third child, we are both able to stay home with our kids!

I hope you've enjoyed getting to know me (us) and I hope you visit us often. Feel free to add us to your favorites or better yet, subscribe to our blog to the left of this screen for up-to-date party ideas. Please visit our Contact Us Page and leave a message or share one of your party ideas!

If you are interested in turning your passion or hobby into a profitable business, Click Here to learn more.

Thanks for reading our About Us Page!

Sincerely, Steve


Leave About Us To
Learn More Of How To Work From Home!


Teen Party Ideas Adult Party Ideas |
Perfect Party Supplies Discount Newsletter |
Share Your Party Ideas Party Blog |
Site Map |
Remember, results may vary. You get out what you put in. All of this information is here to provide you with an educational view of this product and to give you some isolated examples of success. However, these are the exact same tools I used to build this web site! So, if I can do it, you can do it too!
About Us ~ About Us