1st Birthday Party Ideas


Do you remember your 1st birthday? I bet your mom or dad do. First birthdays are a like mini reward party for parents too. Being a proud parent is why we have kids in the first place. Have a nice first birthday party for your child that is comfortable, yet full of fond memories.


---
First Birthday Party Invitations
If you live near family, grandparents, aunts & uncles and cousins are a natural choice. However, stick to a small group so your little one does not feel over whelmed when being handed from person to person. Take this opportunity for pictures and make a home made family tree. This is great for a bed time story, and can be used for a thank you for your guests.

If you and your child are in a play group, invite 3 or 4 parents and your child's play mates for a play date. Stress on the invitations if older siblings are invited. If so, plan to entertain them as well.


---
1st Birthday Party Themes
1st birthday parties usually fall into two themes. The number "1", or a cute character like Mickey Mouse or Elmo. Or if you decide a combination of both. Whatever the theme, choose fun and bright colors. If you are having balloons be sure there are enough to send one home with the other children. Most kids love balloons, but not so much if they pop. Keep them high until the end of the party! Here are some fun


---
When
First Birthday Party Ideas
Choose a time that fits your child and their guests napping schedule. Saturday mornings from 9am to 11am is a great time and long enough. Again, this avoids feeding an army of adults. Put on a pot of coffee and have a few cookies or donuts. Keeping it short is also good for avoiding tired tears. Remember, this is supposed to be a happy memory!


---
Where
For First Birthday Party
Have the party where your child feels most comfortable. At home or at a close relative is best. An at home party gives you a chance for some fun decorating anyway. If there are younger guests be sure to leave out age appropriate toys to play with. Some people tend to put all the toys away when getting for a party. This is a 1st birthday party. Let everyone play!


---
First Birthday Party Food
1st Birthday Party Ideas
For a snack, animal cookies of fishy crackers are fun for the kids. As for the cake, cup cakes for a first birthday work. A single candle in the middle of a decorated cup cake is very cute and easier and safer for your child to attempt to blow it out. If they like cake, then let them eat it all by themselves. It may cause a mess, but it's all in good fun and great for a photo!


---
First Birthday Party Presents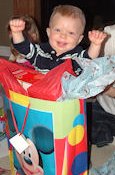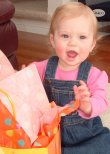 Opening presents is optional at the party. This sometimes causes grief when an older child wants to help. One year olds are usually more interested in the wrapping paper anyway. This also avoids awkwardness if your child throws the gift aside in front of grandma.

Take lots of pictures and make a 1st birthday photo album. Include the birthday cards. A thank you note for attending with you child's picture included is a nice touch!





Top of 1st Birthday Party

Share Your Party Ideas!



Perfect Party Ideas Home | Birthday Party Ideas | Kids Party Ideas | Teen Party Ideas
Adult Party Ideas | Seasonal Party Theme Ideas | Party Games | Party Supplies
My Secret | Contact Us | Privacy Policy | Share Your Party Ideas | Party Blog | Site Map
Party Links | Cake Ideas