2nd Birthday Party Ideas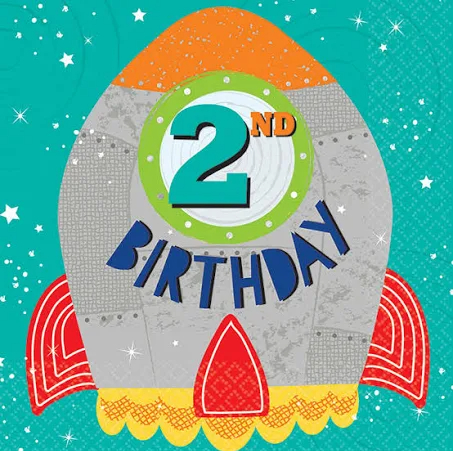 "These 2nd Birthday Party Ideas are 2nd to none!"

2nd birthday ideas are difficult sometimes to think of because of the age and mixed age group attending the party. A 2nd birthday is truly a time to celebrate for both the child and their parent. Wow... two years flies by way too quickly! Happy 2nd Birthday!
---
2nd Birthday Party Invitation Ideas

You can use the standard invitations that will meet the theme of your party or you could make your own invitations. If you wanted to make your own invitations consider making a photo invitation. Take a unique photo of your child or select a favourite photo. Try dressing your 2 year old up in adult clothing and jewelry or dress them up as an occupation they want to be when they grow up. On this photo or on the back write the party information. This is a cute idea and your friends and family would love another cute photo of your child.
---
2nd Birthday Party Decoration Ideas

For a second birthday party you really want the colours to pop. Try using little Tupperware containers that will match my theme to hold the different activities, favours, etc. (e.g., Mickey Mouse use red, or Tinkerbelle use purple). Another simple idea is to decorate with their favourite toys, again a couple that fit the theme of the party will do. The other fantastic idea that gives huge impact is to cover your existing pictures on your wall with either matching theme wall paper or cut up matching theme tablecloth. Your biggest decision is what the theme will be. For a great selection of kids party supplies, see our Party Supplies Page!
---
2nd Birthday Party Themes

For a child who is turning 2 you probably already know who their favourite character is or have an idea, but here are some others: barnyard party, litte cowboy, dinosaur party, firefighter party, jungle party, ladybug party, etc. You can find all these themes plus numerous other party themes on our kids theme party page with more specific descriptions of the parties.
---
2nd Birthday Party Game Ideas

Fill a party room with balloons and the kids can play like they are in a ball room.
Blow bubbles and try to pop them. You can get really good bubbles that will stay even on your carpet, then the kids can all catch some.
Set up a duck pond if weather permits. Use a baby pool and float rubber ducks in the pond. (Remember water safety with the kids and water)
Go fishing! Use a baby pool and bath fishing set. (Remember water safety with the kids and water)
Play dress up
Duck, duck, goose (household favourite)
Turn on the music and dance

!

Do a craft (theme based) using regular stickers and foam stickers. Kids love stickers and the craft will turn out nicely.
See all our Kids Party Games and Kids Birthday Games Here

!
---
2nd Birthday Party Food Ideas

At this age, really the food mostly is for the adult guests. Self serve a veggie tray, a fruit tray, cheese / meat tray and maybe a couple of chip and dips. Really the kids want the cake.

For a cool 2nd birthday cake, have a cake that is shaped like the number 2. Create the shape (or I would get a pan shaped like the number) and use a cake out of a box. Use your colour theme to dye the icing and then cover the cake with smarties or m&ms.

Again keeping in mind that your child is turning 2, I made cupcakes with my kids. I made regular cupcakes and let them help me put sprinkles on the top. (This way if a child sticks their finger into a cupcake that one is their's).

To put the sprinkles on evenly try putting the sprinkles onto a teacup plate. Turn the cupcake upside down and push it into the sprinkles. Then display the cupcakes using a cupcake holder.

---
2nd Birthday Party Favour Ideas

At this age you want to keep in mind the age of the guests attending the party. If the guests are older you want the favours to be age appropriate. In this case, make the favours all unique and put the guests names on the outside of the bags. If the guests are all about 2 years old, make your favour something fun and something practical. Snack size fishy crackers, a little toy and maybe something unique like Mickey Mouse Popsicle makers (the kind you make with juice and freeze).