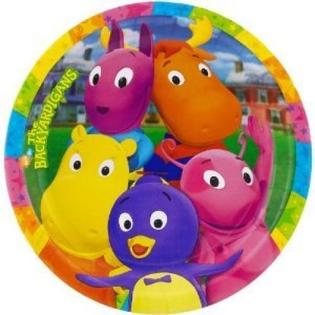 Have your own Backyardigans Party and invite Tasha, Uniqua, Austin, Pablo, Tyrone and the rest of your friends to your backyard! Pick your favourite episode and decorate to match. Have your guests dress as their favourite character or become a Pirate, Super Spy, Wizard, Yeti, or The Lady in Pink!

If your having your party inside hang banners, balloons, streamers and posters of the Backyardigans. Or better yet, why not really have it in your backyard, or in a park or soccer field. Award medals and ribbons as prizes for your party games.
Play some fun music and have a dance to show off your best Backyardigans dance moves. Don't forget about the snack. That's the most important part! Decorate your "snack" table with a Backyardigans table cloth with matching plates, cups and napkins. Have the kids wear party hats! To help you further, here is list of episodes with the snack had at the end of each show! Choose one and have it be your theme.
"We've got the whole wide world in our yard to explore! Now it's time for us to have a snack! Meet you next time when we're back."
-end backyardigans theme song.