Beach Party Ideas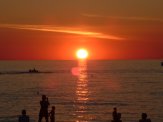 Having a Beach Party? Then look no further for a full list of ultimate beach theme party ideas. You can set the scene at a real beach, or bring the beach to your back yard. Play a game of beach volley ball, eat some shrimp, have a drink, sun tan then dance the night away around a bonfire. You'll host the party of the summer!



---
Decorations and Beach Party Supplies
For Beach Party Invitations, write a nice poem or use a glass bottle and put some real sand in. Take old faded paper(or make your own and stain it with tea) write your invitation and seal it with a cork
Fish and lobsters
Seashells
Turtles
Lobster trap
Plaid picnic style table clothe
Sand castle shaped buckets
Balloons
Sandcastles
Dolphins
Hang Bright Yellow Suns
Fishing rods and fishing line
Green fish nets over the tables
Real coconuts and bananas
Pirate Ship
Beach Balls
Lifesaver ring
Buffet decorated with a beach towel and scattered seashells
Canoe or inflatable boat filled with ice for the bar
Bubbles
Make a grass hut
Inner Tubes
Flower Leis
Beach Umbrellas
Beach chairs
Inflatable Rafts
Boogie Boards
Surf Boards
Starfish
Beach Pails, Shovels and other beach toys
Yellow Streamers
Inflatable Palm Trees
Real gold fish swimming in a clear fish tank

Beach tents
Beach towels
Palm tree sprinkler
Citronella candles
Rainbow streamers
Tiki Torches
---
Beach Birthday Party
Food and Snacks
Gold fish crackers
Hotdogs shaped like an octopus
Crabmeat
Coconut
Lunch meat
Cheese
Chips
Pizza
Shrimp
Mussels
Lobster
Fish
Barbeque chicken
Hamburgers and Hot Dogs
Sea shell pasta salad
Beans
Tropical trail mix
Veggie tray with different dips
---
Fruit
Strawberries
Apple slices
Blueberries
Grapes
Pineapples
Watermelon
Tropical fruit kabobs
Cantaloupe
Coconut
Bananas
Oranges
---
Dessert
Ice cream Sundays
Cake decorated like the beach and ocean
Make chocolate shells using a chocolate mould with white milk and dark chocolate
Worm buffet with gummy worms
Snow-Cones
Cupcakes
Ice cream
Rice krispie squares shaped like fish
Soften some ice-cream, put it in Sand castle mould or bucket then refreeze it
Smores
---
Summer Party Drinks
Ice slushies
Fruit and apple juice with straws
Chocolate milk
Hawaiian Punch
Soda
Lemonade
Strawberry smoothies
Use coconut cups
Strawberry daiquiri
Pina colota
Lime, lemon slices
Cherries
Drink umbrellas
Don't forget ice
---
Beach Theme Party Attire
Party hats
Flip flops
Sundress
Sunglasses
Suntan Lotion
Beach Hats and/or Straw Hats
Snorkels
Masks and Flippers
Grass skirt
Hawaiian shirts
Sun visors
Beach Bag
Bathing suit
Bathing suit wrap
Beach Towel
---
Beach Party Games, Activities
and Music

Luau/Hawaiian Party Games Pack - $ 19.95
Looking for fun Hawaiian Luau party ideas? Our printable Luau Hawaiian Party Games Pack is the perfect cocktail of frothy, beach-themed fun. Luau games include Moo-Luau Mad Libs, Lei It On Me Ice-Breaker, Luau Printable Paper Dolls, Beach Party Theme gift exchange game, Luau Newlywed Game, Survival of the Fittest, Pin the Parrot on the Pirate, Fast Food Trivia, Hawaii Five-O Trivia and much more.

Play Hawaiian Island Music
Beach music
Reggae
The Beach Boys
Some light calypso
Beach volleyball game
Slip and slide
Water balloon fight
Watch an outdoor movie like Jaws
Limbo
Dance competition
Sing songs
Hula hoop contest
Sandcastle building contest
Throw Frisbee
Kite flying
Bon fire
---
Beach Birthday Party Favors
Tropical flavoured candy
Party blower
Bubble Bath
Sun visor
Flowered Leis
Glow in the dark jewellery
Sunglasses
Beaded bracelets
Have a Treasure Chest full of prises like candy necklaces, candy rings and gold chocolate coins
Return To Top Of Beach Party

More Summer Party Themes

Share Your Beach Party Ideas!


Teen Party Ideas Adult Party Ideas |
Perfect Party Supplies Discount Newsletter |
Share Your Party Ideas Party Blog |
Site Map |