Beauty and the Beast Cake Idea
How to make a Beauty and the Beast Cake
I made an 8 inch square double layered Beauty and the Beast Cake. I wanted the cake to look like they were in the ballroom dancing. As I said this is a double layer cake, even though it looks thin in the picture was a full double layer with icing between the layers. Once the cake is made, cool it and then cover it with an extremely thin layer of icing for a crumb holder.
I then made a light yellow marshmallow fondant. The recipe for the marshmallow fondant can be found below. Roll out your fondant and place it onto the cake. When moving the fondant I usually use my large roller while moving the fondant to add stability so it doesn't tear. I then used my Wilton Ribbon cutter/ embosser to create the floor. I placed on a wave design and created the ceramic design for the floor. I then made a ruffle border using the Wilton straight scallop cutter. I made a ruffle at the top of the cake and with the same tool I cut another scallop for the bottom. At the bottom I used a fondant and gum paste tool that looks like a shell to make a nice design for the bottom. To accentuate the ceramic floor I placed a cinnamon heart at the crosses.

I placed the Bell and the Beast dolls on top of the cake (my daughter's toys). To finish off the cake I made a red rose out of gum paste and placed it on a spaghetti noodle to stick into the cake. The rose did still have all the leaves on the flower. What a fantastic cake to enjoy while watching Disney's Beauty and the Beast movie.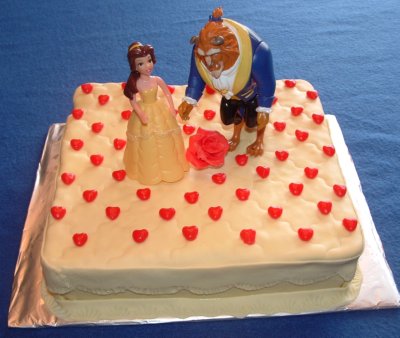 Tools Used to Create the Ceramic Floor Design
What tools did I use...
Wilton roll and cut mat - This mat is a great addition to use if you want to make precise cuts in your fondant. It has both a circle grid by size and a square grid. Even though it is a non-stick surface I still added a dusting of powdered sugar before adding the fondant.
Large Fondant Roller - this is quite large and has guiding rings that can go onto either end of the roller pin. The guide rings will help keep a consistent thickness for your fondant. It is super smooth, cool to the touch and easy to clean.
Wilton Ribbon cutter/ embosser - this tool is great to create unique designs along any strip of fondant. You set the design and then roll out the pattern. It adds texture in a subtle way.
Wilton straight scallop cutter - Just like above this tool adds a scallop by just rolling out the design. 
How to Make a Simple Fondant
There are so many recipes for different types of icings and fondants. I truly believe that homemade fondant often tastes much superior to store purchased. For this recipe I made a marshmallow based fondant. The marshmallows make a sweet flavor to the taste and a beautiful finish to your cake.
Ingredients:
4 cups of powdered sugar
4 cups of mini marshmallows
2 tablespoons of water
flavor and food coloring is optional
Steps to make Fondant
Combine water and marshmallows and microwave for 1 minute until the marshmallows expand. Or if you don't use a microwave, use a double boiler and steam to warm your marshmallows.
Stir the marshmallows until they are completely smooth with no lumps.
If you want to add flavor this is the time to do so. A few drops of flavor should be enough.
Add the powdered sugar and still until it thickens and is difficult to stir.
At this point the fondant mixture will not be smooth and not all incorporated. Place it on a surface that has a dusting of powdered sugar.
Knead the fondant with your hands until it is smooth and a good texture that is not sticky. If it stays sticky add a little extra powdered sugar. Be careful not to add too much powdered sugar or it will be too hard.
Divide the fondant if you are going to use different colors. Create a disk shape and add a few drops of coloring. Knead again while wearing gloves, so that your hands don't pick up the color.
If you wish to save some of the fondant for later projects wrap it with saran wrap and then place that into a tubberware container.
I wish you all the best when designing and creating your unique Beauty and the Beast cake. The cake can be a fantastic focal point to any celebration. It's wonderful for taking pictures, adding to your party theme and delicious to enjoy with all of your friends and family.