Bunco Party Ideas
Shared By Kylie
Bunco Theme Party Ideas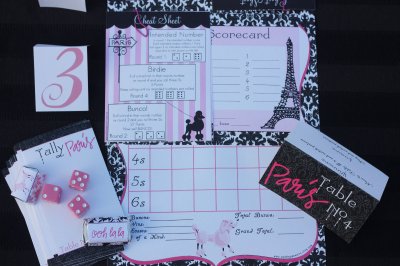 Bunco Set - from madebyaprincess.etsy.com
I hosted my first bunco party for 15 girlfriends this past weekend and decided the kickoff party had to be a Pink Parisian theme. Invitation: Pink background with a Parisian cafe scene across the top and black and white damask along the bottom. The wording said: "Come to an evening in Pink Paris, For a Bunco Bonne Fete, C'est Magnifique!" Decorations: Pink, hot pink, black, white, and silver were the colors I used.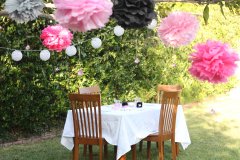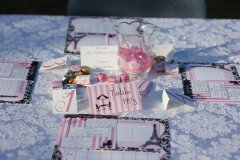 The party was held outside in my backyard so I had twinkly lights in the trees and candles on the tables. I made tissue paper pompoms and hung them in the trees. I bought balloon lights from Michaels and strung them through the pompom so they glowed. At the end of the light I hung a pink crystal with fishing wire so they looked like floating diamonds in the trees. I used black and white tablecloths and used the same crystals hanging in the trees in vases on the tables with "fake" candles to cast a pink glow.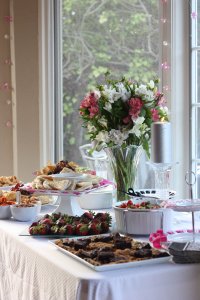 I designed and created all the bunco materials and each table had a different theme ( Eiffel Tower, poodle, "Paris", and parisian cafe.) In the house I had more lighted pompoms with drop crystals, glitter garland (from Martha Stewart), strings of pink crystals in the windows, and pink, white, and black serving pieces. Food: Chocolate dipped strawberries, strawberry wafer cookies, gougere, tray of french cheese and crackers, macaroons, puffed pastries, brownies, cookies, mini quiche, tomato and cucumber salad, and chips and dip. We also had lots of French wine and sparkling pink lemonade.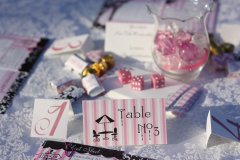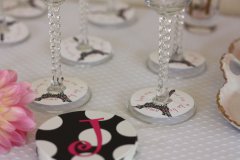 Wow factors for the guests: The twinkly tissue paper pompoms dripping with crystals. Everyone loved those and it was a fairly easy (although time consuming project). The coordinated scorecards, table tents, and tally sheets, wine charms, and accessories were a big hit as well.
Photography credit for the Bunco Party goes to Tricia Breidenthal.
Leave Bunco Party To Add Your Ideas Here!
Perfect Party Ideas Home | Birthday Party Ideas | Kids Party Ideas | Teen Party Ideas
Adult Party Ideas | Seasonal Party Theme Ideas | Party Games | Party Supplies
My Secret | Contact Us | Privacy Policy | Share Your Party Ideas | Party Blog | Site Map
Party Links | Cake Ideas