Care Bear Party Ideas

Care Bear Party Countdown! 5, 4, 3, 2, 1. Let the Beary special birthday party begin! On your invitations write: "We're having a Beary special party to celebrate _____'s __th Birthday!" Invite your guests to bring their special teddy bear along to the party. Also attach a packet of Care Bears gummy candies with the invitation. Seal the envelop with a Care Bear sticker (the birthday boy or girl will love helping with this). This will help excite the kids of the upcoming Care Bear Birthday Party.


---
Care Bear Party Supplies and Decorations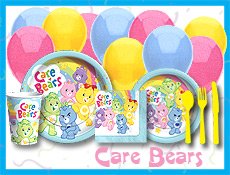 Care Bears Birthday Party Supplies
Care Bear Perfect Party Pack
Birthday Bear would say to keep things simple and to get a all prepared Care Bear Party Supplies kit so you can rest to enjoy the celebration!



Remember to make all your Care Bears Invitations to everyone except No Heart, Beastly, and Shreeky. Cheer Bear would so approve of sending out thank yous for your Care Bear Birthday!



Turn your house into the Kingdom of Caring, which is made up of Care-a-Lot
Create a care-o-meter
Listen to Care Bears music

Introducing the Care Bears
The Care Bears Care For You
Adventures in Care-a-Lot
The Care Bears' Birthday Party
The Care Bears' Christmas
Friends Make Everything Better
Meet the Care Bears
Care Bears Holiday Hugs
Care Bears Christmas Eve
Journey to Joke-a-lot
Care Bears Nighty-Night
Newest Cds: Care Bears Share A Smile and Care Bears Let's Be Friends

Hang balloons and streamers in blue, purple, yellow and pink
Hang pictures of Care Bears
Make a large rainbow
Display lots of Care Bears (share with guests who forgot their teddy bear)
Use white pillows and blankets / carpet for the clouds
Yellow sun light fixture
Rainbow Pinata
Hang a Care Bear Party Banner
Care Bear Table Center Piece
---
Care Bear Party Games and
Care Bear Birthday Party Activities
Care Bear colouring sheets
Face painting (simple shapes) on cheeks. Draw rainbows, hearts, suns, moons, shamrocks, clouds etc. from their favorite Care Bear
Decorate their hearts for the Pin the Heart on the Care Bear Game (decorate with paint, glitter glue and jewels)
Pin the Heart on Tenderheart Bear (use a poster and cut out heart shapes from card stock)
Find the Birthday Bear (hide and go seek)
Care - O - Meter warning. Follow the trail to make someone happy. Make the trail of clouds and rainbows decorate them with stickers. The trail will lead to a hidden present for the Birthday boy/girl or prizes for the guests
Go on a Bear Hunt
Catch the Clouds. Sit guests on the floor with a bowl, cotton balls and a spoon. Blind fold them and see how many "clouds" they can scoop into the bowl in a couple of minutes
Musical clouds (chairs) holding bears of course. Either use the typical chairs and attach white balloons or go to a carpet company and see if they have any sample white carpet / or end of the roll
Tie die rainbow shirts (if party is outside)
Make masks of their favorite Care Bear
Rainbow Pinata
Read a Care Bear story
---
Care Bear Theme Food

Rainbow cookies
Rainbow fruit salad with strawberries, oranges, green grapes, and watermelon
Finger sandwiches shaped in bears, rainbows, and moons (use your favorite cookie cutters)
Gingerbread bears
Care Bear Cake
Rainbow Cake
---
Care Bears Party Favours
Create you own Care Bear loot bags
Bubbles
Coloring book and crayons
Rainbow colored slinky
Care Bear Gummy candies
Rainbow necklace
---
Come Dressed in a Care Bears Costume!
Birthday Bear
Cheer Bear
Bedtime Bear
Friend Bear
Funshine Bear
Good Luck Bear
Grumpy Bear
Love-a-Lot Bear
Tenderheart Bear
Wish Bear
Baby Hugs Bear
Baby Tugs Bear
Champ Bear
Daydream Bear
Forest Friend Bear
Grams Bear
Harmony Bear
Perfect & Polite Panda
Sea Friend Bear
Secret Bear
Share Bear
Surprise Bear
Take Care Bear
True Heart Bear
All My Heart Bear
Always There Bear
America Cares Bear
Amigo Bear
Bashful Heart Bear
Best Friend Bear
Do-Your-Best Bear
Fire Heart Bear
Happiness Bear
Heartsong Bear
Hopeful Heart Bear
Laugh-a-Lot Bear
Oopsy Bear
Pink Power Bear
Play-a-Lot Bear
Shine Bright Bear
Smart Heart Bear
Snow White Heart Bear
Superstar Bear
Sweet Dreams Bear
Thanks-a-Lot Bear
Work of Heart Bear
Me Bear
Messy Bear
Too Loud Bear
Wish-A-Lot Bear








Top of Care Bear Party

More Fun Kids Parties



Teen Party Ideas Adult Party Ideas |

Perfect Party Supplies Discount Newsletter |

Share Your Party Ideas Party Blog |

Site Map |