Cheerleading Party Ideas
Get ready to tumble, dance and cheer! These Cheerleading Party Ideas are going to make you jump! Can't wait for the party to start! I will lead our squad when you all arrive at the cheer party.


---
Cheerleading Party Decorations and
Cheerleading Party Supplies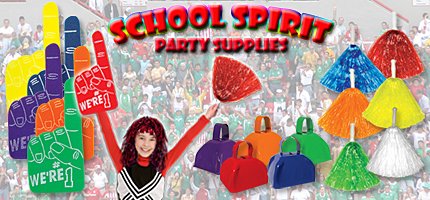 Cheerleading Party Supplies
Decorate a special chair for the Team Captain or Team Captain for the day.
Hang beads, perals, and other jewels (for a girly look)
Get Mylar balloons in the shapes of footballs, megaphones and pompoms
Cover your ceiling with helium balloons
Hang different sizes of cheerleading outfits
---
Cheerleading Party Games and Activities
Create a Cheer and Dance for the Party - Try out some new moves.



Flip the Flops - Decorate flip flops in school colours. Use a hot glue gun and add on jewels and other details.



Pillow Press - Get a pillow case for all the guests. Have a variety of sharpie coloured permanent markers. All the girls can sign their names and draw a design on the pillow cases. Then each guest has a fun memory piece of the team.



Pass the Pompom - play like hot potato



Scavenger hunt - Show and hide a number of items e.g., a hair thing, a pompom, a penny from a certain year, and some funny items.



Pamper Yourselves - give and get manicures and pedicures in the school colours.



Creative Cheer - make up cheers and vote for the funniest, most original, etc. Cheers can be about boyfriends, teams, friendships, etc.



Sleepover - host a sleepover and do facials, and watch cheer and dance movies late into the night.
Cheerleading Party Food
Cheerleading Party Ideas
Make cookies in the shapes of megaphones
Decorate cupcakes in team colours (using icing and candy)
Serve pizza, pasta salads, veggie and fruit tray
Make mocktails - add some umbrellas and fruit for a fun touch
Cheerleading Cake Ideas
Megaphone Cake - cut the shape out of a megaphone. Use icing tips to decorate with school colours.
Pompom Cake - use a half circle cake (half a soccer ball cake pan) and use the grass tip (Wilton). Make the icing colours the colour of your school pompoms.
Cheerleading Cake - Wilton has a pan with a bear cheerleader which looks very cute.
---
Cheerleading Party Favors
Make up a gift backet or each guest and include:
nice smelling lotion and perfume
lip gloss
hair things
diamond tattoo
$5 Starbucks gift card
Pompoms
More Sports Party Ideas
Add Your Cheerleading Party Ideas,
Stories And Party Pictures Here!
Teen Party Ideas
Adult Party Ideas |
Perfect Party Supplies
My Secret |
Share Your Party Ideas
Party Blog |
Site Map |