Cinco De Mayo Party Ideas

| | |
| --- | --- |
| | Host your own Mexican victory with these Cinco de Mayo party ideas. This party takes place on May 5th, to celebrate the Mexican victory over the Second French Empire at the Battle of Puebla in 1862. You can celebrate at any time of the year with all your buenos amigos (good friends) and have a fantastic fiesta. Check out the simple Cinco de Mayo party related ideas below to gather inspiration for your exciting event. |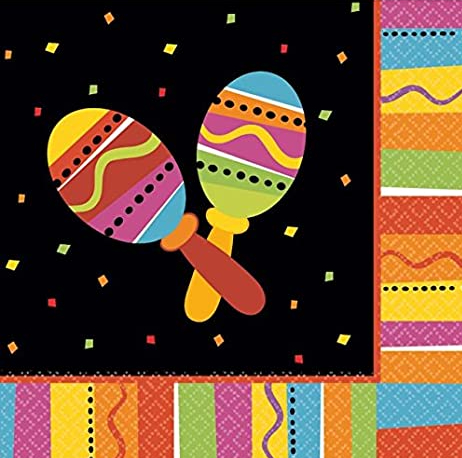 Host your own Mexican victory with these Cinco de Mayo party ideas. This party takes place on May 5th, to celebrate the Mexican victory over the Second French Empire at the Battle of Puebla in 1862. You can celebrate at any time of the year with all your buenos amigos (good friends) and have a fantastic fiesta. Check out the simple Cinco de Mayo party related ideas below to gather inspiration for your exciting event.
---
Cinco de Mayo Invitations
To create your own Cinco de Mayo party invitations, use a piece of white cardstock and along the top, draw a triangle banner with each section being a different color. Underneath write "let's fiesta at a Cinco de Mayo party" in black pen and underneath add your party information. Finish by drawing colored dots, flowers, and cactuses in party theme colors around the words. 
---
Cinco de Mayo Party Supplies & Decorations
Use a bright and fun color theme, focusing on red, green, and white (the colors of the Mexican flag)
Hang lots of streamers, balloons, and piñatas
Large vibrant flowers you can hang on the wall and as center pieces
Create tissue paper flowers in multicolor 
Large colorful bowls for all the food
Bright red or green tablecloth
Chilly pepper lights
Mylar balloons that say FIESTA
Have a caucus made out of small green balloons
Use sombreros as party hats 
Have flowers for people to wear in their hair for another type of party hat
Have paper banners with designs in a variety of fun colors 
Use a large plastic sombrero for a serving dish of fruit of chips and dip
Have little succulent plants in cute jars
---
Cinco de Mayo Theme Party Games and Activities
Play or perform upbeat, fun music in the styles of mariachi, meringue, salsa, and Latin.
Have a nacho eating contest
Pin the tail on the burro (donkey)
Salsa dancing
Hat dance - form a circle and call one person's name and they dance in the middle until another name is called.
C-I-N-C-O - play a version of Bingo (use pictures of hot peppers, sombrero, tacos, maraca, tomato, guitar, lime, avocado, cactus, etc.). 
How Many Beans Guess - write down on paper your guess for how many beans there are in a glass jar to win a prize
Bean toss - make a cornhole board out of wood with different sized holes for increased difficulty and give them each points (have the smaller holes worth more points because they are a greater challenge).  
Jalapeño race - hop with a blow up hot pepper between your legs.
Siesta or Fiesta - test your Spanish by having to match commonly used Cinco de Mayo words with their definitions and examples. 
Sombrero ring toss - have an inflatable sombrero and throw hoops around the top
Have a piñata filled with candy
Make your own piñata - tape a piece of construction paper in a circle and tape tissue paper around the bottom. Hole punch twice on the top and tie a string for a handle. Fill the inside with small candies and tape tissue paper around the top. Then, decorate with colorful tissue paper tassels around the outside and enjoy.
Make a tissue paper flower bracelet
Paint maracas
---
Cinco de Mayo Food

Pineapple salsa - cut a pineapple in half and carve out the inside. Fill the pineapple bowl with diced bell pepper, red onion, pineapple, cilantro, jalapeno. Season and mix in some lime juice and salt for extra flavor. 
Taco bar - have colored or clear bowls filled with your favorite taco toppings, little bottles with sauce, and both soft and hard taco shells. 
Chips with salsa and guacamole 
Fruit kabobs - have skewers with alternating chopped up melons. 
Fresh fruit juice - pineapple, limon, maracuya (passion fruit), guayaba, etc.
Churro twists
Chicken empanadas
Chicken taquitos 
Jalapeno poppers 
Mexico strawberry flags - dip 2/3 of a strawberry in white chocolate and then dip the end in green sprinkles and wait to dry before serving.
Lime flavored cookies
Tamales
Churro flavored cupcakes
Cactus decorated cupcakes
---
Cinco de Mayo Party Ideas - Favors
On all your cute Cinco de Mayo party favors, have a colorful tag that says "gracias for coming" or "hope you enjoyed the fiesta".
Bring home a small piñata 
A colorful set of maracas
Small guitar or sombrero or avocado keychains
Bag of churros