Corn On The Cob Cupcakes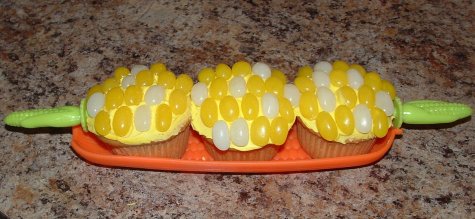 Corn On The Cob Cupcakes
Cupcake decorating is quite the art. I love making a large batch of cupcakes for all parties and usually use a cupcake holder or cupcake tree, but this time I saw this inventive idea to make cupcakes that look like sweet corn which was perfect for my summer time barbeques.
I made regular cupcakes from a yellow cake box. Very simple! I used white cupcake liners to bake the cupcakes in. Here is the hint. You want your cupcakes to have a flat top, so fill the cupcakes ¾ of the way and then set your oven temperature 25 degrees less than recommended on the box. This takes a couple extra minutes to cook (test for readiness with a toothpick) and then the tops are level.
Next, for the icing I made a regular butter cream icing (for this technique a store bought icing would work fine). I tinted the icing a pale yellow using Wilton Golden Yellow icing color. When the cupcakes were completely cooled I just made a simple smooth icing over the cupcakes. Then I covered the tops with yellow and white jelly beans. I purchased then at a local bulk food store. I was very careful to select the colors that I wanted (any extra colors of jelly beans would look pretty in a little dish). I was careful lining the jelly beans in straight lines and tried to be random with the yellow and white jelly beans. To finish off the corn on the cob cupcakes I placed them into a corn on the cob dish and then placed the corn on the cob holders at either end.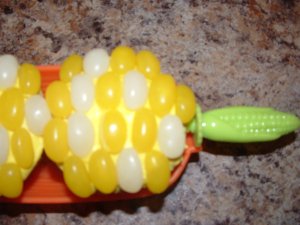 I had the sweet corn cupcakes placed at each guests place throughout the meal. These cupcakes were beautiful and a perfect yummy table decoration for any BBQ.
Add Your Cake Here!
From Corn on the Cob Cupcakes To More Fun Birthday Cakes,
Cupcakes and Other Fun Cake Ideas
Teen Party Ideas
Adult Party Ideas |
Perfect Party Supplies
Discount Newsletter |
Share Your Party Ideas
Party Blog |
Site Map |