Diary Of A Wimpy Kid Party Ideas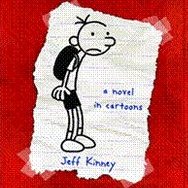 While hosting your Diary of a Wimpy Kid Party, don't wear a red sweater and stay away from all large garbage cans filled with water! The life of Greg Heffley is amusing and relatable for many young boys. With so many funny stories that Greg endures it will be a great spin off for any party. Mid-school can be hard on kids, so let's host the best Diary of a Wimpy Kid Theme Party and try not to embarrass anyone!
---
Diary of a Wimpy Kid Party Supplies and Decorations

For this party, keep decorations simple.
Use black and white plates, cups and cutlery.
Hang balloons and streamers in green, blue, orange, red and yellow.
Decorate the party room with Diary of Wimpy Kid Movie Posters
Create homemade Diary of a Wimpy Kid Invitations on your computer by making a comic image saying something like,
"Come to my party 'cause I will be famous one day!"
---
Diary of a Wimpy Kid Party Games and Activities

Twisted Wizard -make up your own version of the Twisted Wizard. This is the game that Greg wanted for his birthday, but instead he got a red sweater. I would make a number of riddles for the kids to solve. Each riddle will make them find the next riddle and at the end of the trail they can find a large bowl of candy covered by a picture of a wizard instructing the kids to only eat at their own risk because a spell has been caste on them.
Red Sweater Wimpy Kid -make a joke of the red sweater. Have each of the kids try on the red sweater and see / vote to see who looks most like the wimpy kid (make sure no one will take this to heart).
Worms Estimation - have a large mason jar and fill it with gummy worms. Have a vote to see who can estimate the closest number of worms in the jar. The winner gets to take the jar of worms home.
Sleepover -host the party as a sleepover and have a fun pyjama party

!
Zoo Wee Mama (comic strip) -make your own comic strips. First, formulate a joke. Next, draw out the comic strip in black or blue pen. Next, color in just accents in black, blue and red (leave mostly white). Finally, stand up, show your comic strip and read the joke.
Party (Yearbook) Awards - class clown etc. Create good hearted and some joke awards. Print these out before hand and leave a space for the pictures. Take photos of the kids acting out all of the awards. Have the kids quietly vote. Tally them up and then print out the winners of the awards. Hang the awards in one of the party rooms and let them find out by seeing the picture on the wall.
Cartoon Creations - hand out notebooks and pens to all the kids. On a large board teach them how to draw some cartoons.
Play a Diary of a Wimpy Kid Game - there are many on the market to choose from: Diary of a Wimpy Kid Scrabble, Diary of a Wimpy Kid Uno, Diary of a Wimpy Kid Touch the Cheese or work on a Diary of a Wimpy Kid Puzzle
Watch The Diary of a Wimpy Kid Movie


---
Diary of a Wimpy Kid Party Food

Grandma's favorite junk food: gummy worms, jelly worms, etc. Kids love candy, chocolate, etc. have a table set up with lots. Place it all in different glass containers of different shapes and sizes.
Pizza
Hotdogs
Onion rings
French Fries
Cupcakes with Diary of a Wimpy Kid toppers
Diary of a Wimpy Kid Cake - use a Wilton Book Cake Pan - make a comic looking page on the cake using black and white icing
---
Diary of a Wimpy Kid Party Favors

Diary of a Wimpy Kid bookmark
Small box of chocolates
Diary of a Wimpy Kid Book