Firefighter Party

| | |
| --- | --- |
| | Set your party ablaze and sound the alarm. It's time for a Firefighter Party. With burning hot game ideas, firefighter theme party supplies and flaming food ideas, you'll save the day. Your little firefighter, their rescuer friends and the Dalmatian are going to love this party. |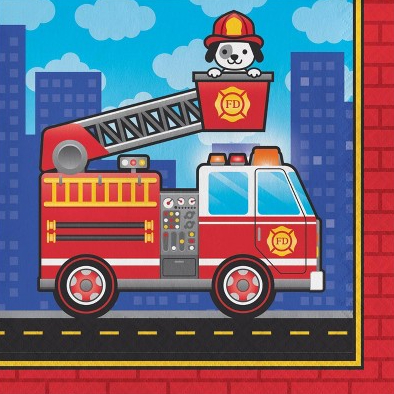 Set your party ablaze and sound the alarm. It's time for a Firefighter Party. With burning hot game ideas, firefighter theme party supplies and flaming food ideas, you'll save the day. Your little firefighter, their rescuer friends and the Dalmatian are going to love this party.
---
Firefighter Party Invitations

To make homemade firefighter invitations use some craft paper that looks like homemade paper (or make your own). Tear and then lightly burn the edges to make it look like it was in a fire. Write a cute saying like,
"Calling all firefighters … this party is going to be hot!"
---
Firefighter Party Supplies

Use firefighter decorations including some of the following: firefighter napkins, firefighter plates, firefighter birthday banner, firefighter party blowers, and a fire truck Mylar balloon
Hang red and yellow star Mylar balloons
Use the color theme yellow, orange and red
Use lots of balloons and streamers and hang from the ceiling to look like fire (Hang streamers across the ceiling and loop them (alternate colors)
Have party goers wear firefighter helmets. You can often get child sized helmets at your local fire department.
Rent a helium machine and blow up tons of balloons (try to fill the ceiling of the party room). You can also make a beautiful balloon arch.
Set a large stuffed Dalmatian by your front door
Hang a yellow raincoat on the birthday child's chair
Have a red fire hydrant
Hang signs saying stop, drop and roll
Use a cool red emergency vehicle light as a table centerpiece to set the mood
---
Firefighter Party Games and Activities

Welcome Junior Firefighters - when your guests arrive they each get to wear a firefighter hat and red t-shirt and Fire Chief Badges to become junior firefighters or yellow raincoat if you can source enough.
Visit your local fire station (pre-arrange this activity) - The firefighters are great. Sometimes they will let you have tours of the station, try on uniforms and you could bring in a fire extinguisher that the fireman could draw as an extra prize (I won a fire extinguisher when I was 9 years old and I still remember it fondly). Or see if it is possible for the fire truck to come to your house for a fire truck tour. The kids will love this. On one tour we did, the firefighters turned on the water and everyone got wet.
Use a large appliance box and make a fire truck
Fire Balloon Stomper - tie orange or red balloons to the guests ankles (inflated balloons) When the game starts the guests need to try to stomp on the balloons of their opponents popping the balloons. Last one with a balloon still attached and inflated wins.
Water Balloons Toss - have a large tub filled with water balloons. Pair the guests up. One person has to toss the balloon to the second person who puts it in a bucket. Whichever team can get 8 balloons successfully into the bucket (without popping) wins.
Alarm Rush - have a set of clothes in front of the guests (rubber boots, large pants, belt, dress shirt and hat). When the alarm (e.g., bell) goes off the guests race to get dressed, whoever is dressed first wins. To make this more challenging, make the guests run to different stations for different clothing items. Make sure if you have the movement of different stations, you have a finishing line to cross over.
Fire hose training - use super soakers and whoever can empty them first wins. You can get cool super soakers that go on your back and look like a firefighter pack.
Decorate yellow rubber boots with paint (get the right sizes for your guests)
Pin the Badge on the Dalmatian - play just like pin the tail on the donkey. Instead of a scarf you could use a helmet with a blacked out face covering to hide the guests eyes.
Fire, Fire, Water - play like duck duck goose. Line up your greats or put them in a circle to play. They wait until someone calls water. Then they are off running to the free space to sit.
Fire Obstacle Course - have a tunnel to crawl through, run around pylons, fir hydrants and hop through flaming hula hoops (wrap hula hoops with colorful streamers).
---
Firefighter Party Food

Extinguish your thirst with some Flaming Punch - Make red, orange and yellow punches. Make it with juice and ginger ale.
Fire hoses - red licorice
Fire balls - orange cheese balls
Little smokies - pigs in a blanket
Fire Truck Wheels - mini chocolate donuts  
Fire cupcakes - use any flavor for the cake portion. Then for the icing mix the icing colors of yellow and orange in a single piping bag. Do this by putting a strip of yellow then orange icing on cling wrap and roll it placing it into a piping bag. Make a big swoop of icing to look like a flame.
Make a Fire truck cake – easy to make with a shaped cake pan. Hint: use really good non-stick spray so the cake will slide right out of the pan. Let it cool completely before you start icing the cake and adding your candy accents.
---
Firefighter Party Favors

Toy Fire truck
Squirt bottle extinguisher
Fire Chief Badge
Firefighter stickers
Adopt a puppy and take home a dalmatian stuffie