Food Party Games
| | |
| --- | --- |
| | Food is yummy and fun, so why not entertain your guests by guessing how much, eating, throwing, and more with food/candy at your party. Doing food related games and activities can be a fun way to choose winners for prizes or party favors. If you need a quick time filler and snack in between other activities, these are great, especially for little kids who love anything sugar. Below you can find over 10 different food party games and activities organized in alphabetical order for you to use at your next event. |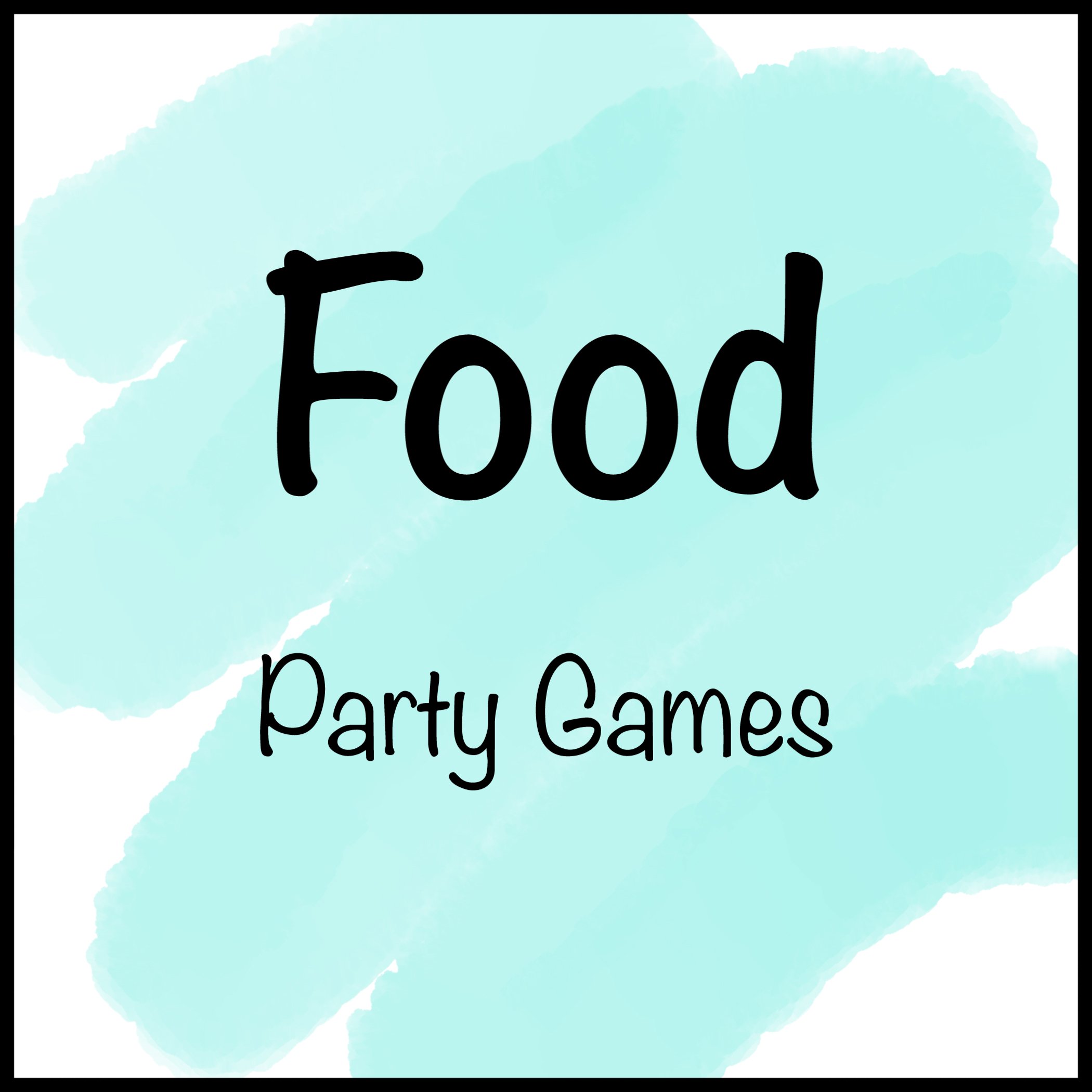 Food is yummy and fun, so why not entertain your guests by guessing how much, eating, throwing, and more with food/candy at your party. Doing food related games and activities can be a fun way to choose winners for prizes or party favors. If you need a quick time filler and snack in between other activities, these are great, especially for little kids who love anything sugar. Below you can find over 10 different food party games and activities organized in alphabetical order for you to use at your next event.


---
Candy Count

Ages: 4 and older (kids party games)
Objective: To try to guess how many candies are in the bowl or jar
Players: 2 or more
Materials: Candy and a container that seals
Rules: Set up one or multiple jars of different types of candy. If you have multiple jars, use only one type of candy for each jar. Choose a candy that you know your guests will enjoy. Beforehand know how many candies there are by counting them yourself (write it down somewhere safe). Let each player have one guess by writing it down on a ballot. The one with the closest guess wins.
This is a nice quiet game that people of all ages can participate in. It is also a good game to play as guests enter a party or if guests are seated at tables (like at a shower). Have your guests make their guess then, but don't reveal the winner until near the end or at the end of the party. This keeps the suspense during the party, and that way the winner can take the candy home.

---
Cookie Face

Ages: 5 and older
Objective: To move a cookie from your forehead to your mouth with only using your face muscles and gravity
Players: 2 or more
Materials: Cookies
Rules: This game requires the participants to place a cookie on their forehead. Both oreo and chocolate chips work well. When the signal to start the game commences the participants will then try to move the cookie down their forehead, across their face and have it land in their mouth. If the cookie falls or is touched with one's hand, the cookie is to be replaced on top of the participants forehead again. The first participant to get the cookie into their mouth wins the game.

---
Dangling Donuts and Apples

Objective: To be the first to eat the dangling food
Players: 2 or more
Materials: String, donuts, apples, or food of choice
Rules: String the food object and hang it to the height of the guests mouths. Have your guests line up along the food item. One the starting signal the guests eat as quickly as possible. Whoever consumes the food item the quickest wins.

---
Lifesavers
Ages: 6 and older
Objective: Pass the lifesavers using only toothpicks, from player to player without dropping them
Players: 6 or more
Materials: Toothpicks, lifesavers (the candy)
Rules: Divide players into two teams. Give each player one tooth pick. Players must all be facing forward to start. Give the first player in line a lifesaver. Using only their toothpicks, teams must transfer them from player to player. If it falls, teams must start over. First team to successfully move the candy through the line wins.
Depending on the age of players, for a more grown up approach, have players place toothpicks in their mouth. These variations of food party games should be more supervised.

---
Marshmallow Toss

Ages: 4 and older
Objective: To toss as many marshmallows as possible into your partner's cup
Players: 4 or more
Materials: Marshmallows, cups, bowl
Rules: This is a partner style game. Have each group of partners stand an equal distance apart from each other. I suggest the distance being the height of the tallest player. The tosser has a bowl full of marshmallows, or a small bag of marshmallows. When the signal to start the game goes this person tosses the marshmallows towards their partner. The partner is holding a party cup and tries to catch as many marshmallows with their cup as possible. The team that is able to catch the most marshmallows wins.

---
Pie Eating Contest

Objective: To eat a pie with no hands the quickest
Players: 2 or more
Materials: 1 pie for each participant, bib or apron
Rules: Have the pies all placed on a table. Have the participants wear a bib or apron. Their hands need to be tied behind their backs. At the start signal the participants try to eat the pie the quickest. Please express safety concerns around choking hazards.

---
The Mysterious Ice Cream

Objective: Try to be the first one to get the bubble gum out of the ice cream and then the first to blow the biggest bubble while being blindfolded.
Players: 3 or more
Materials: Bowls of ice cream, bubble gum, blindfolds
Rules: Give every player a bowl of ice cream with a hidden piece of gum inside. (big enough not to choke on) While finding the gum, you must be blindfolded, and you can only use your mouth. Once you find the gum piece, you need to blow a bubble.

Disclaimer: Please use caution with all party games. This game may pose a choking hazard.

---
Toppling Tower

Ages: 4 and older
Objective: To stack apples on top of one another
Players: 2 or more
Materials: 5 apples per person
Rules: When the game begins, each participant needs to try to stack 5 apples on top of each other. The tower needs to stay standing for at least 25 seconds after being fully stacked. If this is too challenging for your guests, set a timer and see who has the tallest tower at the point your alarm sounds. If you wish you can substitute the apples for large marshmallows.

---
Party Sucker

Ages: 5 and older
Objective: To race against others by sucking a straw to move smarties or m&ms from bowl to bowl.
Players: 2 or more
Materials: Smarties or M & M's, straws, 2 bowls per player
Rules: Players are given two bowls placed in front of them. Start with an equal amount of smarties for each player in one of their bowls. Using only a straw, players suck into the straw picking up the smarties and try to transfer the candy into the empty bowl one by one. First one person that transfers all the candy wins. If this proves to be too difficult, set a time limit and the player with the most smarties or m & m's transferred wins this activity of the food party games.

---
Pretzel Straw Race

Objective: To pass pretzels from person to person using only a straw
Players: 8 or more
Materials: Large twisted pretzel, straws
Rules: Divide all the players into two teams. Give each player one straw. You can either play where players hold the straw in their hand, or in their mouth. Have the two teams stand in a line. When the race starts players must pass the pretzel from player to player using only the straw. If the pretzel falls, teams must start over. The first team to move the pretzel through the line wins.

---
Rice Clips

Objective: Blindfolded players try to find as many paper clips as they can in a bowl of rice
Players: 3 or more
Materials: Rice, paper clips, bowls, blindfolds
Rules: This game is best played at a table, or around a coffee table with players on their knees. Give each player a medium to large bowl filled halfway with uncooked rice. Place an even number of small paper clips in each bowl and mix them in. Blindfold each player. This is a good time for some house rules. No turning the bowl upside down, and no throwing the rice out in a mad scramble to find the clips. When everyone is ready players must then, with their hands try and pick out as many paper clips as they can. You can make this a timed event or wait until the first person finds them all. When they do, they are the winner for this game of the food party games.

---
Taste Buds - Food Party Games

Objective: To guess the mystery food or drink by using their taste buds
Players: 4 or more
Materials: Several different types of food or drink
Rules: Before the game starts prepare the different kinds of food or drink that the players will try. You may use different kinds of ice cream or desserts, or some spicy food for fun. For an adult party, try different types of alcoholic beverages mixed with pop or juice. This can be a multiple choice game if players are having trouble guessing the mystery food. To play, blindfold the player and give them the food or drink to try. Have them guess what it is. Are they right? For a baby shower try using baby food. Take the labels off and pass the jars around. Have everyone make their guess on a piece of paper. The person with the most correct wins.