Gnomeo And Juliet Party Ideas

| | |
| --- | --- |
| | Host a Gnomeo and Juliet Party for your next birthday! Shakespeare could not be more proud to loan the theme of Romeo and Juliet to the latest animated hit of Gnomeo and Juliet. With fun filled excitement and humor this film is a perfect theme to an outdoor themed garden party. Would you wear a blue hat or a red hat or a green hat or a purple hat like, ummmm, some weird guy? |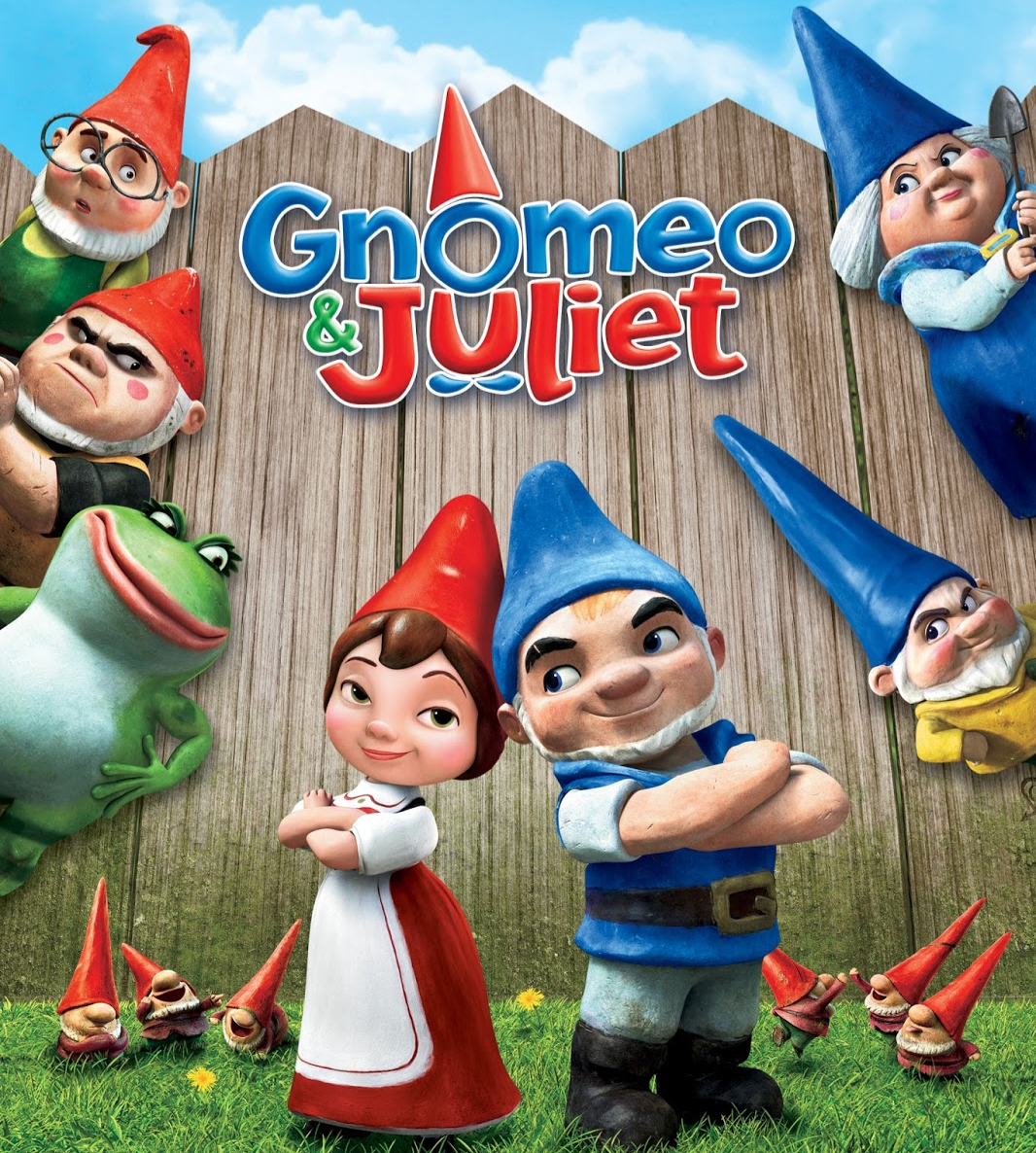 Host a Gnomeo and Juliet Party for your next birthday! Shakespeare could not be more proud to loan the theme of Romeo and Juliet to the latest animated hit of Gnomeo and Juliet. With fun filled excitement and humor this film is a perfect theme to an outdoor themed garden party. Would you wear a blue hat or a red hat or a green hat or a purple hat like, ummmm, some weird guy?
---
Gnomeo and Juliet Party Invitations

Create your invitation using a picture of Gnomeo and Juliet. Be creative and draw your own! Write something like Featherstone would say...

"Sometimes I get a little ... over-excited … especially having such great friends … like you."
Could you please join me to celebrate my birthday?
Thank your friends with Gnomeo and Juliet Thank you Cards and let them know that you had a "Gnome of a good time!
---
Gnomeo and Juliet Party Decorations:

This is the perfect party to celebrate outdoors in your garden! 
Keep all your color themes matching nature with green and pops of blue and red
Have a green backdrop with red and blue balloons wrapped around the side for a photo wall - have additional props like colored hat cutouts, sparkly glasses, ski mask, flower cutouts, etc. 
Use red and blue hats, balloons, streamers, etc. 
Split a table in half with a blue tablecloth with a bird on one side and a red tablecloth with a sailboat on the other (just like the duplex in the movie)
Top off your lighting with white twinkle lights. Hang them in trees and around patio umbrellas. 
Most importantly, don't forget to dust off your garden gnomes and give them a place of honor!
Have lifesize garden flamingos and name one of them Featherstone
Place polka dotted mushroom decorations all around
Have your guests dress up as gnomes or their favorite character
---
Gnomeo and Juliet Party Games

Red Team or Blue Team have the party gnome hats in a clean garbage bag and have the guests reach in to see which team them are on for the day. Have an even number of red and blue hats for the guests to wear.
Love the Frog bob for green granny smith apples.
Mow Down Show Down lawn mower racing. Use anything that you can ride on depending on the age. You could use anything from tricycles to real ride on lawn mowers. On your marks, get set, GO GO GO

!
Freeze Gnomeo play a version of freeze tag. Don't let the humans see you moving

!
Flamingo Racing Hopping on one foot race through an obstacle course.
Dancing Gnomeo and Juliet Have a dance off. Which team can dance the longest, fastest, highest, lowest, slowest, etc. Have lots of little prizes.
Gnome Seeking play like hide and go seek. Hide a gnome and let the party guests seek them out.
Gnomeo, Gnomeo, Juliet

!

 play a version of duck, duck, goose. Just saying Gnomeo that many times will be humorous.
---
Gnomeo and Juliet Birthday Party Activities

Smile Take a group picture on hay bails with everyone wearing their hats. Do one smiling shot and then a number of humerous shots.
Paint Garden Gnombs At craft stores you can get little garden gnombes that need to be painted. Cover your paint area using a plastic tablecloth and cover people clothing (even can use clear garbage - precut holes for arms and head). Use permanent paint to paint with. A fantastic idea for a paint holder is to use egg carton containters.
Personalize Hats personalize your gnomb hats with jewels, ribbons, feathers, etc. Have fun and be safe if using a hot glue gun.
Watch the movie: Gnomeo and Juliet to add to the fun why not watch it outside

!
---
Gnomeo and Juliet Food

Be creative and have a red and blue snack bar with blue and red drinks - strawberries, raspberries, watermelon, red peppers, fruit punch, and blueberries, concord grapes, blue Gatorade, etc.
Gnomeo and Juliet Cupcakes: make a dozen cupcakes that are rainbow cupcake mix or a sprinkle cupcake mix. Ice the cupcakes with filling of blue and red icing. Top off the cupcakes with some red and blue sprinkles.
Gnomeo and Juliet Cake: cover your cake with purple icing symbolizing the truce between the red and blue teams. On top place a miniature Gnomeo and Juliet statue.
---
Gnomeo and Juliet Party Favours

Garden gnome
Paint with water book
Water gun
Sunflower seeds