Graduation Party Ideas

Way to go! You deserve a Graduation Party! A graduation at any stage in life is such an accomplishment and should be celebrated and celebrated correctly! Whether it is a kindergarten graduation, piano grade 8 graduation, high school graduation, or college graduation you should be proud of yourself. This is a family accomplishment, so always remember to thank and also celebrate your family support throughout your trials and tribulations over the years that helped you grow and become "the Graduate". Congratulations on your achievements!!!



---
Graduation 2011 Party Supplies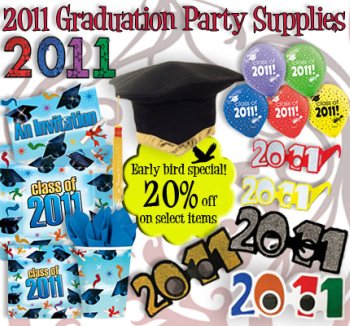 Graduation 2011 Party Supplies
---
Graduation Invitations
There are many types of graduation invitations to choose from. Look at your theme and your personal style and select an invitation that best suits your occasion. Here are some graduation invitations to choose from:


---
Graduation Games and Activities
Take lots of photos and video of the events surrounding your graduation
Make a time capsule. Add favorite music, art, books, pictures of friends, etc.
Autograph book. Get autographs, personal sayings, best wishes from classmates and teachers.
Check out our other
Party Themes
to help spice up this event. Select something fun and memorable!
---
Graduation Gift Ideas
Custom photo box
Custom photo frame
Personalized guest frame
Silver initial cuff links
Custom glass mug
Engraved sports watch
Engraved pocket watch
Engraved watch money clip
Monogrammed trinket box
Share Your Graduation Party Ideas and Stories Here!


Teen Party Ideas Adult Party Ideas |
Perfect Party Supplies
Discount Newsletter |
Share Your Party Ideas
Party Blog |
Site Map |