Hannah Montana Party Ideas

| | |
| --- | --- |
| | It is time to throw your very own Hannah Montana party. You and your friends are going to be the stars of the show and pump of the party. As Hannah Montana says, "everybody makes mistakes", but not this time, everything is going to be great. By using these simple party ideas, you'll have everything you need to make sure your Hannah Montana birthday party is a "sold out" event! |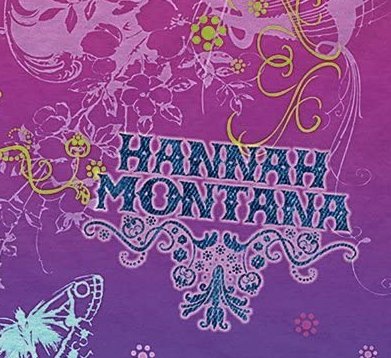 It is time to throw your very own Hannah Montana party. You and your friends are going to be the stars of the show and pump of the party. As Hannah Montana says, "everybody makes mistakes", but not this time, everything is going to be great. By using these simple party ideas, you'll have everything you need to make sure your Hannah Montana birthday party is a "sold out" event!
---
Hannah Montana Party Invitations
There are many fun options for if you want to make your very own party invitations that work into your Hannah Montana party theme:
Backstage pass - Cut out a 7 x 5 inch piece of purple construction paper, turning it vertically. Then, print out and glue a picture of Hannah Montana on stage with a dark purple border to the bottom left hand corner. At the top of the invitation pass, write the words "backstage pass" in thick gold bubble letters using a gold sharpie marker. Underneath using a black pen, write "only access granted to ______" and write the rest of your party information below. 
DIY concert ticket - Cut out a 2 x 5.5 inch piece of white construction paper. On the left quarter of the "ticket" have a picture of Hannah Montana or her logo. In the middle, have the words "Hannah Montana Party Tour - happening _(your party date)__ only". Underneath in smaller lettering, write out your party information. On the right quarter of your ticket, draw out a barcode, pretending it would be used to enter the party.
Guitar or microphone cutout - Cut out a 5 x 7 inch piece of white paper and using a purple pencil crayon, draw out a guitar or microphone that takes up most of the paper. Then, using a pink pencil crayon, add some subtle shading around the sides. Next, using a black pen, write out your information.
---
Hannah Montana Party Supplies and Decorations
Set up your party area with TWO settings.
Miley Stewart - the classroom where you can set up your craft table, make-up and make over-area 
Hannah Montana setting - the Concert Stage with a black backdrop, twinkle lights, microphones, instruments, and cameras for photos
Use the color theme of pink, purple, and silver
Have some friends wear "security" shirts 
Set up a karaoke machine

Use inflatable guitars or guitar hero guitars and drums
Rent a fog machine

Hang some hot pink, lime green, blue, and purple balloons, streamers and Hannah Montana Poster
Spread around some confetti stars
Hang old CD's from the ceiling
Hang a beaded curtain in the door way
---
Hannah Montana Birthday Games and Activities

Make a music video
Have a hair and make-up station. Provide hair spray, brushes, hair clips, lip gloss, blush, etc
Watch the Hannah Montana 3D movie "Best of Both Worlds"
Make your own t-shirts
Pin the microphone on Hannah
Dress up Relay. Have over sized skirts, socks, necklaces, shoes, sun glasses, shirts, a jacket, and a Hannah Montana wig. Race to see who can get dressed the quickest

!

Microphone hot potato
Hang donuts from the ceiling. Players have to try to eat all of their donut without using their hands

!

Decorate cut out cardboard guitar shapes with stickers and sequins and glitter

Do some face painting and body glitter
Musical chairs
Have a Hannah Montana dance
What's Missing Game. Place several items on a tray or in a purse. You can use a Hannah CD, lip-gloss, fashion accessories etc. Let everyone have a look at the items. Then have one player leave the room. Take an item away. When the player returns they have to guess what's missing

?

Have some coloring sheets
---
Hannah Montana Party Food

Make your own pizza
Hannah Montanah Cake
Microphone and guitar shaped sugar cookies that your guests can decorate with purple icing and sprinkles
Star shaped sandwiches
Pink popcorn (add pink food coloring to melted butter

!

)
Chips
Soda

Hannah Montana Cake (Shared by Charlotte)

Make your own pizza
Hannah Montanah Cake
Microphone and guitar shaped sugar cookies that your guests can decorate with purple icing and sprinkles
Star shaped sandwiches
Pink popcorn (add pink food coloring to melted butter!)
Chips
Soda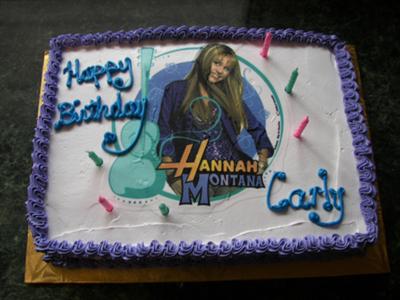 Hannah Montana Cake 
(Shared by Charlotte)
---
Hannah Montana Party Favors

Lip Gloss
Hannah photo albums
VIP passes
Bubbles
Hannah Montana Stickers
Toy watches
Candy bars
Hannah Montana Rings
Pencils
Notebooks
Hair elastics




Have an Autograph book
Hannah Montana calendar
Purses
Backstage Pass Holder
Hannah Montana puzzle
Beaded necklaces
Bracelets
Hannah Montana DVD
Hannah t-shirts
Sunglasses
Lip Gloss
Hannah photo albums
VIP passes
Bubbles
Hannah Montana Stickers
Toy watches
Candy bars
Hannah Montana Rings
Pencils
Notebooks
Hair elastics
Have an Autograph book
Hannah Montana calendar
Purses
Backstage Pass Holder
Hannah Montana puzzle
Beaded necklaces
Bracelets
Hannah Montana DVD
Hannah t-shirts
Sunglasses