Hanukkah Party
| | |
| --- | --- |
| | A Hanukkah party is meant to celebrate the miracle of lights. The oil miraculously lasted for eight days and nights after being blessed by the gods. Celebrate this holiday with modern and traditional activities. Create your personal traditions that work best for you and your family and friends that represent warmth, caring and miracles. Use this time to reflect and inspire personal growth and peace to the world we live in.  |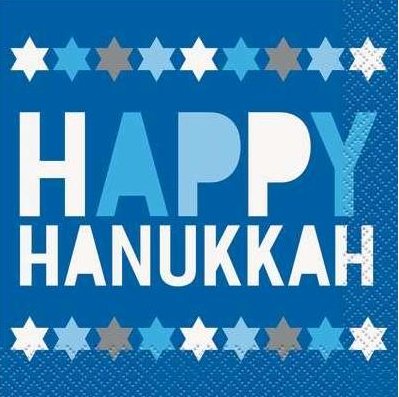 A Hanukkah party is meant to celebrate the miracle of lights. The oil miraculously lasted for eight days and nights after being blessed by the gods. Celebrate this holiday with modern and traditional activities. Create your personal traditions that work best for you and your family and friends that represent warmth, caring and miracles. Use this time to reflect and inspire personal growth and peace to the world we live in. 
---
The First Night of Hanukkah
The first night is such a celebration of joy. Create a beautiful meal to share. Some suggestions would be to have latkes (recipe down farther on the page), and jelly donuts (sufganiyot). Sing songs together, light the first candle on your menorah, enjoy some gelt (chocolate), play games (like dreidel) and share gifts.
---
The Second to Eighth Night of Hanukkah
Celebrate with family, friends and neighbors. Each night select a group to celebrate, pray, and share the joyous celebrations with others.
---
Hanukkah Party Invitations
Invitations should be sent out to invite friends and family to celebratory suppers, game events, etc. Use pictures like the dreidels (spin with us), menorahs and add a nice greeting, like: Happy Hanukkah, Hanukkah Party, Please join us to celebrate the Festival of Lights, Spin the Dreidel, Love and Light, and so many other ideas.
---
Hanukkah Party Decorations
For the color theme use a blend of blues of different shades, whites and silver (adding some glitz of sparkle and diamonds) and use some subtle accents of soft yellow and reds.
Beautiful place setting. This is a fantastic time to get out your fine china, wine decanters, material napkins, and glam it up.
String different shades of blue beads and a mixture of pearls
Accents of menorahs and dreidels - you could place these around candles, or in flower vases.
Small gift boxes under each of 8 candles to mimic the menorah if you don't own one or want to display it in another way in a different area of your home
String a banner of stars over a fireplace or above a food display station. Make these simply by using scrapbook paper, so they each have a different pattern of different shades of blue with accent colors and stringing them with clear soft wire.
Collect some pinecones and spray paint them with shades of blues, teal, purple and silver. Add glamor by adding some glitter. Display in tall vases to give height to your tables.
Display the star of David in a place of honor
---
Hanukkah Party Games and Activities
Dreidel - you need a dreidel, at least two players and coins or candy for betting. Step 1: divide the tokens evenly amongst the players. It would be great to start with at least 10 for each player. Step 2: start a bet of one coin/tokin. The first person spins the dreidel. Each side has a Hebrew letter that represents what they do in their spin. Nun - you do nothing, Hei - take half the pot of coins (if there is an odd number round up one to take), Shin - add one coin to the pot, Gimmel - take all the coins from the pot. Step 3: if the pot is reduced to one coin or is empty everyone has to put a coin into the pot. Step 4: After everyone has had a turn spinning the dreidel, everyone puts a coin into the pot representing another round is completed. Step 5: if you run out of coins you are out of the game. Step 6: when one player has all of the coins they are the winner. 
Memory game using Hanukkah symbols
Word Search using Hanukkah words
Make and decorate your very own paper dreidel
Squirt the Menorah - have a menorah lit with all 8 candles, then from a set distance use a mini water gun to see if you can put out the candles.
Connect Four - try to use real gelt in silver and gold
---
Hanukkah Party Food
Dreidel Cake - bake a sheet cake, cut to the shape and then decorate with traditional icing (use a piping bag to add details)
Hanukkah Bark -white and light blue
Chicken Liver pate on toast with maple syrup apples
Broccoli parmesan fritters
Slow Cooker Sweet and Sour Brisket
Vegan Cauliflower Steaks with roasted carrots
Short ribs and cesar salad
Grilled lamb shoulder chops
Apple Cider or Strawberry Sufganiyot (Hanukkah doughnut) with salted caramel
Marshmallows dipped in chocolate to look like dreidels
---
Latkes
(a potato pancake)
These are delicious and often eaten during hanukkah, although can be enjoyed throughout the year.
Ingredients: 

4 potatoes
1/2 cup of melted butter
1 cup of grated cheddar cheese
1/4 cup of chives
2 eggs
1 tablespoon of salt 
1 tablespoon of oregano
1/2 teaspoon of pepper
Directions:
First, peel each potato and grate them.
Put the grated potatoes into ice water.
Pull the grated potatoes out of the water, drain and add to a new bowl.
To the grated potatoes: Add 1/2 a cup of melted butter, add 1 cup of grated cheddar cheese, add 1/4 cup of chives
Mix 2 eggs in a small bowl and then add to the potato mixture.
Add again to the potato mixture 1 tablespoon of salt, add 1 tablespoon of oregano, and add 1/2 teaspoon of pepper.
Mix ingredients with your hands.
Line a cookie sheet and then add a handful of the potato mixture. Shape and round the edges of the potato mixture.
Bake at 400 degrees for 40-45 minutes until golden brown.
Serve warm and guests can feel free to dip latke in applesauce or ketchup if desired.
---
Hanukkah Party Favors
Sugar cookies shaped like the dreidels, stars and candles
Chocolate coins
Gelt envelope with real money