Happy Feet Party Ideas

Play some funky music Mumble! Come join us in Antarctica for a Happy Feet Party with all your penguin friends. The jukebox musical movie makes for a splash hit party for both girls and boys! Fun Happy Feet Birthday Party Ideas to make your kids birthday HAPPY!


---
Happy Feet 2 Party Supplies and Decoration Ideas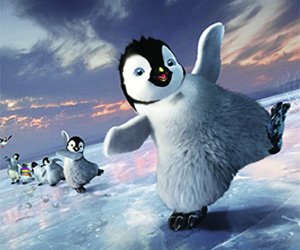 Happy Feet 2 Party Supplies
---
Happy Feet Party Games and Activities
Happy Feet colouring sheet
Listen to the Happy Feet Soundtrack and do some Happy Feet dancing
Cut and draw snowflakes. Fold white paper and cut out designs. Remember all snowflakes look different. Add some glitter glue to make the snow shimmer and glitter like real snow.
Make a penguin mask. Use a regular mask template and paint
Make an igloo. Use sugar cubes and white glue
Pin the feet on Mumble
Have a snowball fight (real snow outside or balloons or cotton balls inside)
Go tobogganing
Pass the Egg. Toss back and forth water balloons and try not to break them. Or have two buckets of balloons per team. Each team member has to race the "egg" to the other bucket with out breaking it (by placing it on a spoon). Which ever team has the most eggs in their bucket at the end of the game wins.



"Heart Song" karaoke



Musical ice burgs. (Like musical chairs.) Play the Happy Feet soundtrack



Play the Happy Feet video game or play the Wii penguin game found on the Wii fit. The penguin slides back and forth trying to catch as many fish without falling off the ice chunk into the icy water.



Sea Lion, Sea Lion, Penguin! (Like duck, duck, goose)



2011 they are hoping to release a sequel which you could go and see in the theatres!



Lovelace Says. (Like Simon says)



Mumbles Moves. First teach a simple tap dance move or two. Then start a dance contest or dance party. There is nothing better than seeing little kids make up dance moves. Too cute!



Race of the Penguins. Put a plush penguin or water balloon in-between legs (at the knees) and race like a penguin!



---
Happy Feet Birthday Food
Shrimp
Fish crackers
Blue candies
Fish shaped sandwiches (use a cookie cutter)
Blue Jello gigglers
Blue Kool-aide or punch
Penguin shaped cake (use a shape pan)
Top of Page

Share Your Happy Feet Party Ideas


Teen Party Ideas Adult Party Ideas |
Perfect Party Supplies Discount Newsletter |
Share Your Party Ideas Party Blog |
Site Map |