Happy Feet Party

| | |
| --- | --- |
| | Play some funky music Mumble! Come join us in Antarctica for a Happy Feet party with all your penguin friends. The jukebox musical movie makes for a splash hit party for everyone! |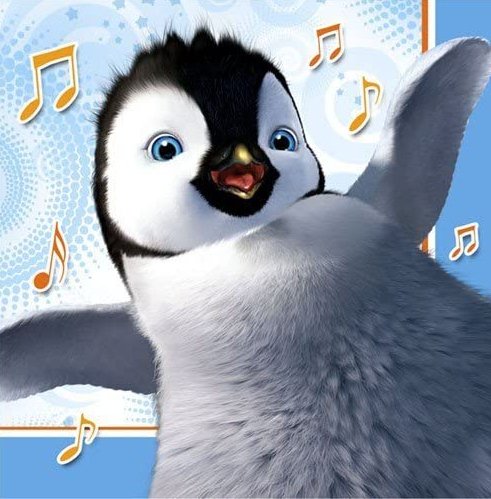 Play some funky music Mumble! Come join us in Antarctica for a Happy Feet party with all your penguin friends. The jukebox musical movie makes for a splash hit party for everyone!
---
Happy Feet Party Invitations
Make your own happy feet penguin invitations. Start with a picture of a penguin or a picture of Mumble then write a cute saying like:
"Come join us in Antarctica for a Happy Feet Party with all your penguin friends".
Also add the birthday party information, time, date, etc. 
Happy Feet Characters: Memphis, Norma Jean, Mumble (main character), Gloria, Noah the Elder, Ramón, Lovelace, Boss Skua, Dino, Frankie, Vinnie, and the Amigos.
---
Happy Feet Party Supplies and Decoration Ideas

Turn your party setting into the Antarctica
Use a color theme of blue and white
Display plush penguins, polar bears and seals
Hang snowflakes from the lights and ceiling
Hang white twinkle lights
Hang a disco ball (both glittery and great for dance time!)
Wear a penguin paper hat
Make black balloons look like penguins by adding the face and feet
---
Happy Feet Party Games and Activities

Paint the Penguin - have an assortment of canvases and also some penguin statues that you can paint with acrylic paint.  
Listen to the Happy Feet Soundtrack and do some Happy Feet dancing
Cut and draw snowflakes - fold white paper and cut out designs. Remember all snowflakes look different. Add some glitter glue to make the snow shimmer and glitter like real snow. If you want these to shimmer, place them into water in a round dish and freeze. Once frozen you can hang these beautiful ornaments.
Mumble Mask - make a penguin mask and look like you and your penguin friends are at a masquerade ball. Use a regular mask template, items to color your mask, foam stickers and sticker jewels. The sticker jewels will add the sense of glitz and simmer from crisp, clean snow. 
Build an igloo - use sugar cubes and white glue. Your guests can create any shape for their igloo.
Pin the Dancing Feet on Mumble - play similarly to pin the tail on the donkey. Use a soft icy, snow colored scarf to cover your guests eyes. Turn to the age of your guests before attempting to pin the feet onto Mumble.
Have a snowball fight - use real snow if outside or if inside use artificial snowballs, balloons or cotton balls inside.
Go tobogganing - depending on the age of your guests you don't need a huge hill. Even a small hill with some round sled is super fun if you help to push your guests down the hill.
Pass the Egg. - toss back and forth water balloons and try not to break them. Or have two buckets of balloons per team. Each team member has to race the "egg" to the other bucket without breaking it (by placing it on a spoon). Whichever team has the most eggs in their bucket at the end of the game wins.
"Heart Song" karaoke - have a fun playlist for your guests to sing along to. Have extra boas, top hat, masks, and microphones.
Musical icebergs - play like musical chairs. You can either use chairs or use small pieces of carpet (mini iceberg) for the goal spots to find. Play music from the Happy Feet soundtrack and when you stop the music your guests need to find a place to sit.
Play the Happy Feet video game or play the Wii penguin game found on the Wii fit. The penguin slides back and forth trying to catch as many fish without falling off the ice chunk into the icy water.
Sea Lion, Sea Lion, Penguin - play like duck, duck, goose
Lovelace Says - play like Simon says
Mumbles Moves - first teach a simple tap dance move or two. Then start a dance contest or dance party. There is nothing better than seeing little kids make up dance moves. 
Race of the Penguins - put a plush penguin or water balloon in-between legs (at the knees) and race like a penguin!
Bowling for Penguins - create all your pins having penguins on each and then bowl with a ball that has a polar bear on it.
Penguin Cups - stack cups in a pyramid that look like penguins (black cups with a white penguin body and googly eyes and an orange beak) and then try to knock them over with a snowball.
Iceberg Race - use large cookie sheets and place different colored ice cubes to race. Each guest can be a different color of ice. Then move the ice with blowing through a metal straw.
---
Happy Feet Birthday Food

Shrimp
Fish crackers in a fishbowl
Blue candies
Fish shaped sandwiches (use a cookie cutter)
Blue Jello jigglers
Penguin punch - blue Kool-aid
Snowballs - timbits or donut holes 
Marshmallow Penguin - a penguin dipped in chocolate and add candy eyes
Penguin sugar cookies
Penguin shaped cake (use a shape pan)
---
Happy Feet Party Favors
Take home a stuffed penguin
Surf board key chain