Hippie Car Cake
Hippie Car Cake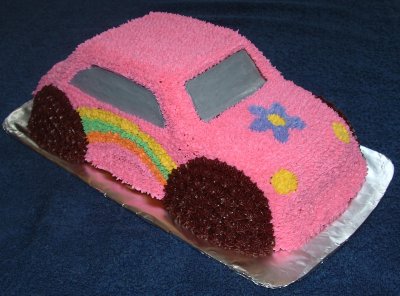 To make this hippie car cake I used the Wilton 3D Cruiser Car cake pan. It was really easy! I mixed up a regular cake mix, I made a yellow cake because I wanted lighter colors for the icing. I covered the pan with the Wilton cake release, but you can just as easily use the Professional Pam spray. I added the cake mix and set it into the oven for the recommended time. The cake cooked perfectly. I tested the cake with a knife (you could use a tooth pick but because the cake was too tall I wanted to make sure it was cooked all the way through). Then I cut the cake bottom flat when it was still in the pan. I then placed the cake onto a cooling rack until it was completely cooled.
I traced the empty cake pan onto a piece of cardboard then I covered the cardboard with tinfoil. After this was covered I placed the cake onto the made cake board. I put some Wilton Piping Gel into a piping bag to make my design on the car. The piping gel has no taste and is a clear / yellow tinge which if you like you could color, but I choose to leave it clear. I drew on the rainbow, peace sign, and flower with the piping gel. This was a great idea because if you do not like the shape you drew you can use a spatula and wipe it off. Next I mixed up the colors of icing I wanted to use and I began icing the cake.
For the windows and licence plate I used tip #5 with a grey icing. I then mixed cornstarch with water in an egg cup. I dipped my finger into the water solution then patted the windows creating a smooth surface. Then I used a # 7 tip to create the peace symbol. I squeezed out the icing and let it expand creating a bubble effect. I used tip #13 for the flower and rainbow. I used tip #16 for the pink portion of the car. Then to finish it off I used tip 18 for the tires. The 3D car cake looked fantastic!
Submit Your Cake Pictures Here
Have you ever had a cool cake at one of your parties? Show it off and share it here!

By submitting your cake and story, you grant PerfectPartyIdeas.com permission to alter, republish and create derivatives in any media whatsoever.

** Sometimes because of awesome cameras, the photos are too large to submit here. Oops!! If you are having trouble downloading your cake photo, please send it to perfectpartyideas@gmail.com. We would love to see it!!

From Hippie Car Cake To More Fun Birthday Cakes,
Cupcakes and Other Fun Cake Ideas
Teen Party Ideas
Adult Party Ideas |
Perfect Party Supplies
Discount Newsletter |
Share Your Party Ideas
Party Blog |
Site Map |