Ironman Cake

Ironman Cake
Shared by Geke
(The Netherlands)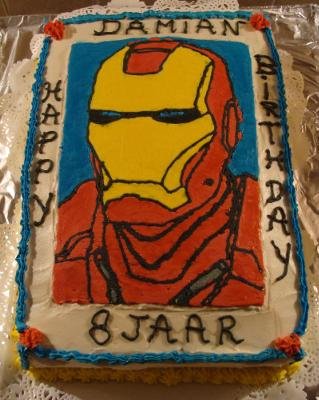 In May my grandson Damian went to visit his greatgrandma in USA with his Mom for two weeks. There he saw Ironman for the first time and that had to be the cake for his birthday. I made a carrot cake and while googling for an Ironman colouring picture to use as a template, I found an interesting cake decorating technique. It's called FBCT which stands for Frozen ButterCream Transfer. I had to try it out and this was the result.
Submit Your Cake Pictures Here
Have you ever had a cool cake at one of your parties? Show it off and share it here!

By submitting your cake and story, you grant PerfectPartyIdeas.com permission to alter, republish and create derivatives in any media whatsoever.

** Sometimes because of awesome cameras, the photos are too large to submit here. Oops!! If you are having trouble downloading your cake photo, please send it to perfectpartyideas@gmail.com. We would love to see it!!

From Ironman Cake To More Fun Birthday Cakes,
Cupcakes and Other Fun Cake Ideas
Teen Party Ideas
Adult Party Ideas |
Perfect Party Supplies
Discount Newsletter |
Share Your Party Ideas
Party Blog |
Site Map |