Justin Bieber Party

| | |
| --- | --- |
| | A celebrity themed party is always fun, so why not have a Justin Bieber party for your next event. Justin Bieber is a famous Canadian singer known for his modern-day popular music. He started his career young and was discovered young, making a name for himself still today. Many are intrigued by his life from playing hockey, chess, soccer, guitar, drums, piano, trumpet, and latest social media updates. There are endless possibilities of making this the coolest party ever with Justin Bieber in the center of attention. |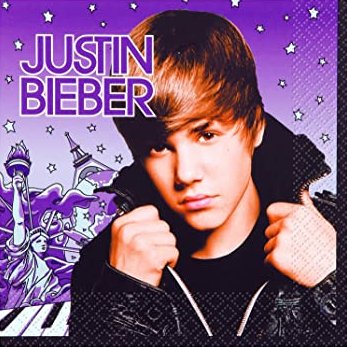 A celebrity themed party is always fun, so why not have a Justin Bieber party for your next event. Justin Bieber is a famous Canadian singer known for his modern-day popular music. He started his career young and was discovered young, making a name for himself still today. Many are intrigued by his life from playing hockey, chess, soccer, guitar, drums, piano, trumpet, and latest social media updates. There are endless possibilities of making this the coolest party ever with Justin Bieber in the center of attention.
---
Justin Bieber Party Invitations

When designing party invitations for your event, either make them look like concert tickets from Justin's latest tour or the cover of his latest album or single release. You can do this either on the computer and print out a template or look at a picture online and paint out a picture. On your invitations make sure to include a fun saying inspired by your favorite song:
Anyone - "you are the only one" that I want to come to my party
Baby - "I wanna play it cool" and have you come to my party
Hold On - "take my hand" and stop by my cool party
One Less Lonely Girl - by coming there will be "one less lonely" someone at my party 
Sorry - "sorry", but I have to ask because "you gotta go and" come to my party
Never Say Never - you can "never say never", so come to my party
---
Justin Bieber Birthday Party Decorations

Hang Justin Bieber posters on the walls
Use the color theme purple, which is Justin's favorite
Play a playlist of famous Justin Bieber songs in the background
Paparazzi photo shoot - hang a black cloth and layer silver tinsel foil on top. Have dark sunglasses, microphones, and disposable cameras to take pictures of your guests when they arrive
Dance under diamonds room (inspired by the song Anyone) - set up an area to dance or sing karaoke with purple and silver streamers, a disco ball, twinkle lights, bouquets of purple and white flowers, and cut out diamonds on the walls
Have balloons that are purple or have Justin Bieber's face on them 
Have a balloon arch with purple, pink, and silver balloons
Have a spotlight 
Have a sign that says "Belieber" or "Bieber fever"
Have large music note cutouts on the walls
---
Justin Bieber Party Games and Activities
Celebrity karaoke - sing along to Justin Bieber songs
Rock star - set up a small stage and become your own celebrity and put on a show for your guests by playing and or singing music. 
If you're lucky enough, go to a Justin Bieber concert
Watch Justin Bieber's movie "Never Say Never" or his music videos
Print out fun pictures of Justin Bieber and recreate them yourself
Guess that song - play the first 5 seconds (or less if people really know the songs) and vote if it is a Justin Bieber song or not, bonus points if you can guess which song
Songwriting - have a creative brain session and try to write the newest hit
Making shirts - have white or purple shirts and fabric paint/markers to add fun designs. Add a fun saying like "single, taken, mentally dating Justin Bieber". An added feature thing you can do to the shirts is cut small strips around the bottom and tie on purple, black, and white beads.
Have Justin Bieber trivia and questions about his songs
---
Justin Bieber Party Food

Have party food inspired by Justin Bieber's songs and life experiences:
Georgia peaches - you can have a bowl of fresh peaches and a fruit peach pie with a fun crust design on top
Have a "belieber" cake - make a double layer circle cake and say something like "we are beliebers" or "even at  __(age)__, still a belieber"
Have purple, silver, and black cupcakes
Vanilla sugar cookies with an emoji made out of yellow and black icing that says Drew
Have purple cupcakes that say JD (or Justin Bieber)
Water station with a picture of the song "Cold Water"
Have spaghetti - which is Justin Bieer's favorite food
Tim Hortons - have some food from the "Tim Biebs" selection, including the timbits and cold brewed coffee
Justin Bieber punch - combine purple Kool Aid and Sprite to make a sparkly purple drink
Dip large pretzels into purple chocolate candy melts and drizzle white and milk chocolate on top
---
Justin Bieber Party Favors

Justin Bieber poster or album
Silly bands 
Disposable camera pictures from the party or printed out pictures of Justin Bieber 
Justin Bieber merch
The decorated shirts made at the party
Dark or purple sunglasses