Knight Party

| | |
| --- | --- |
| | It is time to be a knight and do it right! Invite your royal subjects over and host our very own knight party. Step back in time to the Middle Ages with adventure, romance, and mystery. You are the warrior and it is time to slay the dragon, taking charge to host the best party with these ideas. |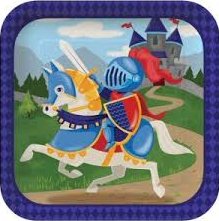 It is time to be a knight and do it right! Invite your royal subjects over and host our very own knight party. Step back in time to the Middle Ages with adventure, romance, and mystery. You are the warrior and it is time to slay the dragon, taking charge to host the best party with these ideas.
---
Knight Party Invitations
To make your own homemade Knight Party Invitations, create sword invitations. Cut out a sword shape out of cardstock and paint it with metallic silver paint. Use black marker to add lines to the sword. Then, glue it onto a card (folded piece of white paper) and say across the top "welcoming all to this medieval knight party". On the inside write your party information and say "RSVP to the King and Queen".
---
Knight Party Decorations and Supplies

Use the color theme of red, gray, and blue
Make a dragon out of green balloons
Construction paper torch with red, orange, and yellow tissue paper flame
Have knight helmets for party hats and have a sign saying "suit up"
Have a dragon pinata
Have a sign saying "hear ye, hear ye, welcome to the party"
Have cardboard shield and swords on the walls
Have paintings or drawings of knights around
Make a castle entry - using a giant piece of cardboard, cut the outline of the front gate entry into a castle. Then, paint with gray paint and use black paint to make some brick outlines. 
Have a sword in the stone - have the guest of honor see if they can pull out the sword
---
Knight Party Games and Activities

Color the Knights Castle – when guests arrive have them color a 3D castle. Everyone can add a little something to the castle.
Crown Cookie Decorating - have pre baked cookies in the shape of crowns and have icing, sprinkles, and candy to make a delicious cookie.
Sword Balance – test your balance with your 'sword' (wooden dowel). Place the sword on your open palm and balance it in an upward position. Depending on the age of the guests you can have them race with the sword balanced to add a challenge.
Sword Skills – test your sword skills (wooden dowel) with a challenging ring toss. Pair up the guests – one person has the sword and the other has five rings (can be made out of a heavy rope made into a ring). The one person tosses the rings and the other tries to catch the ring with the sword.
Castle Drawing Contest – use good art paper and first have the guests outline their castle and then they can add the detail. Use a black felt tip pen, then after the detail has been added you can color in with colored felt tip pens or paint with water colors. Some items that can be added to the picture would be: a draw bridge, arched windows, flags, trees, bricks / stones, dragon, trees / flowers, prince / princess, ghosts, bats, day or night scene, etc.
Make a Coat of Arms – all families had a coat of arms. Have your guests create their own personal crest by selecting a color, design and incorporate their favorite animal. Make these crests on thick paper and decorate with markers, sequins, glitter glue, etc.
Medieval Times – travel back in time to the 11th century by going to Medieval Times. How exciting to feast and watch the joisting performance with King Philippe, and his daughter in law Princess Leonore.
Dragon Pinata – which knight or fair lady will slay the dragon today

?
Pin the Sword on the Knight – play like pin the tail on the donkey. Make a drawing of a knight and outline where the sword fits correctly. Make your swords and add some double sided tape to the back of the sword.
Watch a knight show or movie
Play medieval music quietly in the background at all times
Knight Training - play some of the above games and when the guests are done, "knight" the guests and have them dress up in a knight costume.
---
Knight Birthday Party Food

Roasted chicken and potatoes
Use medieval goblets for drinks
Dragon eggs - either gobstoppers, gumballs, or Hershey's eggies 
Garlic bread
Make your cake in the shape of a castle, sword, or dragon
Sword and stone shaped sugar cookies with royal icing
Dragon fire balls - cheesy puffs
Cannon balls - use chocolate covered almonds, or chocolate candy balls
Gold coin chocolates
Make dragon fire fruit kabobs - have cut up pieces of cantaloupe and watermelon
Blocks of cheese with little sword toothpicks
Fruit tray that says "royal jewels"
---
Medieval Party Favors

Dragon figures or stuffed animal dragon
Inflatable sword
Knight figures
Bag of "dragon treasure" that is chocolate gold coins
---
Related Party Idea