Ladybug Party

| | |
| --- | --- |
| | Ladybugs are so majestic and are trying to bring you good luck for your next event. Everyone would be tickled red and polka dot black to have a ladybug party. With thousands of types of ladybugs, this is such a cute theme, especially when it is sunny outside. |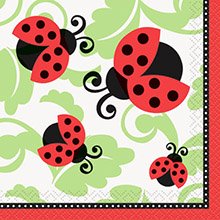 Ladybugs are so majestic and are trying to bring you good luck for your next event. Everyone would be tickled red and polka dot black to have a ladybug party. With thousands of types of ladybugs, this is such a cute theme, especially when it is sunny outside.
---
Ladybug Party Invitations

Ladybug, ladybug come out and play. You're invited to my ladybug party. 
To make homemade ladybug Invitations, create a small homemade ladybug book inviting your little one's friends to come to your party. Draw, color, and cut-out ladybug shapes (or use a ladybug picture or sticker) and use it as the cover. Use white or colored paper for the pages of your booklet and staple them together. Cut the booklet to the shape of a ladybug creating your small booklet. Write a cute little story inviting the friends to a ladybug garden party and have your little one draw the pictures to go along with the story.
Don't forget to thank your guest with some ladybug thank you notes.
---
Ladybug Party Decorations and Supplies

Color theme would be red, black, white, green, pink and purple
Have a welcome sign that says "Welcome to the Garden of ____" (the guest of honors name).
Set the stage with a beautiful table. You are able to get ladybug table coverings or you may wish to have a burlap looking table covering or table run. 
Centerpieces are a must - think of natural ideas. Use mason jars, fill the bottom with clear beads, add red flowers and tie a black and white polka dot ribbon around the jars for a bow.
Stick with your overall theme for table settings. If you wish there are ladybug themed napkins, plates, cups, etc.
Hang a ladybug personal birthday banner 
Ladybug headbands or Party hat
Hang Red and Black Star Mylar balloons
Ladybug Pinata
You can customize balloons to look like ladybugs by adding a black painted dot to a solid red balloon
Set up a picnic area in your backyard
Have an art and craft station area
Set up a baking table to decorate cookies
Twinkle party lights or outdoor string lights
---
Ladybug Party Activities and Games

Butterfly, butterfly, ladybug

!

Depending on the age of your guests they love to play games. Have a number of simple games ready to go as they may not last as long as you anticipate. For this game play like duck, duck, goose. All your guests can either sit on a wooden disc. Stand in the middle if this is a new game to help guide your guest back to the spot where they sit. 
Pin the spot on the ladybug - Play like pin the tail on the donkey. If you are creating your ladybug yourself for this game, have the ladybug have the same number of spots on it as the age of your guest of honor. Have a soft scarf with nature and ladybugs on it to cover the eyes. Spin your guest the number of times as the age of your guest of honor.
Musical ladybug - Pre-cut out large leaves out of felt material (for the chairs). The leaves can be randomly placed around the room. Turn music on and the ladybugs can fly around the room, when the music stops the ladybugs need to land on their leaf and sit down. 
Garden Collage - Have the guests create a collage. Get lots of different material both natural and purchased materials, with lots of different textures (e.g., different leaves, branches, papers, cloth, stickers, etc.). Pre-cut different shapes to look like flowers, bugs, butterflies, trees/leaves. Also have available sequence, beads, etc. to add decorations to their masterpieces.
Thumb Ladybug Canvas -

Each person gets a framed canvas. On the canvas do a wash of color (watered down paint, for a faint color try oranges, pinks, purples, blues, etc.). Next take a thin paintbrush and dip it in brown paint, then make two or three brush strokes across the canvas to create branches. With another brush add a couple of leaves. Now you can use your thumb (help will be needed for painting fingertips). Paint your fingertips red and place them on the branches. When your ladybugs dry use a felt tip pen/marker to draw the spots and antenna on the ladybugs. ** A little hint when painting at a party is to have a hair drier handy to blow dry the different stages of painting. This way it speeds up the process and the painting will look better in the end.
Decorate Ladybug Sugar Cookies - You can make ladybugs, watering cans,  sunflowers, etc.
Blow Bubbles - Create your own bubbles if you wish with bubbles that are non popping bubbles. Set out a number of utensils that can be used to blow bubbles. 
Ladybug Pinata - These are easy to make if you are unable to find your own pinata that fits your theme. There are two types, the kind that you hit and the kind that you pull the tab to open the bottom. Fill with age appropriate prizes and give each guest a bag to add their prizes into during the opening. 
Bug Catching Station - Have some bug catching kits, magnifying glass and binoculars for your guests to search, and examine different items in nature.
Rock Painting - Paint rocks to look like ladybugs and other items in nature. You could later use these as decorations or pieces to a game.
Bean Bag Toss - Have a piece of wood that you have painted red. Cut out holds that will look like the black spots of a ladybug. Try to toss the bean bag through the hole.
Jewelry Making - Make bracelets with your color themed beads. If your guests are younger consider these to be made using pipe cleaners and if your guests are older make them using DMC string (used for embroidery)
---
Ladybug Party Food

Ladybug juice - strawberry / raspberry fruit juice
Flowers - fruit and veggies cut with cookie cutters to look like flowers
Ladybug Fruit Tray - use green grapes, blueberries around the outside, and raspberries and strawberries for the ladybug body. Add a few blackberries for the spots of your ladybug.
Watermelon squares with blueberries in top
Red and black licorice 
Dipped oreo cookies - dip half an oreo cookie in melted red candy melts
Ladybug cupcakes. Cut the top off of the cup cake to separate for the wings. Or make the top of the cupcake look like grass and add on a few small ladybugs (use icing or little candies).          
Ladybug cake. Use a pre shaped pan (easy to use – use lots of non-stick spray)
Worms and dirt - pudding
Real strawberry ice-cream, top with whip cream and berries



Ladybug juice - strawberry / raspberry fruit juice
Flowers - fruit and veggies cut with cookie cutters to look like flowers
Ladybug Fruit Tray - use green grapes, blueberries around the outside, and raspberries and strawberries for the ladybug body. Add a few blackberries for the spots of your ladybug.
Watermelon squares with blueberries in top
Red and black licorice 
Dipped oreo cookies - dip half an oreo cookie in melted red candy melts
Ladybug cupcakes. Cut the top off of the cup cake to separate for the wings. Or make the top of the cupcake look like grass and add on a few small ladybugs (use icing or little candies).          
Ladybug cake. Use a pre shaped pan (easy to use – use lots of non-stick spray)
Worms and dirt - pudding
Real strawberry ice-cream, top with whip cream and berries
---
Ladybug Party Favors

On your label on your gift bag say something cute like "Thanks for buzzing by and celebrating today"
Any and all ladybug gear would work and be fabulous - hairband, lip gloss, pinwheel, toy, pillowcase, etc.
Red and black yoyos - get black yoyos and paint black spots on them
A simple single ladybug sugar cookie in a clear bag