My Little Pony Party Ideas
All little girls fall in love with the adorable, fun, caring My Little Ponies. Hosting a My Little Pony Party will bring a smile to your little girl's face. These little ponies are unique, colourful and interestingly enough are named after their unique marking on the backside. Make this a colorful and sweet My Little Pony Birthday for your little sweetie.


---
My Little Pony Party Invitations and
Thank You's
To make your own My Little Pony Invitations use cardstock and cut out the shape of a pony. Make the invitations in different colors – your child's favorite My Little Ponies. Make sure you decorate the correct hair colour (cut and paste) and then add on the unique Bum design (use either a sticker or draw the shape). On the other side write a cute saying; such as, Join Sweetie Bell (or your favorite My Little Pony) in Ponyville and help celebrate ______'s birthday. And add all the other important information.

Or, send these adorable pre- made My Little Pony invitations and My Little Pony Thank you cards


---
My Little Pony Party Supplies and Decorations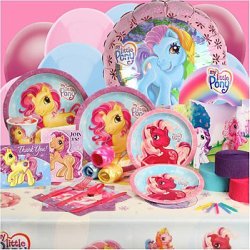 My Little Pony Deluxe Perfect Party Pack
Use the Color Theme Pink and Purple
Decorate your party like you've entered Ponyville
My Little Pony centerpiece
My Little Pony Mylar balloons and color themed balloons
My Little Pony tiara (party hats)
My Little Pony cups, plates, napkins, etc.
My Little Pony tablecloth
My Little Pony birthday banner
Poster of My Little Ponies (or I would draw, colour and cut our large My Little Ponies, trees, etc. to make the walls look like Ponyville)
---
My Little Pony Party Games and
My Little Pony Birthday Activities
Cheerilee's Face Painting Paint the guests faces with a star, heart, rainbow, etc. just like their favorite pony. Have pictures of the ponies for the girls to select.



Rainbow Dash Hat Fashion Decorate your party hat. Use the foam hats and decorate with the foam shaped stickers (they come in all shapes and sizes). Make sure you also have foam letters, so the hats don't get mixed up.



Star Song Dance Studio Teach the guests a couple of new dance moves and then see if they can teach you a couple. Put on some fun music and let the dancing begin. You may wish to have a few tutus for the guests to wear during the dance time.



Sweetie Belle's Gumballs Have a large jar of gumballs and have the guests try to guess how many are in the clear jar. Play higher and lower. This is also great colorful decoration!



Toola Roola Painting Go to your local 'dollar' type store and purchase some canvas's to paint on. Let the guests create their own masterpiece. Have them paint on the ground on a large plastic tablecloth (again check out your local 'dollar' type store). As for the paint I usually put it into an empty egg carton giving plenty of selection of paint colors.



ScootaLoo Search and Rescue Adventure Hide a number of My Little Ponies (or cut outs) all over a designated area and let the guests set out to search and rescue as many ponies as they can find.



Pin the Tail on the Pony Play just like pin the tail on the donkey



Musical Ponies Just like musical chairs



Watch A My Little Pony DVD After cake and presents, when you are waiting for the parents to arrive watch a My Little Pony DVD.





---
My Little Pony DVDs
A Charming Birthday (2003)
Dancing in the Clouds (2004)
Friends are Never Far Away (2005)
My Little Pony: A Very Minty Christmas (2005)
My Little Pony: A Princess Promenade (2006)
My Little Pony: The Runaway Rainbow (2006)
My Little Pony: A Very Pony Place (2007)
My Little Pony: A Pinkie Pie's Special Day (2008)
My Little Pony: Meet the Ponies (2008)
My Little Pony: A Rainbow Dash's Special Day (2009)
My Little Pony: Twinkle Wish Adventure (2009)


---
My Little Pony Party Food

My Little Pony Rainbow Cake
Trail mix
Jello shaped ponies
Rainbow punch. Make different colored ice cubes (use different kinds of Cool aide)

My Little Pony Cake
Shared by Madeleine


---
My Little Pony Party Favors
Small My Little Pony Toy
My Little Pony notebook
My Little Pony bracelet
My Little Pony stickers
Share Your My Little Pony Party Ideas Here!

More Girly Girl Theme Parties

All Kids Party Ideas and Themes


Teen Party Ideas Adult Party Ideas |
Perfect Party Supplies Discount Newsletter |
Share Your Party Ideas Party Blog |
Site Map |