Naughty Elves Cake
by Tammy Mc Arthur
(South Africa )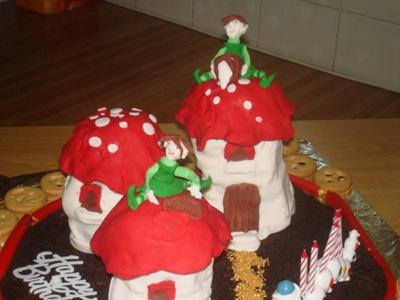 This Naughty Elves Cake is made up from stacking cake squares together and topping it off with cake cooked in mini bowls. It's glued together with apricot jam and then rolled in fondant. The extra cake was mixed with melted cooking chocolate and chocolate sauce to create a sticky base.




Next, I cut out the windows and stuck on the door. For all the lines and markings I used a toothpick. A toothpick is also holding the elves together as it was made in different pieces and glued together with sugar glue. The legs, shoes, and body - split into lower body. The upper body which included the neck, head, hair with the ears and nose were also glued. I used the back of the glue to make my bucket shape and then again used toothpicks to carve out some shape.
**Tip
- put the paint in the bucket before putting the handle on - I got very irritated with myself doing it the other way around - eventually took it off - stubborn I know. Loads of fun and really very proud of my Naughty Elves Cake creation.