Shrek Party

| | |
| --- | --- |
| | A Shrek Party is sure to be just like the movies – hilarious and down to earth at the same time. Join Shrek, Fiona, Donkey, Puss 'n Boots, and all the others in Far, Far Away for this Shrek birthday adventure. |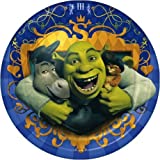 A Shrek Party is sure to be just like the movies – hilarious and down to earth at the same time. Join Shrek, Fiona, Donkey, Puss 'n Boots, and all the others in Far, Far Away for this Shrek birthday adventure.
---
Shrek Party Supplies and Decorations
At your entrance have a sign made from a piece of cardboard that says "Beware … Ogre" like at Shrek's swamp
Use the color theme green, purple and yellow for balloons and streamers. Think of using a balloon arch over a doorway or accent a focal area, like a food station. For the streamers I would hand them vertically possibly for the backdrop of a photo booth area.
At the door entrance hang a welcome to Far, Far Away sign. This would look amazing on an old barn board thick sign that you can custom paint.
 Inside it would look great to have a wooden direction sign - labeled with Far Far Away, the swamp, Sherwood forest, Duloc castle, Dragons Keep castle, etc.
Tie helium balloons to the back of chairs
You will have to decide where the party is going to take place and decorate the theme Swamp, forest, castle, or maybe have a room for each.
Cover your bathroom door with brown packing paper and write on it "OUT HOUSE", add a black moon slice and make it appear to be pieces of rough wood
Mirror Mirror on the wall - use a regular mirror (preferably round or oval) and hang a drama white mask in the middle



---
Shrek Party Games and Activities
Decorate Shrek and Fiona's Castle - Use old appliance boxes and have the castle set up (pre cut windows and doors). Give the guests old dress shirts to wear over their clothes. Everyone gets a paint brush and let your guests paint and decorate the beautiful castle. I would have them paint outside (paint will dry fast) or in a basement on a drop cloth. Have lots of paint colors available (e.g. grey, green, purple, pink, yellow, etc.). To add to the setting you could already have painted a large carriage of Shrek and Fiona to have beside the castle. This is not only a great activity, but once it is dry the guests will love to play in the castle.
Ogre Ears - Have the guests create their own party hats. You need two shades of green construction paper, glue and tape. Use a long rectangle to go around the head. Pre-cut ears (2 shades of green). Have the kids glue these together. If they want they could also glue on sequins for Fiona. Tape the size/ fitting around the head of the kids.
Gingerbread Cookies - Decorate and bake gingerbread cookies and don't forget the gumdrops.
Charades - Use pictures of Shrek, Fiona, Donkey, Pinocchio, Three Blind Mice, Puss in Boots, Dragon, Gingerbread Man, Cinderella, Snow White, Sleeping Beauty, Mirror, mirror, Lord Farquaad, Peter Pan, Big Bad Wolf, etc.
Musical Chairs - This can be done with chairs, hula hoops or anything that can keep their places. If you have a number of really young guests, might I suggest that there is a consistent number of "chairs" for them to sit in. If you have a guest sit out to rest they are able to try to get to a chair at the same time as the other guests. This is where hula hoops come in hand because you can access them from either side.
Balloon Stomper - Players become a balloon stomper and try to stomp and pop balloons tied to their opponent's feet. Use green and purple balloons.
Read a Fractured Fairytale (inspiration for the movie – cute and funny stories). 
Actors Corner - Dress up and act out a favorite scene or create your own story of Shrek and Fiona's adventures.
Pin the Tail on Donkey - Use a soft scarf to cover your guests eyes. Spin the number of years your birthday guest of honor is this year.
Pinocchio's Ring Toss - Try to toss the ring on Pinocchio's nose
Outdoor movie - Watch the Shrek movie or short of choice. Have comfortable seating and a concession stand all set up with the traditional movie foods.
---
Shrek Birthday Food

Happily Ever After Potion -

m

ake a punch with orange juice, and ginger ale
Swamp Juice - green gatorade 
Bug Juice - Any type of juice with ice cubes with frozen jelly worms, etc inside
Pigs in a blanket - easy to make and a great side or hors d'oeuvres
Dragon's Breath - salsa and chips
Rats on a Stick - really a bucket of chicken. This would look great in a wooden planter bucket (line with plastic wrap or something so the chicken is not touching the wood). Either make the chicken or purchase at a local grocery store or chicken food chain.
Forest Berries - strawberries, blueberries, blackberries, etc.
Ants on a Log - celery filled with peanut butter and topped with raisins (make sure there are no nut allergies

!!!

) or as an alternative use cheese wiz
Dragon Fire Balls - orange cheese balls
Butterfly Cocoons - cheetos 
True Love's Kiss - hershey kisses
Mud Bath - chocolate fountain with lots of fruit (strawberries, bananas), marshmallows, etc to dip
Gingerbread Cookies - make sure they have gum drop buttons
Have an Ice Cream Center - get multiple types of ice cream (especially mint chocolate chip and orange) have a variety of toppings (worms, smarties, gum drops, sprinkles – use the leftovers from the gingerbread man cookies decorations)
Worms in Dirt - chocolate pudding with cookie crumbs, topped of with gummy worms
Shrek cake, or Shrek swamp cake - you can have Shrek swimming in his muddy swamp showing only his green bum. Simple chocolate cake that will sure be memorable.
---
Shrek Party Favors

Shrek gummies
Shrek coloring book and crayons
Shrek stickers
Green nail polish
Shrek tattoos