Snowboarding Cake
Snowboarding Cake
by Zoe C.
(Aberdeenshire, Scotland)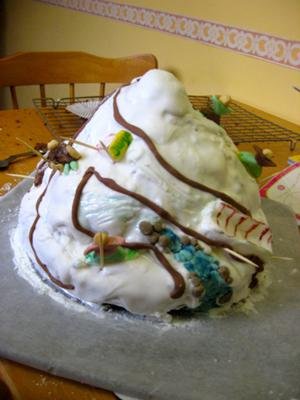 I made this for a friend who is mad about snowboarding. It was great fun to make! I made the basic mountain shape by making one large circular sponge. (I made it chocolate but as you can't see it at the end, you could do whatever) I then made a batch of cupcakes, and stacked these (without the cases!) on top of the base. To make sure the cake cut ok, they had to be securely 'cemented' together with icing.
I then made some white royal icing, and covered the entire cake in it. I used sugarpaste icing dyed in various colours to make miniature snowboarders and skiiers. I also made some mini snow topped log cabins (not visible in picture), a jump park with kicker and half pipe, a tiny piste map, some rocks and a stream, and some fences. I used cocktail sticks and liquid food colouring to add the little details.
To finish, I made a snowboard out of sugarpaste icing, which read
'Happy Birthday'.
Submit Your Cake Pictures Here
Have you ever had a cool cake at one of your parties? Show it off and share it here!

By submitting your cake and story, you grant PerfectPartyIdeas.com permission to alter, republish and create derivatives in any media whatsoever.

** Sometimes because of awesome cameras, the photos are too large to submit here. Oops!! If you are having trouble downloading your cake photo, please send it to perfectpartyideas@gmail.com. We would love to see it!!

Other Shared Cake Pictures
Click below to see contributions of great cake pictures and ideas from other visitors to this page...

My Little Pony Rainbow Cake Not rated yet
Sarah loved her My Little Pony Rainbow Cake. As I am not an artist buying figurines (ponies, cars, dinosaurs) is the best way for me to make kids cakes …
From Snowboarding Cake To More Fun Birthday Cakes,
Cupcakes and Other Fun Cake Ideas
Teen Party Ideas
Adult Party Ideas |
Perfect Party Supplies
Discount Newsletter |
Share Your Party Ideas
Party Blog |
Site Map |