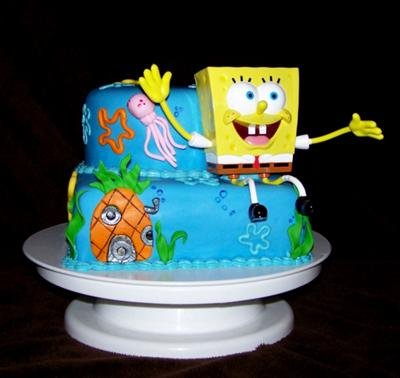 Spongebob Squarepants is a favorite humorous character. Why not dedicate a cake in his honor!

The Spongebob cake, as seen above, is made using 2 cakes. The bottom is an 8 inch square cake pan and then above is a 6 inch round cake pan. After cooking and cooling the cakes make sure they are level. If they are un-level use a large serrated edged knife to cut off any excess cake. This works best if the cake is completely cooled. You will have the least amount of crumbs if the cake is placed into the freezer before cutting.

When layering the cakes, first ice the cakes using a traditional butter cream icing. This will act as a glue holding the cakes together.

Before creating the outside make sure you have a plan. This cake was designed using the theme of under the water since Spongebob lives in the sea. The outside has been created using traditional fondant. Make sure the fondant is smoothed using an Easy-Glide Fondant Smoother or a tool such as this. Trim off any excess using a sharp knife.

To make the color of water try using the Wilton icing color of Sky Blue. It will make the water look vibrant and cartoon like. Other icing colors necessary for the under the sea theme to create Spongebob's world would be traditional orange, creamy peach, leaf green and lemon yellow.

A great idea for Spongebob on top is to use a decorative topper or toy.

To finish off the cake pipe around the bottom of the cake and where the two attach to each other with a shell bottom border. Use the #21 tip in the same Sky Blue icing color.

Good Luck and enjoy your Spongebob creation!