Sweet 16 Birthday Party Ideas

| | |
| --- | --- |
| | A sweet 16 birthday is the party you've been waiting for to show that you are a teenager and growing up. Whatever your case, turning 16 is a BIG deal for most teenagers. There is no need for a brand new car, as there are many other ways to celebrate. Use these party ideas to make your special event extra SWEET for the guest of honor. |
A sweet 16 birthday is the party you've been waiting for to show that you are a teenager and growing up. Whatever your case, turning 16 is a BIG deal for most teenagers. There is no need for a brand new car, as there are many other ways to celebrate. Use these party ideas to make your special event extra SWEET for the guest of honor.
---
Sweet 16th Birthday Party Invitations
For a 16th birthday, send out physical invitations and then create a group chat with everyone coming to give them any reminders. On your invitations have the number 16 in large bubble letters and then write the words sweet sixteen over top in cursive lettering. Divide 16 candles among the number of invitations and tell the guests to put it in their gift or card when they come to the party. Then, open gifts before eating the cake and as you go count how many candles you get, until you reach 16 candles.


---
Sweet 16 Birthday Decorations
Have 16th birthday number helium balloons
On a posterboard, write the number 16 in glue and then sprinkle with glitter. Then, when the guests arrive, have them sign it and add a message.
Hang streamers coming from the top of the door frame
Have a one line balloon arch made from 16 balloons
Sheet backdrop, twinkle lights, and balloons for photos 
Banner that says "Sweet Sixteen"
Glow lights and glowsticks 
Speaker that changes color with sound
---
Sweet 16 Birthday Party Games & Activities

Glamor shots - turning 16 is very sweet and very exciting, so have a photoshoot and take some memorable photos to capture this special time. 
Balloon truth or dare - have some appropriate premade truth and dare prompts written down on slips of paper. Then, roll them up and put in balloons and blow them up. When playing, you choose a balloon at random (either have two colors, one for truth and one for dare, or all the same color for a mystery) and do what the prompt says on the inside. 
Go to your favorite restaurant 
Keepsake Jenga - before playing the game of Jenga, dump out the pieces in a pile and give everyone a permanent marker. Have everyone sign their name, write a message, and decorate with drawings. Have one person mix them up and stack to play. Then, when playing, all the custom Jenga pieces will be revealed. 
Sunglass takeover - get some square frame sunglasses and decorate them. You can use a permanent marker to write words and simple messages on the lenses. You can also hot glue clay beads around the frames or use other craft materials to add a special touch. 
Throw spiral painting - give everyone a blank canvas and have bottles of acrylic paint. Squirt a generous amount of paint onto the canvas in different line patterns. Then, over grass, throw the canvas like a frisbee (be careful of paint splatters on your clothing) and the end result should have made the paint spiral. Finish the painting by writing a name, dating it, and signing your own name. 
Nail painting - get a mani pedi or do it yourself
Makeovers - divide into teams of two or three and set a timer to see which group did the best job on their makeovers. Or do blind folded makeovers and be amused by the results. 
Name that song - play music and the first person that guesses the song wins, keep track and see who got the most.
2 truths and 1 lie - see how well you know each other by saying two things that are true about yourself and something that is a lie in any order. Then, the players guess which statement is the lie. 
Have a sleepover or campout and make smores 
Watch a movie that has a main character in high school or who is sixteen, like 16 Candles 
Click here for more teen party games
---
Sweet Sixteen Party Food and Drink

Food

Make your own pizza
Taco station
Brunch bar with croissants, muffins, and fruit
Fruit kabobs 
Charcuterie board in precut shapes that make the number 16
Chocolate covered strawberries
Chocolate covered pretzels
Make your own ice cream sundae
Ice cream cake
Cake pops with sparkles and the number 16 written in icing
Sugar cookies that say "sweet sixteen"
Chips and salsa or guacamole
Candy bar with all the guest of honors favorites
Donut decorating 

Drinks

Pink lemonade
Virgin shirley temple
Non-alcoholic champagne
Chocolate or strawberry milkshake



Food
Make your own pizza
Taco station
Brunch bar with croissants, muffins, and fruit
Fruit kabobs 
Charcuterie board in precut shapes that make the number 16
Chocolate covered strawberries
Chocolate covered pretzels
Make your own ice cream sundae
Ice cream cake
Cake pops with sparkles and the number 16 written in icing
Sugar cookies that say "sweet sixteen"
Chips and salsa or guacamole
Candy bar with all the guest of honors favorites
Donut decorating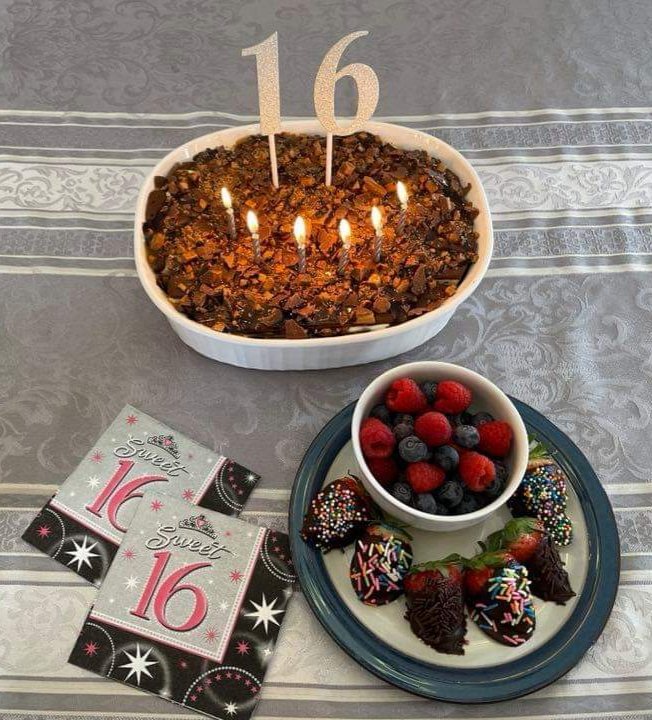 Drinks
Pink lemonade
Virgin shirley temple
Non-alcoholic champagne
Chocolate or strawberry milkshake
---
Sweet 16 Party Favors

Friendship bracelets
Key chain
Trendy sunglasses
Glow sticks
Candy and chocolate
Photos from the party and a photo frame
Nail polish
Coffee tumbler cups and hot chocolate mix
Toy cars