Three Tier Lemon Wedding Cake
Three Tier Lemon Wedding Cake
By Denise (Grand Bend, Ontario, Canada)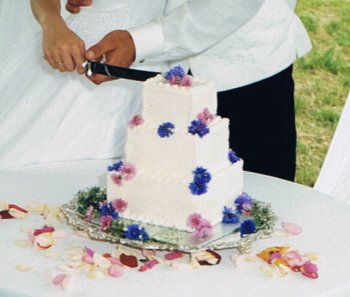 My daughter was getting married in July. She wanted me to make her wedding cake! My neighbour had made her daughter's wedding cake, so she became my "teacher". We tested numerous lemon flavoured cakes from scratch (on the side there was to be mixed berries and ice-cream). We had many yummy lemon cake tasting parties! We settled on the Martha Stewart recipe for a 3 tier wedding cake. The cake design used three different sized square cake pans. We used a Kitchen-Aid stand mixer … it was very helpful as we had a lot of cake dough. Here's how to make a homemade wedding cake.
The day before the wedding we made the butter cream icing.
This simple wedding cake was decorated with pansies instead of a traditional wedding cake topper!
It was perfect for her outdoor farm wedding. It also was a terrific memory for us!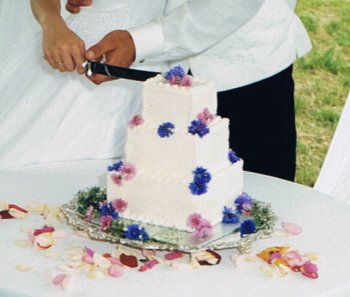 Submit Your Cake Pictures Here
Have you ever had a cool cake at one of your parties? Show it off and share it here!

By submitting your cake and story, you grant PerfectPartyIdeas.com permission to alter, republish and create derivatives in any media whatsoever.

** Sometimes because of awesome cameras, the photos are too large to submit here. Oops!! If you are having trouble downloading your cake photo, please send it to perfectpartyideas@gmail.com. We would love to see it!!

From Three Tier Lemon Wedding Cake To More Fun Birthday Cakes,
Cupcakes and Other Fun Cake Ideas
Teen Party Ideas
Adult Party Ideas |
Perfect Party Supplies
Discount Newsletter |
Share Your Party Ideas
Party Blog |
Site Map |