Tie Dye Party

| | |
| --- | --- |
| | Have a tie dye party on your path to relaxation, having a blast from the past and throwing it back to the 60s. Most people appear to be happy and enjoying life when they are dressed in comfortable tie dye clothing. Make it unique, you can tie dye almost anything that you can wear, so have fun and think outside the box. Take a deep breath and check out these tie dye themed party ideas. |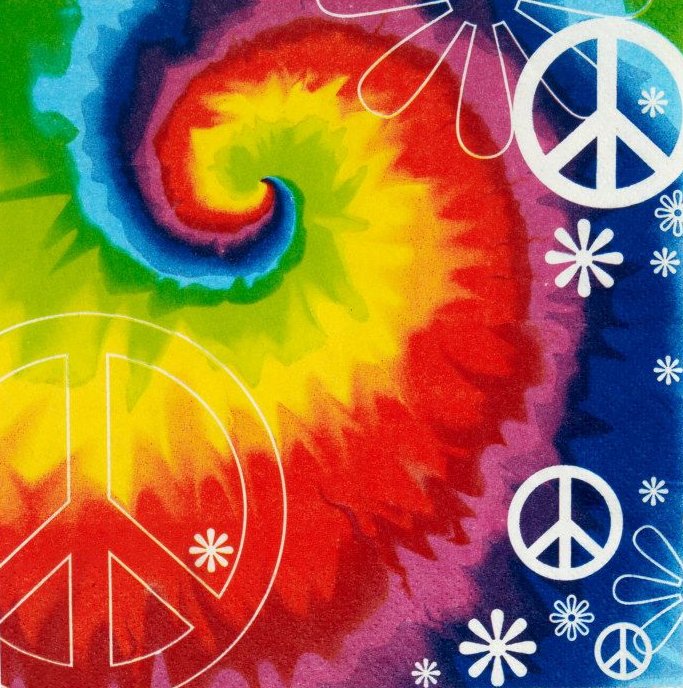 Have a tie dye party on your path to relaxation, having a blast from the past and throwing it back to the 60s. Most people appear to be happy and enjoying life when they are dressed in comfortable tie dye clothing. Make it unique, you can tie dye almost anything that you can wear, so have fun and think outside the box. Take a deep breath and check out these tie dye themed party ideas.
---
Tie Dye Party Invitations

Make the invitation for your event actually look tie dyed. One way to do this is to combine small cups of water and food coloring. Then, fold your paper up multiple times and dip the edges into the water. The amount of food dye you put in the water will make the final color lighter or darker. Glue your dried dyed piece of paper onto a white piece of paper to clearly be able to write your party information. 
Another way to make invitations for the event is to test your tie dye skills and make each guest a tie dyed bandana for them to wear at the party. Once the bandanas are washed and dried use a material marker to write all the party information on the bandanas. Then for the finishing touch roll them up in a ball and tie them with a twine looking rope or ribbon.
---
Tie Dye Party Decorations

Either use a rainbow color theme or choose 3-5 of your favorite colors
Have the guests come dressed in some 60s and tie dyed clothing to set the mood
Have tie dye themed plates and cups
Use neutral napkins and clear cutlery
Daisy bead curtain
Set up a lava lamp
Gather all the pillows in your house and place them all in one room for floor pillows to sit and relax or get bean bag chairs
Hang a hammock
Peace buggy or daisy pinata
---
Tie Dye Party Activities

How to Tie Dye a Shirt:
Find an area that you can make a bit of a mess like a backyard, garage, basement, etc. This can be a messy activity.
Make two areas: a prep station and a dye station
Wear rubber gloves. You don't want your hands to match your new clothes (make sure you have enough for all your guests)
You can purchase a tie dye kit
Have many different containers available - large bowls or buckets
Add some fabric dye or bleach into the different dye bottles (once the dye is mixed it needs to be used within ½ hour to keep the colors crisp)
Select the shirt you would like to die. Favorites are tank tops and t-shirts, but you can be creative and tie dye anything. * fabric needs to be 100% cotton and pre-wash items
Roll up your shirt and place elastics around it (keep it tight) The different ways that you roll and tie your shirt will create different patterns
Squirt the shirt with the dye. Select an arrangement of colors
When you have all the colors you wish on the shirt take off the elastics and lay flat to dry
Then when the shirt has dried throw it in your washing machine (alone) washing out any excess die. (best to wash the next day)
Enjoy wearing your creation

Painting Tie Dye Type Designs:
Hand Painting Art
Do a wash over craft paper (watered down paint, cover the paper with the lightly colored water) Have a partner paint your hands in different colors - do a swirl design
Each finger a different color
Place your hands down on craft paper

Paint Blending:
Everyone gets a piece of craft paper
Put some blops of different color paint on your paper
Either: fold the paper over and flatten it open it up to see your design or get a straw and blow on the paint creating a unique design

More fun Tye Dye Party Activities:
Make friendship bracelets - use simple designs like squarenot, staircase, fishtail, etc.
Have a bond fire and roast marshmallows
Play music and do karaoke
Tell stories / and share memories
Play cards or a board game
---
Tie Dye Party Food

Make your favorite punches available in large bowls
Make different colored ice cubes
Finger sandwiches made with a daisy cookie cutter
Rainbow fruit kabobs
Mixed veggie tray
Oreos dipped in swirled colored icing
White chocolate covered pretzel with colored swirls on top
Circle sugar cookies with the top looking tie dyed with royal icing
Colored swirl lollipop 
Three cake ideas:
Make a Daisy Cake - this is simply done with a preformed daisy cake pan
Retro Car Cake - use a 3D punch buggy cake pan for the shape
Peace Symbol Cake - use a 9 inch round cake pan. When it is cooked and fully cooled, cut out the center pieces creating a peace symbol.
---
Tie Dye Party Favors

60s temporary tattoos
Smiley face daisy bag
Mini bubbles
Peace bracelet
Groovy playing cards