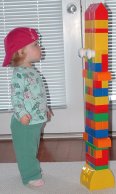 Ages: 3 and older
Objective: Tower of Power is a game where teams try to build the tallest tower using blocks and various objects without it falling over.
Players: 4 or more
Materials: Blocks, cereal boxes, tissue boxes, anything stackable
Rules: Divide players into two teams. Using only the materials provided, teams must work together and try to construct the tallest tower! The tallest structure that doesn't fall over wins.
Alternative: Go with individuals instead of teams, or use a stop watch for the fastest tower. At the end of play, have everyone work together to try and build one big tower. Then have all the kids stand beside it for a group photo!