Train Cake
| | |
| --- | --- |
| | I found the neatest thing at the store, it was called a puzzle cake. Usually I just make cupcakes and this is a set of cupcakes placed together in a pattern to build a cake. From this puzzle pattern that I selected to make was a train cake. My son, like so many other boys, loves trains. He was not specific about wanting a Thomas cake, so I made this train birthday cake out of fun primary colors. |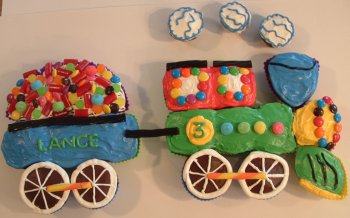 I found the neatest thing at the store, it was called a puzzle cake. Usually I just make cupcakes and this is a set of cupcakes placed together in a pattern to build a cake. From this puzzle pattern that I selected to make was a train cake. My son, like so many other boys, loves trains. He was not specific about wanting a Thomas cake, so I made this train birthday cake out of fun primary colors.
What I purchased was Wilton's puzzle cakes to build a cake set. Within this set you are able to make 3 different patterns for cakes. You are able to make a train, dump truck and a rocket. Within the set you get twenty four silicone cupcakes shells. There are also instructions on how to bake and how to set up the pattern to turn into the different cakes. It's just as simple as setting them up to create the pattern. I try to cook the cake in the pattern as well. 
How to Make the Ultimate Train Cake
First, I laid out the pattern of cupcake holder shapes on a cookie sheet and made it look like a train. I figured that if the cake batter spreads extra then it will be all set up.
You are able to use any type of cake that you and your guests will enjoy best.These types of cakes use lots of icing and that means that you really can have any flavor or color of cake. Mix the cake batter up like any other cake. I filled the cupcake holders with regular chocolate cake mix up to the fill lines. I love how there are fill lines on the sides of these silicone cupcake holders. I also love how they are completely non-stick. I didn't spray or anything. Which isn't like me at all, but I really wanted to test the theory. Then I baked the cake. Bake at 350 degrees for approximately 25 to 28 minutes. Wilton recommends to completely cool the cooked cupcakes on your cookie sheet.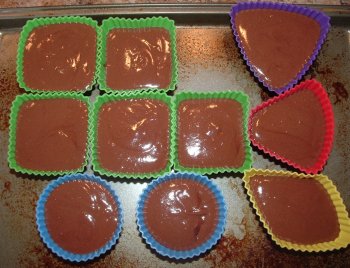 I used a buttercream icing that can be made when you are cooking the cupcakes. I make the icing, tint it in a medium sized bowl. Then I place it into triangle shaped icing bags. When I am not using the icing I keep it in the refrigerator. I prefer to use it when it is cool.
After the train cake was all cooled I iced the cake. At this point it did not look that fantastic and I started to worry. After it was all iced I was surprised at how the shape really started to appear to look like a train.
To ice this cake I had the cupcakes already on the serving dish. I started using the icing tip number 12. It's a large circle tip. Cover the windows with icing and then smooth it out with a spatula. Then pipe almost too much icing all over the cargo area, smooth it out and then it will be ready to cover with tons of candies. I bought the candy from a bulk food store. You are able to get sample size servings of so many different candies. Next I piped the design on the wheels using a smaller round tip number 5. Pipe around the other areas of the cake. Smooth it out and then you are able to add candy. 
For fun I did add three additional cupcakes to be the puffs of smoke coming out of the smoke stack. I made them have white icing and did small blue squiggles of icing with a small round icing tip. I thought that it would look fun and add a little whimsy to the cake.
The fun step was adding all the candy. I used numerous types of candy to decorate the cake. I used M&Ms, black licorice lace, black licorice, and red licorice bites. I also added some sour poppers and a stick candy that was like an old fashioned lollipop.
To complete the look I piped in the name Lance. My dad loved trains and we were having a family gathering for his birthday. He was turning 63 so we used this cake for his 63rd birthday party. We had an additional cake on the side and the train was mostly eaten by his grandchildren.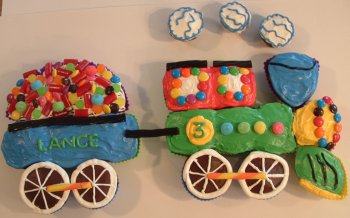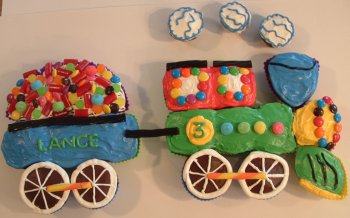 The cake looked amazing. I would highly recommend this type of cake style. There is also another set with the pattern for a teddy bear, fish and a turtle cake pattern. Kids and cupcakes are the best combination at parties. 
I was thinking that really you could use these same cupcake shapes to create so many fun cakes. The possibilities are endless. Everyone was amazed at the creation! This train birthday cake was a fun, colorful and tasty surprise!