Wow Wow Wubbzy Party Ideas

| | |
| --- | --- |
| | In this cartoon show, Wubbzy is the main character, who is adventurous and has many friends. What a fun character to gather inspiration from as the theme of your special event. Join Wubbzy, Widget, Walden, and Daisy for a wonderful event with these Wow Wow Wubbzy party ideas. These characters are delightful and lovable, teaching us about fairness, and cooperation. They are here to solve any problems and celebrate the guest of honor. So, welcome your guests to Wuzzleburg and allow the giddiness and fun celebrations begin.   |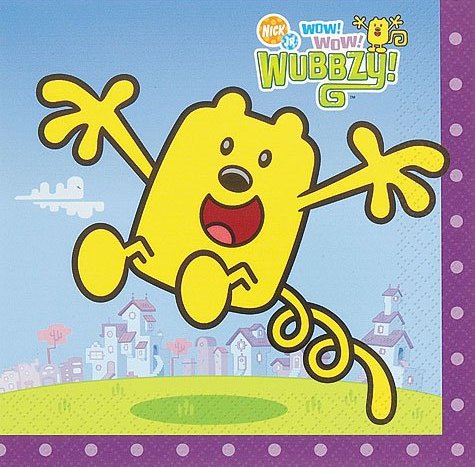 In this cartoon show, Wubbzy is the main character, who is adventurous and has many friends. What a fun character to gather inspiration from as the theme of your special event. Join Wubbzy, Widget, Walden, and Daisy for a wonderful event with these Wow Wow Wubbzy party ideas. These characters are delightful and lovable, teaching us about fairness, and cooperation. They are here to solve any problems and celebrate the guest of honor. So, welcome your guests to Wuzzleburg and allow the giddiness and fun celebrations begin.  
---
Wow Wow Wubbzy Party Invitations
To make your own homemade Wow Wow Wubbzy party invitations draw and cut out the shape of your favorite character and a matching color of construction paper. For Wubbzy use yellow, for Widget use pink, for Walden use purple, and for Daisy use teal. Then using pencil crayons and black pen draw out the rest of their cute identifiable characters, like Wubbzy's tail or Walden's glasses. On the inside start with a fun saying like "wow wow wow I am so excited to invite you to my party" or "you are invited to a wonderful Wow Wow Wubbzy party". Then underneath write out the rest of your party details.
---
Wow Wow Wubbzy Party Supplies & Decorations

Use the color theme of yellow, purple, pink, and teal
Wow Wow Wubbzy plates, cups, napkins, tablecover, party hats, etc. 
Wow Wow Wubbzy birthday banner
Draw and paint large cutouts of Wubbzy, Daizy, Widget and Walden
Draw and paint large cutouts of the animated flowers, trees, clouds, etc. found in Wuzzleburg
Balloon arch or balloon towers with the party themed colors
Balloons of Wubbzy, Widget, Walden, and Daisy
Daisy's flowers - have pink flowers and purple watering cans with a flower painted on the side
Widget's tools - have large cutouts of mechanic tools, like hammers, screw drivers, wrenches, etc. 
Wubbzy's ball - Wubbzy loves his polka dotted light and dark blue ball, make your own out of a beach ball or make a pinata look like Wubbzy's ball
Walden's library and lab - make an area for Walden's famous library and science lab with books and plastic science beakers. 
---
Wubbzy Theme Party Games and Activities

Wuzzleburg Idol - Rent a karaoke machine and play a version of American Idol. Make sure you have lots of age appropriate music that the guests will be able to sing along with.
Wubbzy Tail Toss - Create a ring toss out of Wubbzy's tail. Go to your local hardware store and get a piece of 2x2 lumber. Cut different lengths and nail/screw it together. Paint it bright yellow like Wubbzy. Make sure you attach the tail to a solid base.
Kickity-Kick Ball - This will be a hit since soccer is now so popular.
Tooter Scooter Race - Borrow some scooters and helmets and host a friendly race.
"Wubbzy" - Play like the game bingo. Make your own version on cardstock. Use multiple stickers of things Wubbzy would see in his world, like his kickball, flowers, pickleberries, Widget, doodleberries, etc. 
Wow Wow Wow Wubbzy - Play like the traditional game of duck, duck, goose. Kids still love this game especially when the words are changed for different characters.
Watch Wow Wow Wubbzy shows or the Wubbzy's Big Movie

!
Run away from the 50-foot Feegle - play like a tag game where someone is "it" and the other guests try to run away. To increase difficulty, continue to reduce the area where the game is played, so everyone is closer together. 
---
Wow Wow Wubbzy Party Food

Wuzzleberry pie - any fruit pie 
Wubby's favorite foods - lasagna and marshmallows
Pickleberries - actually pickles with a sign that says: "they have a scrumptious-sour-hoo-wee taste"
Make s'mores – use graham crackers, marshmallows and chocolate.
Ice-cream cones
Large rainbow swirl lollipops 
Doodleberries - red/purple grapes 
Popcorn for watching Wow Wow Wubbzy
Picnic - like Wubbzy and Daisy with fruit and sandwiches
Wubbzy's ball cupcakes - have vanilla cupcakes with royal blue icing and light blue circles
Make a Wubbzy cake - make a rectangular vanilla cake with yellow icing and out of another yellow cake, cut out Wubbzy's arms, legs, and tail. Then with black and white icing, add on his eyes, nose, and smile. 
Cookies - make sugar cookies and with royal icing, make Wubbzy, Widget, Walden, and Daisy. As well you can make Wubbzy's ball, flowers, water cans, tools, glasses, and book shapes. 
Walden's Experiment - have a colorful drink (e.x. green Gatorade or cranberry juice) and pretend that it is one of Walden's genius science experiments
---
Wow Wow Wubbzy Party Ideas - Favors

Wow Wow Wubbzy stickers
Bouncy ball that looks like Wubbzy's with polka dots
Large colorful swirl lollipop
Bubbles