50s Party Ideas

Do you want to "Shake , Rattle & Roll"? There's no better way then to have a 50s Party. Be creative with your 50s party invitations and invite all your T Birds and Pink Ladies, and turn your garage or backyard into a drive in movie theater.

Or have a 1950's sock hop with everyone in their best 50s outfit doing "the twist" or "hand jive". Turn your house into a 1950's diner and serve 15 cent hamburgers and ice cream sundaes. Have your 1950's party in a decorated bowling alley or roller rink. A 50's rock & roll Party is the perfect way to get "a whole lot of shakn' going on!"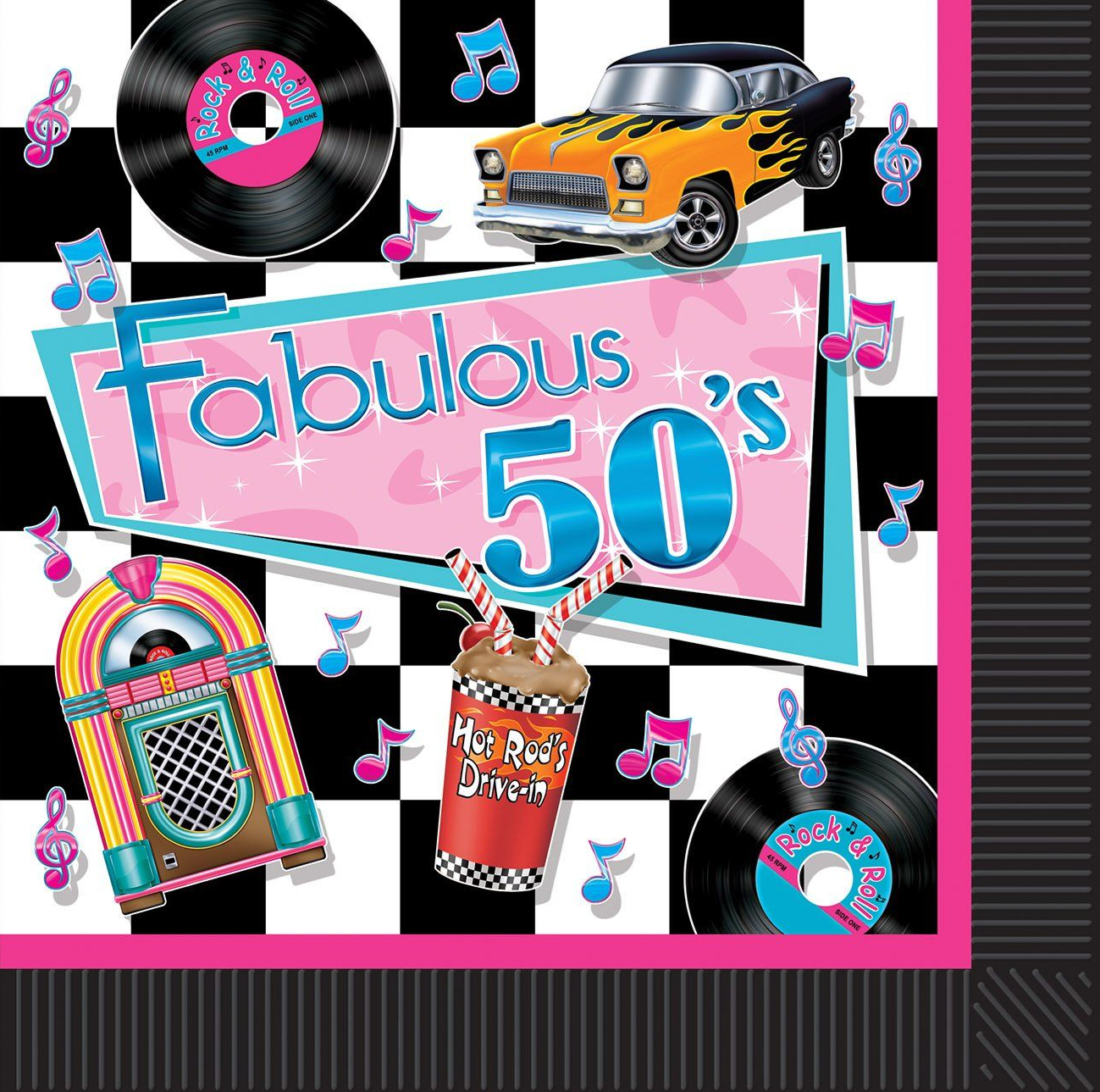 Do you want to "Shake , Rattle & Roll"? There's no better way then to have a 50s Party. Be creative with your 50s party invitations and invite all your T Birds and Pink Ladies, and turn your garage or backyard into a drive in movie theater.
Or have a 1950's sock hop with everyone in their best 50s outfit doing "the twist" or "hand jive". Turn your house into a 1950's diner and serve 15 cent hamburgers and ice cream sundaes. Have your 1950's party in a decorated bowling alley or roller rink. A 50's rock & roll Party is the perfect way to get "a whole lot of shakn' going on!"
---
50s Party Invitations
To make your very own 1950s party invitations, begin with a 5 by 7 piece of paper and turn it into a diner menu with a checker border. On the inside use bright colors like teal, pink, and red with lots of rounded rectangular shapes. In the bottom right hand corner, draw or trace the outline of a jukebox with sound lines.
---
50s Party Supplies & Decorations
50's colours: Hot pink, Turquoise, Black and White
A real or inflatable Jukebox
Vinyl 9" plastic "45" records hanging from the ceiling
Old style red upholstered booths
Black and white tile floors
Old fashioned napkin holders or Themed napkins
Old fashion Ketchup bottles
Centerpiece use sundae glasses filled with carnations
Have some old toy cars like a Convertible pink Cadillac or 57' Chevy
Hanging musical note balloons
Hanging Brass instrument balloons
Hot pink and turquoise party streamers
Make a "Dolls" sign on the girls bathroom door and "Guys" on the boys
Guitar confetti
Confetti, Musical Notes
Rock & Roll party plates
1950's posters
Grease movie posters
Hanging inflatable guitars
---
50s Party Activities and Games

Bubble gum blowing contest

Hula hoop contest
Pin The Cherry On The Sundae
Limbo contest
Have a Drag Race by blowing hot wheels across a table with a straw
50's trivia
50's Karaoke
Air band or lip sync contest
Dance contest by doing the :
Splish-Splash

The Hop

The Twist

Hand Jive

Mashed Potato
---
50s Party Food and Drink

Burgers or hotdogs and fries served in white checked baskets
Have a Popcorn machine and make popcorn
Onion rings
Strawberry, Vanilla or Chocolate Ice cream sundaes
Milkshakes
Root beer floats
Coke in old Coke bottles
Lemonade
Ice Tea
Jelly Beans




By: Jaqleen Wee
(Singapore)
Burgers or hotdogs and fries served in white checked baskets
Have a Popcorn machine and make popcorn
Onion rings
Strawberry, Vanilla or Chocolate Ice cream sundaes
Milkshakes
Root beer floats
Coke in old Coke bottles
Lemonade
Ice Tea
Jelly Beans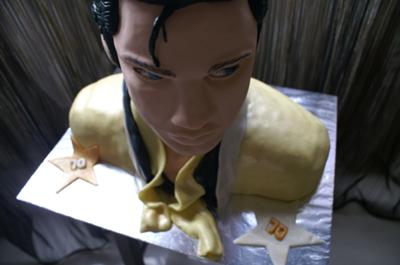 By: Jaqleen Wee
(Singapore)


---
1950s Costumes

Poodle skirt outfit
Bowling shirt
Cuffed jeans
White t-shirt with rolled sleeves
Scarves tie around the neck
Sunglasses
Rolled up jeans
Pink ladies jacket
Ponytail with a pink ribbon
Hair in tight ringlets
Black leather jacket
Hair slicked back
Button up blouses
Saddle shoes
Bobby socks
Beehive hairstyle
Popular costumes:
Marilyn Monroe
Elvis Presley
James Dean
Roy Orbison
Barbie & Ken
Johnny Cash
Characters from the movie "Grease"
---
Top 20 1950's Party Songs

Johnny B. Goode - Chuck Berry
Jailhouse Rock - Elvis Presley
Rock Around The Clock - Bill Haley & His Comets
Tutti-Frutti - Little Richard
Whole Lot of Shakin' Going On - Jerry Lee Lewis
What'd I Say - Ray Charles
Summertime Blues - Eddie Cochran
Hound Dog - Elvis Presley
Long Tall Sally - Little Richard
That'll Be The Day - Buddy Holly & the Crickets
Maybellene - Chuck Berry
Bo Diddley - Bo Diddley
Shake, Rattle And Roll - Joe Turner
Blue Suede Shoes - Carl Perkins
Don't Be Cruel - Elvis Presley
Bye Bye Love - Everly Brothers
Great Balls Of Fire - Jerry Lee Lewis
Earth Angel - Penguins
Why Do Fools Fall In Love - Frankie Lymon & the Teenagers
Good Golly Miss Molly - Little Richard
Some of my other personal favourites:
Peggy Sue - Buddy Holly, Blueberry Hill - Fats Domino, I Walk The Line - Johnny Cash, The Great Pretender - Platters, Heartbreak Hotel - Elvis Presley, Yakety Yak - Coasters, All Shook Up - Elvis Presley, Folsom Prison Blues - Johnny Cash, Susie Q - Dale Hawkins, Wake Up Little Susie - Everly Brothers, Shake, Rattle And Roll - Bill Haley & His Comets, Love Potion No. 9 - Clovers
---
50s Party Favors

Put favors in old fashion lunch boxes or record shaped candy bags
Rock & roll tattoos
Rock & roll stickers
Bazooka bubble gum
Candy necklaces
Liquorice
Inflatable Instruments
Slide whistles
Old fashioned hard candy sticks
Tootsie rolls
Pencils with musical notes on them
Bumper stickers
Key chains
Comb
Paddle balls
Jacks
Pick-up sticks
Finger traps

Hamburger shaped yo-yos
Ice cream cone bubble necklaces
Mini slinky
Atomic fireballs
Fuzzy dice
Silly putty
Jump ropes
Lip-gloss compact