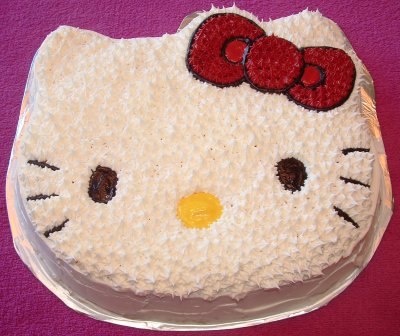 I am so excited about having a new niece. So to help encourage her to be born I made her mother a cake. I figured that this would be the ultimate birthday cake and also thought that her mother would enjoy eating the cake before she was born. I thought that it would be a cute idea.
I used the Hello Kitty Cake pan and a store bought cake mix. The cake cooked well, but needed a little extra time in the oven than was stated on the pan (so test with a toothpick).
It was a quick cake to ice if you use the right tips. The colors needed are black (whiskers, eyes, and outline of the bow), yellow (nose) and white for the rest of the Kitty. I used tip #789 to ice the outside of the cake. This tip made the icing of the outside so quick I would recommend this tip to anyone who ices cakes often. I used tip #3 for all my outlining and tip #16 for the bow. Another trick that is fantastic to smooth out the eyes, nose and part of the bow I mixed cornstarch with a bit of water and it instantly smoothes out the areas (push with your finger). I tried a new tip for the hair part of the hello kitty cake. I tried tip # 2010, it makes 3 star shapes at the same time. This really sped up the process. I thought the look was a little sloppier (I am used to the smaller star shapes), but looked more like the hair so it worked. For any gaps in the hair I filled in with tip #18 (the same size star shape as the tip #2010).
I think the cake looks just like Hello Kitty. I am hopeful that this Kitty cake will help encourage my new niece to arrive.