Disney Cars Party Ideas

Lightning McQueen and his crew pit are excited to join you at your Cars Party. All of your little friends will be so excited to see the new race in the new film that will take place throughout the world (destinations in Japan, Germany, Italy, France and the United Kingdom).


Disney Cars Party Supplies
Disney Cars 2 Party Supplies
To make homemade Cars Party Invitations, on cardstock paper cut out the shape of a car. Outline the card with a black marker (to keep it simple). Write something cute like, "Rev up your engines and race on over for ____'s # Cars Birthday Party". And add some shiny Car stickers.
Use the color theme red and blue
On your driveway, use sidewalk chalk and draw a road way leading to the front door. Write welcome to Radiator Spring and if you wish draw the buildings (Cozy Cone Motel, Sarge's Surplus and Flo's V-8 Café).
Make a large road way out of carpet to place in the middle of the party room
Make and hang large road signs throughout the party area
Decorate with checker flags
If outside, decorate with some old tires
Play the Cars Soundtrack to set the mood
---
Cars Party Games and Activities
Red Light - Green Light Have one guest yell "Red Light and Green Light! (stop and go) while the other party goers try to get to a certain destination without getting caught moving during a Red Light.



Tire Racing Get small hula hoops and spin them on their side to get through a race.



World Grand Prix Obstacle Course Have each guest having a car to push through the obstacle course. Go over and under bridges (use a cardboard box), go off roading (through the sand), around curves in the road (cones), and fly to other countries (tip toe through tires holding onto the car).



Tire bean bag toss Try to toss bean bags into an old tire



Tire swing Hang one from a tree (remember, safety first!)



Fly a cars kites



Tire Art Use either marbles or cars with different tire tracks. Put a piece of white art paper in a photocopy box lid. Put different colored paint on paper plates. Get paint on the marbles or car tired (drive them through the paint). Then drive the car across the paper, or roll marbles over the paper.



Watch the Disney Cars Movie





---
Disney Cars Birthday Party Food


Lightning McQueen
Shared by Lisa

Cars Cake
Shared by Trina




Mack Cake
By Chrissy Greig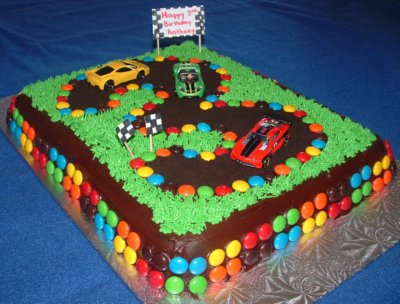 Race Track Cake
---
Cars Theme Party Favors
Cars Mini Doodle
Cars Punch Balloon
Cars Bouncy Ball
Cars Disk launcher
Race car pencil
Share Your Cars Party Ideas Here!

More Fun Boys Party Ideas and Themes

More Kids Party Ideas and Themes


Perfect Party Ideas Home | Birthday Party Ideas | Kids Party Ideas | Teen Party Ideas
Adult Party Ideas | Seasonal Party Theme Ideas | Party Games | Party Supplies
My Secret | Contact Us | Privacy Policy | Share Your Party Ideas | Party Blog | Site Map
Party Links | Cake Ideas