Disney Cars Party

| | |
| --- | --- |
| | Lightning McQueen and his pit crew are excited to join you at your cars party. All of your guests will be so excited to attend your race party that will take place throughout the world (destinations in Japan, Germany, Italy, France and the United Kingdom). You will be off to the races with these amazing car party ideas. |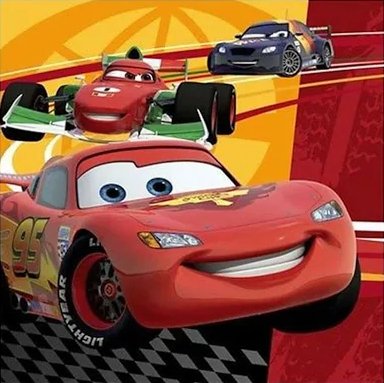 Lightning McQueen and his pit crew are excited to join you at your cars party. All of your guests will be so excited to attend your race party that will take place throughout the world (destinations in Japan, Germany, Italy, France and the United Kingdom). You will be off to the races with these amazing car party ideas.
---
Disney Cars Party Invitations
To make homemade Cars Party Invitations, on cardstock paper cut out the shape of a car. Outline the card with a black marker (to keep it simple). Write something cute like, "Rev up your engines and race on over for ____'s # Cars Birthday Party". And add some shiny Car stickers.
---
Disney Cars Party Supplies

Use the color theme red, white and blue
On your driveway, use sidewalk chalk and draw a roadway leading to the front door. Write welcome to Radiator Spring in bubble letters, draw the buildings (Cozy Cone Motel, Sarge's Surplus and Flo's V-8 Café). If you don't have a driveway you can still make the buildings with either presboard or large cardboard boxes. Paint them first with a primer, let that dry and then sketch on the design. Fill in your design with the proper paint colors. These will look amazing and can be used throughout your party.
Get a roadway carpet to use as a runner or play carpet. Place a basket of cars beside the carpet for guests to play with them. Line the carpet with orange pylons and have racing checkered flags sticking out the top.
Make and hang large road signs throughout the party area. Again these can be made out of scrap pieces of wood or cardboard.
Decorate with checkered flags. This could be in the form of banners, tablecloths or a backdrop for accent areas or a photo area.
Create a balloon archway. This would be great for your guests to be able to run through or as a display.
Side displays of helium balloons and car and tire mylar balloons to place around displays and hang from the ceiling.
If outside, decorate with some old tires
Cactus plants
Play the Cars Soundtrack to set the mood
---
Cars Party Games and Activities

Red Light - Green Light Have one guest yell "Red Light and Green Light! (stop and go) while the other party goers try to get to a certain destination without getting caught moving during a Red Light.
Ultimate Pool Noodle Race - cut a pool noodle in half with a good kitchen knife. Attach them together using duct tape that has a black and white racing gingham pattern. At the top have a start sign and at the bottom have a finish line. Race 2 cars at a time down the race track. 
Paint Shop - have a station to design and decorate a car. Use wooden cars that can either be colored with markers or paint. Your comfort level for the design elements.
Tire Racing - get small hula hoops and spin them on their side to get through a race.
World Grand Prix Obstacle Course - have each guest has a car to push or drive through the obstacle course. Go over and under bridges (use a large cardboard box to make your bridge), go off roading (through the sand), around curves in the road (cones), and fly to other countries (tiptoe through old tires, while holding the car high above your head).
Tire bean bag toss - try to toss bean bags into an old tire
Street Light ball toss  - make a ball toss with three holes and colors the holes red, yellow and green. Then try to toss the ball through the holes. Use soft balls.
Cone toss - using orange pylons try to toss the ring to land on a cone. Set them up like a triangle. 
Tire swing - hang one from a tree (remember, safety first!)
Ramone's Body Art - a tattoo station. Have a dish with sponges and numerous car tattoos. Double check with the guests parents if this is an activity that their child can participate in.
Fly a Kite - if there is wind it would be fun to fly a kite if you are in an area that it would be safely and easily done.
Car Wash Station - lots of bubbles in dishes and have an assortment of wands. Many kitchen items work for different wands.
Tire Art - use either marbles or cars with different tire tracks. Put a piece of white art paper in a photocopy box lid. Put different colored paint on paper plates. Get paint on the marbles or car tires (drive them through the paint). Then drive the car across the paper, or roll marbles over the paper.
Pin the Buck Teeth on Mater - play similar to pin the tail on the donkey. Use a soft scarf to cover your guests eyes and spin them the age of the guest of honor.
Outdoor or indoor Movie - watch the Disney Cars Movie or spin off show. Depending on the age level of your guests a short show might be easier. Create cars for your guests to sit in so it looks like a drive in theater. Each guest gets their own car. Make the cars out of clothes baskets or cardboard boxes. Don't forget to have a concession stand for treats.
Firework Bubble Display - a great send off to end the party. It would be so memorable and represent the celebration at the end of a race.
---
Disney Cars Party Food

---
Cars Party Favors

Make a traffic light goodie bag - black bag and hot glue the red, yellow and green dots down the front.
VIP pit pass lanyard
Bag of oreos
Toy car