Race Track Cake Pictures And
How To Make Instructions
"This was a really fun Race Track Cake for a third birthday!"

There are so many car cake designs and I wanted to make a special third birthday cake for my son. He loves cars, so I knew that I needed to make some type of car cake.
Race Track Birthday Cake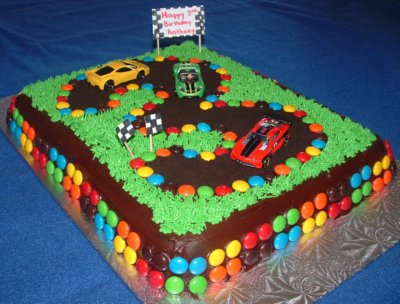 His favorites are Disney Cars - so there was an option of making a Lighning McQueen cake, but his cousin had this cake before. His other favorite is Roary - so that would be a Roary the Racing Car cake.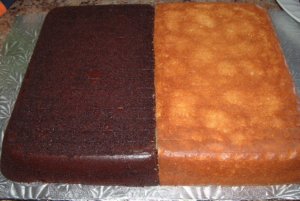 I decided to make this as simple as possible. I made a number three race track cake. I made both a yellow and a chocolate cake. I made these cakes in a small casserole dish. This made the cakes nice and thick.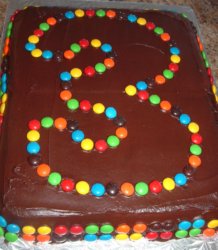 I cut a small bit off one side of the cakes so they would fit perfectly together. I also levelled the cakes so they would be exactly the same height.
I covered the cake with a layer of chocolate icing. I made a pattern of M&Ms around the outside of the cake and around the race track. For the road of the race track I put Oreo cookie crumbs. I used vanilla icing for the grass and dyed it green using the Wilton Leaf Green. For the grass I used Wilton tip #233. I then made the flags and banner with paper, marker and tooth picks. I finished off the cake by placing three new cars on the track.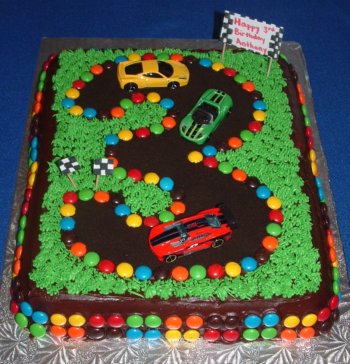 This third birthday cake was very special for my son. He just adored his race car cake!
Add Your Cake Here!
From Race Track Cake To More Fun Birthday Cakes,
Cupcakes and Other Fun Cake Ideas
Disney Cars Party Ideas
Roary The Racing Car Party Ideas
Perfect Party Ideas Home | Birthday Party Ideas | Kids Party Ideas | Teen Party Ideas
Adult Party Ideas | Seasonal Party Theme Ideas | Party Games | Party Supplies
My Secret | Contact Us | Privacy Policy | Share Your Party Ideas | Party Blog | Site Map
Party Links | Cake Ideas