Curious George Party Ideas

| | |
| --- | --- |
| | It is time to slide ride into your very own Curious George party. Just like Curious George and Huntley, you will be blown away by the thoughtful surprise set up by the Man in the Yellow Hat. With such a lovable, curious character…Curious George is just like so many adorable children and would be the best theme for a party. The event will be playful, delightful, and fun with these simple ideas and techniques, so have a fantastic time monkeying around at your Curious George themed party! |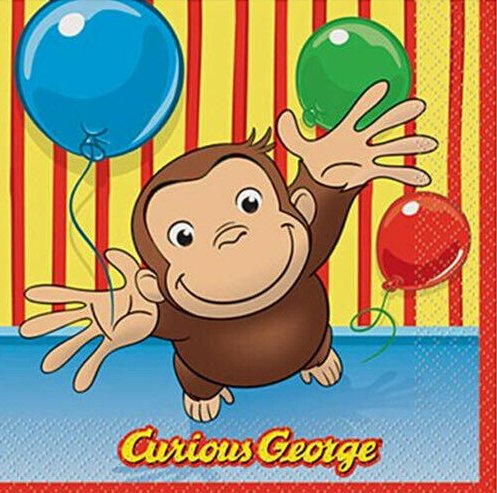 It is time to slide ride into your very own Curious George party. Just like Curious George and Huntley, you will be blown away by the thoughtful surprise set up by the Man in the Yellow Hat. With such a lovable, curious character…Curious George is just like so many adorable children and would be the best theme for a party. The event will be playful, delightful, and fun with these simple ideas and techniques, so have a fantastic time monkeying around at your Curious George themed party!
---
Curious George Party Invitations
On the fun Curious George party invitation idea, write out a cute phrase like, "come monkey around with ____ and his/her Curious George party".
Monkey head cutout - take a piece of brown 6 x 9 inch construction paper and draw out a monkey head. Make one large circle in the middle (for the head), two smaller circles, one on each side (for ears), and a little hair on top. Then, cut out an outline of the monkey face using light brown construction paper and write your party information inside.
---
Curious George Party Supplies

Use the color themes of yellow, blue, and red
Curious George table cover
Curious George centerpiece
Curious George birthday banner
Curious George wall decorations
Curious George Mylar balloons
A balloon arch with yellow, blue, and red balloons
Yellow party cups with a piece of black construction paper around the top that when turned upside down onto yellow plates, look like yellow hats. 
Curious George monkey mask or Curious George party hat

Have a Large yellow hat

Large cut out of Curious George
Display Curious George toys and stuffed animals
Set up Large palm trees, bananas, make a Jungle scene (if you can't get large cut outs for your wall, draw /paint them on large white butcher block paper. If you have a hard time drawing the image rent an over head projector and trace the image).
Use long bands of yellow material to decorate doors, windows, around the ceiling of your party room or outside tent
---
Curious George Party Games and Activities

Face Painting Hire a face painter to decorate the guests into their favorite animal
Paper Bag Monkey Easy simple craft. You need paper bags, pre-cut ears, face, nose, eyes, and tail. Let the guests glue the pieces in the right area.
Make a kite Let the guests make a kite. Need large paper, string (for the tail), and markers to color.
Fly a kite Hint – get a large scale kite and make sure it has a long heavy tail – it will fly better.
Curious Who Play a game of animal charades (pre-make cards with animal pictures)
Monkey See Monkey Do Play like Simon Says
Hot Banana Play like hot potato
Pin the Tail on the Monkey or Pin the Hat on the Man with the Yellow Hat
Musical Chairs Play with the music from the Curious George Soundtrack
Monkey in the Middle Have guests form a circle and put one of the monkeys in the middle – toss a ball and the monkey will try to catch it away from the people in the circle. If they get the ball the person that was supposed to catch the ball will become the monkey in the middle.
Ring Toss - have yellow pylons and throw black bands around them (it looks like the hat worn by The Man in the Yellow Hat)

Monkey Makeover Get large sheets of painting paper from a large store (e.g., Ikea) and let the guests go crazy painting. Remember in the movie how George paints on the wall of Ms. Plushbottom's and how great it looks. If you are really brave you could let them do one wall in your playroom. What a great memory piece from your child's birthday.
Watch the birthday episode from season 14, episode 14 where Curious George gets a surprise party on a train.
---
Curious George Books

Curious George
Curious George Takes a Job
Curious George Rides a Bike
Curious George Gets a Medal
Curious George Flies a Kite
Curious George Learns the Alphabet
Curious George Goes to the Hospital
Curious George Visits the Library
+ so many more New Adventures
---
Curious George Movies

Curious George – The Movie
Curious George 2 – Follow that Monkey
Curious George Makes New Friends
Curious George – A Very Monkey Christmas
---
Curious George Party Food

Banana punch (or your child's favorite flavor)
Banana split

!

Set up a table filled with different flavored ice-cream, bananas, strawberries, blueberries, chocolate chips, gummies, sprinkles, hot fudge, etc.
Curious George Cake. Use a monkey cake pan and decorate it to look like Curious George 
Train Cake - this is fun for someone who loves trains as much as Curious George
Curious George Cupcakes. Make a tier filled with cupcakes – make them in Curious George cups and get Curious George toppers
Cookies - have cookies shaped like monkeys and balloons that match the party color scheme



Banana punch (or your child's favorite flavor)
Banana split

!

Set up a table filled with different flavored ice-cream, bananas, strawberries, blueberries, chocolate chips, gummies, sprinkles, hot fudge, etc.
Curious George Cake. Use a monkey cake pan and decorate it to look like Curious George 
Train Cake - this is fun for someone who loves trains as much as Curious George
Curious George Cupcakes. Make a tier filled with cupcakes – make them in Curious George cups and get Curious George toppers
Cookies - have cookies shaped like monkeys and balloons that match the party color scheme
---
Curious George Party Favors

Kite
Stuffed monkey
Barrel of monkeys
Safari hat or yellow hat
Curious George stickers and tattoos
Bubbles