Diabetic Strawberry Shortcake
Diabetic Strawberry Shortcake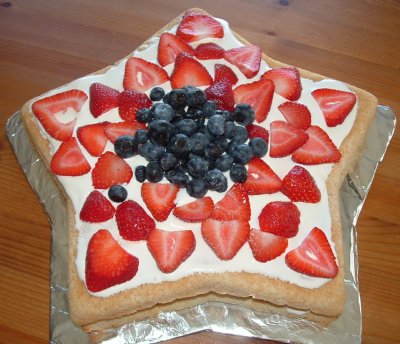 I was looking for a different strawberry shortcake recipe for a diabetic friend and I found many great recipes at the
Mayo Clinic.
Here is a Strawberry Shortcake Recipe:
Ingredients
1 3/4 cups all-purpose (plain) flour, sifted
2 1/2 teaspoons double-acting baking powder
1/2 teaspoon salt
1 tablespoon sugar
2 tablespoons trans-free margarine
3/4 cup fat-free milk
For the topping
6 cups fresh strawberries, hulled and sliced
3/4 cup (6 ounces) plain fat-free yogurt
Directions
Preheat the oven to 450 F. Lightly coat a baking sheet with cooking spray.
In a large mixing bowl, add the flour, baking powder, salt and sugar. Using a fork, cut the margarine into the dry ingredients until the mixture resembles coarse crumbs. Add the milk and stir just until a moist dough forms.
Turn the dough onto a generously floured work surface and, with floured hands, knead gently 6 to 8 times until the dough is smooth and manageable. Using a rolling pin, roll the dough into a rectangle 1/4-inch thick. Cut into 6 squares. Place the squares onto the prepared baking pan and bake until golden, 10 to 12 minutes.
Transfer the biscuits onto individual plates. Top each with 1 cup strawberries and 2 tablespoons yogurt. Serve immediately.
I took this recipe and placed it into the star pan to create a Patriotic cake. I split the cake (cut with a serrated knife) to make two layers. In the middle the recipe above calls for a non-fat plain yogurt, but I used a 95% non-fat whip cream. I then washed and cut fresh strawberries in half to create the height. Then I placed the second part of the cake on top. I put a small layer of the whip cream (just enough to hold the fruit). Around the outside of the cake I placed sliced strawberries and in the center I filled it with fresh blueberries. This made a very interesting layered patriotic cake.
Diabetic Strawberry Shortcake
Add Your Cake Here!
From Diabetic Strawberry Shortcake to More Fun Birthday Cakes,
Cupcakes and Other Fun Cake Ideas
Strawberry Shortcake Party Ideas
Teen Party Ideas
Adult Party Ideas |
Perfect Party Supplies
Discount Newsletter |
Share Your Party Ideas
Party Blog |
Site Map |