July 4th Cake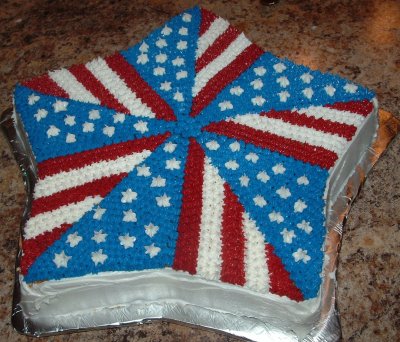 July 4th Cake
This is a fantastic cake for the patriotic at heart. This year for Independence Day, I made a star cake with the flag symbolism for the design. Although it looks great it was a bit of a challenge to get all the lines straight, so I thought I would share some of what I learned while making this patriotic cake.
I use a star shaped cake pan and baked a regular yellow cake. I let the cake cool for about 10 minutes and then I placed it onto a cooling rack. Once the cake was cooled I placed it into my fridge for a couple of hours, making it really cold. Then, I brushed off any loose crumbs, flipped the cake over (face down) and cut the bottom / top so the cake is nice and level. I placed the cake onto a star shaped serving bottom and re-brushed the cake. Now I was ready to ice the July 4th cake.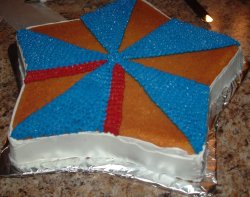 First, I iced the sides with white vanilla icing. I piped the icing on the cake and then with a spatula I smoothed the icing. This way it looked nice and had a uniform look to the icing consistency. The top was the tricky part. The whole top of the cake was iced using the star tip #16. I started with the blue color. My hint was to line up the cake so I was always making a straight line towards me.
If I were to make this cake again I would probably make a straight line with a #3 tip and then follow with the stars. So, I first lined with the blue stars (royal blue dye) and then I filled in all the blue triangles. Next, I rotated with the red and white stripes. I made lines of the stars, so they would be the same width. I made 3 rows of red (mixed red and burgundy dye) and then three rows of white and continued this pattern. Finally I used a large star (#47) to make the white stars on the top of the blue.
I was impressed with how this cake turned out. It was a fantastic way to combine a patriotic cake, with a flag cake, and a star cake. What a great way to celebrate with this creation of an American cake for our July 4th party!

Star Cake Pan
Add Your Cake Here!
From July 4th Cake to More Fun Birthday Cakes,
Cupcakes and Other Fun Cake Ideas
July 4th Party Ideas
Teen Party Ideas
Adult Party Ideas |
Perfect Party Supplies
Discount Newsletter |
Share Your Party Ideas
Party Blog |
Site Map |