Dinosaur Party

| | |
| --- | --- |
| | This is going to be a 'dino'mite dinosaur party. What child does not love dinosaurs and using their imaginations? A dinosaur birthday party will excite all their imaginations and possibly increase their love towards their future aspiration of becoming a palaeontologist. |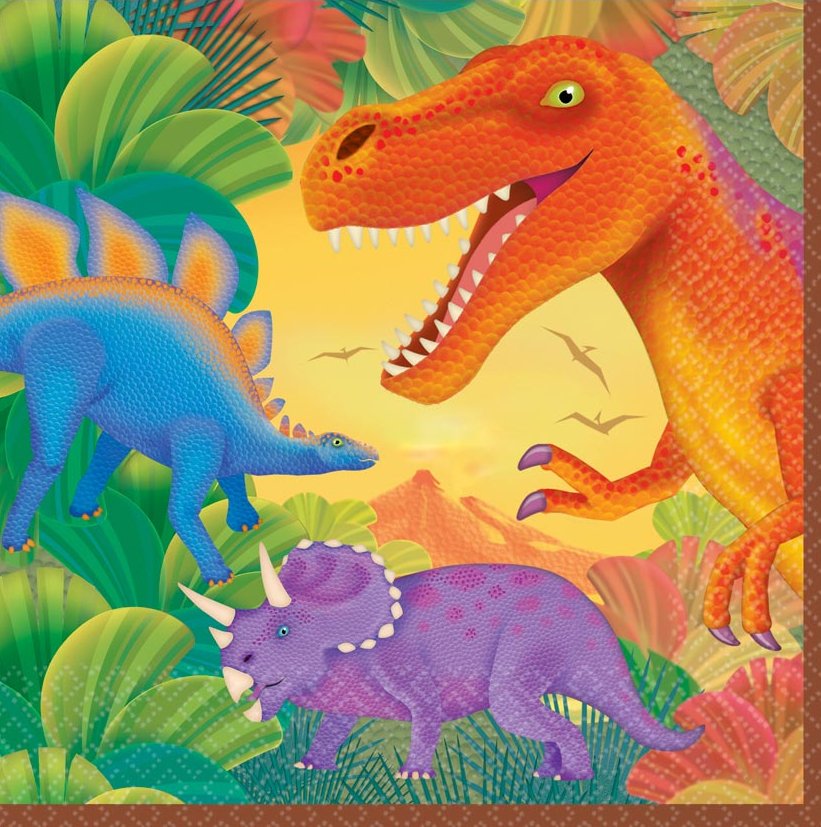 This is going to be a 'dino'mite dinosaur party. What child does not love dinosaurs and using their imaginations? A dinosaur birthday party will excite all their imaginations and possibly increase their love towards their future aspiration of becoming a palaeontologist.
---
Dinosaur Party Invitations
Make your own dinosaur party invitations by creating an egg card and write:
"Come to a prehistoric bash and
party with the dinosaurs!"
On the inside, paste a picture of a dinosaur with the birthday information. You can use all different dinosaurs and on the other side of the card you can write out some information about the particular type of dinosaur.
Dinosaur Party Supplies and Decorations
Use the color theme greens, browns and blue
Hang twinkle lights in the sky that will look like stars and fireflies
Hang blue cellophane across the ceiling to make the sky
Twist brown butcher block paper to create tree trunks and branches (3D coming out of your wall) and use construction paper (with tissue paper and glitter glue) to create branches. You can also add some real large potted trees.
Hang some large cut out dinosaurs
Use a large appliance box and paint to look like a cave then put a gray blanket and pillows inside for comfort
Have binoculars and hats for the guests
---
Dinosaur Party Games and Activities
Dino Dig - Search and sift through the sand to find dinosaur bones. Use a sandbox or plastic pool and use sifters, and brushes to brush off the dirt. Also have magnifying glasses to look at the found bones.
Volcanic eruption - Make a volcano and have it explode! Use baking soda and vinegar to make the eruption. Supervision required so the eruption isn't too large.
Egg Excitement - Play a relay race. 2 plus players per team. Run with a dino egg (water balloon) on a spoon. If you drop your egg you need to start again.  The first team to get 4 eggs to safety wins the race.
Dino Foot Race - Pretend you are a dinosaur and have to race to safety. Have the racers wear dinosaur feet. There are different things you can wear for dinosaur feet… you can purchase dinosaur feet, another option would be to wear swimming flippers or make kleenex boxes into dinosaur feet. All options would make this a silly fun race.
Hopscotch - Make the hopscotch course with the shape of large dinosaur feet. Pre-cut the feet and spray paint them to look like dinosaur feet (use brown and gray) or you can draw them with sidewalk chalk on your driveway or sidewalk. Toss a rock or beanbag to see where to hop to. Hop along and pick up your tossed item and then hop back to the start.
Rock Painting - Find some local rocks and guests can paint them as a take home activity. You need to make sure the rocks are cleaned and completely dry before painting. Then you want to paint with a thin acrylic paint. If the rocks are going to stay inside you can be completed with the project and guests can take them home that very day. If the rocks are going to be outside in the elements you need to seal the rocks with a clean resin. This resin might be different depending on your natural outdoor elements. It will often need to dry for up to a week. This would then be fun to drop off at your guests homes along with a thank you note.
Dinosaur Painting - Your guests can try out their painting skills on either a stretched canvas with a dinosaur picture already on it, or painting a dinosaur sculpture. Both would be fun and would be able to go home with your guests.
Triceratoss or Dinosaur Ring Toss - Create a ring toss using the face of a triceratops. Toss the ring onto one of the dinosaur's three horns. 
T-Rex Toss - Feed the T-rex by tossing as many bean bags as you can into its mouth.
---
Dinosaur Theme Party Food

Display food in green glass bowls and have artificial vines wrapping around the bowls
Fruit punch
Volcanic eruption - chilly
Herbivores charcuterie board of veggies fruit and dips
Dinosaur eggs - red and green grapes
T-Rex Teeth - bugles
Dinosaur bones - white chocolate covered pretzels
Stegosaurus Spikes - triangle shaped watermelon
Dinosaur shaped chicken nuggets and French fries
Sugar cookies with dinosaur footprints imprinted into the cookies
Chocolate pudding and dino gummy worms
Iced Aged Ice-cream bar
Dino Eggs - timbits
Dinosaur shaped cake (use a flat rectangular cake pan and cut out the shape of a dinosaur – where you cut off can add on to make the neck and head)




 
Display food in green glass bowls and have artificial vines wrapping around the bowls
Fruit punch
Volcanic eruption - chilly
Herbivores charcuterie board of veggies fruit and dips
Dinosaur eggs - red and green grapes
T-Rex Teeth - bugles
Dinosaur bones - white chocolate covered pretzels
Stegosaurus Spikes - triangle shaped watermelon
Dinosaur shaped chicken nuggets and French fries
Sugar cookies with dinosaur footprints imprinted into the cookies
Chocolate pudding and dino gummy worms
Iced Aged Ice-cream bar
Dino Eggs - timbits
Dinosaur shaped cake (use a flat rectangular cake pan and cut out the shape of a dinosaur – where you cut off can add on to make the neck and head)
---
Dinosaur Birthday Party Favors

Put party favors in plastic Easter eggs. Spray paint them to look like dinosaur eggs (speckle them). Then you can use clear plastic loot bags. You can fill these with small items like plastic dinosaurs, dinosaur tattoos and dinosaur stickers
Have an adopt a dinosaur area - select a dinosaur toy to take home to adopt
Dinosaur book
Dinosaur tooth necklace