Dinosaur Cake

This is such an adorable Dinosaur Cake idea! I think that this design would work great for a Dinosaur birthday cake, a Toy Story cake (make the green a little darker) and also would work for a Barney cake (just tint the icing purple).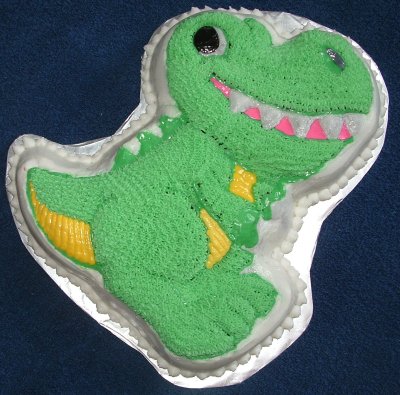 To make the cake I mixed up a chocolate cake mix and baked it in the Wilton dinosaur cake pan. When it was cooked I let the cake cool for about ten minutes then I cut off the bottom, to make the cake level (do this when the cake is in the pan to help prevent cracking). I then let the cake cool a couple of more minutes and then I flipped it onto a cooling rack and let it completely cool.
I mixed up Butter Cream Icing from the Wilton recipe:
1 cup of white vegetable shortening (I used Crisco)
1 teaspoon Wilton Flavor Vanilla (get the clear vanilla so the icing will be white)
8 teaspoons of water
4 cups of icing sugar
1 tablespoon of Meringue powder (I used Wilton)
Mix shortening (cream it), vanilla and water; then add the dry ingredients.
I mixed my colors (green, yellow, pink, and black). I first iced the outside of the cake using the tip #789. By using this tip I avoid getting crumbs into my icing. For the top of the cake I used tip #3, 5 and 7 for the outlines, nose, stomach, tail, teeth, eyes, and spikes. Then I used tip #16 for all the green scales. If you wanted this to go faster you could use the tip #18 it is a larger size that will make the star shape, but I thought that I wanted smaller stars for the small scales on the skin of the dinosaur cake.
I was very happy with the way that the cake turned out. I was most impressed that by using the tip#789 you could not see the chocolate cake through the white icing. I never knew that a dinosaur could taste so yummy!
From Dinosaur Cake To More Fun Birthday Cakes,
Cupcakes and Other Fun Cake Ideas
Dinosaur Party Ideas
Barney Party Ideas
Toy Story Party Ideas
Teen Party Ideas
Adult Party Ideas |
Perfect Party Supplies
Discount Newsletter |
Share Your Party Ideas
Party Blog |
Site Map |