Disco Party Ideas

| | |
| --- | --- |
| | Planning a 70's disco party? Why not become John Travolta from Saturday Night Fever, or maybe Austin Powers? Turn your house into a retro-fitted dance party from the 1970's. Have guests come dressed in their favorite disco attire, and award prizes to promote creativity. |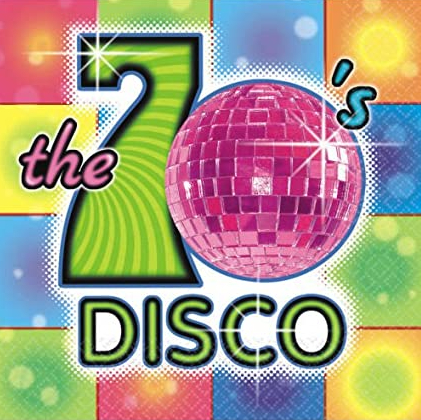 Planning a 70's disco party? Why not become John Travolta from Saturday Night Fever, or maybe Austin Powers? Turn your house into a retro-fitted dance party from the 1970's. Have guests come dressed in their favorite disco attire, and award prizes to promote creativity.
---
Disco Party Invitations
Make invitations with funky lettering saying something like "Disco made me do it" or "Get your groove on and disco your night way".
---
Disco Party Decorations
Have a dance contest and show off your best disco moves like the Hustle or the Bump. Decorate with all classic Disco decorations. Here are some of our Disco party ideas to help you and your guests boogie the night away!
Smiley faces hung up on the door, windows or walls
Flowers like Daisies etc.
Have some 8-track tapes out for people to look at and talk about
Beaded curtain to enter the party room
Hang a Disco Ball. You can make a homemade disco ball made from a beach ball covered with reflective stickers. Or make a disco ball from a paper lantern that you can hot glue gun pieces of cut up cds on the outside. It will glitter really well when hanging.
Happy face yellow balloons
Black lights
Lava lamps
70s fragrance scented candles or incense
Use the Peace sign wherever you can
Create a painted board for guests for photos with cut out face holes
Hang LP records or 1970's cd's from the ceiling with fishing line or ribbon
Fiber optic lamp
Have a pet rock
Use some Strobe lights
Try to have a lighted dance floor. Very cool if you can!
Bean bag chairs
Have a good sound system! Rent one if necessary with good bass.
Make rubix cubes out of cardboard boxes. Tape together and paint in the squares. Paint the squares to match your color scheme.
Make a cardboard painted music tape, boombox, and pacman characters.
Hang a balloon arch that can be used in a photobooth. 
---
Disco Party Attire

Polyester or weathered bell bottoms
Polyester leisure suits
Velvet
Big gold chains
Polyester wrap dresses
Tie-dyed shirts
Bandanas or head wrap
Metallic leis
Disco Vests
Fluorescent coloured clothing(great for black light party)
Big Collared shirt
Fake mustache or Super Afro
Platform shoes
Roller skates
Corduroy
Big belt buckle and belt
Oversized silver hoop earrings
Disco Go-Go Boots
Blue eyeshadow and shimmery light pink or red gloss lipstick
Mini dress or skirt
Tank top
Leotards
Sweatbands
Knee-high socks
Tight-fitting button down shirt in a loud color with super-peaked lapel
Sunglasses - disco shades
Felt Hippie Hat
Psychedelic fedora hats
Disco ball earrings
Love beads jewelry
Fringe vest
Use a crimping iron on your hair
---
Disco Party Music

No Disco Party would be complete without the music. Here is a list of favorite disco music from the 1970's Disco Fever era:
You're the One That I Want (John Travolta and Olivia Newton-John Or anything from the Grease Soundtrack)
American Pie - Don McLean
Respect - Aretha Franklin
Imagine - John Lennon
Dust In The Wind - Kansas
Dream On - Aerosmith
Hotel California - The Eagles
Piano Man - Billy Joel
I Will Survive - Gloria Gaynor
Stairway to Heaven - Led Zeppelin
American Woman - The Guess Who
Satisfaction - Rolling Stones
Benny and the Jets - Elton John
Crocodile Rock - Elton John
Tiny Dancer - Elton John
Hollywood Nights - Bob Seger
YMCA - Village People
Ring My Bell - Anita Ward
Sweet Home Alabama - Lynyrd Skynyrd
Bad, Bad Leroy Brown - Jim Croce
Play That Funky Music - Wild Cherry
Night Fever - Bee Gees
Stayin' Alive - Bee Gees
Runnin' With the Devil - Van Halen
My Sharona - The Knack
Killing Me Softly - Roberta Flack
Dancing Queen - Abba
ABC - Jackson Five
Bohemian Rhapsody - Queen
Tonight's the Night - Rod Stewart
---
Disco Party Activities and Games

Play Charades with 1970s TV characters like:
The Brady Bunch
Partridge Family
Gilligan's Island
I Dream a Jeanie
Bewitched
Dukes of Hazzard
Charlie's Angels
Make it a movie night and watch 70s movies all night like:
Saturday Night Fever
Star Wars
Jaws
One Flew Over the Cuckoo's Nest
Original Charlie's Angels
Godfather
Alien
Rocky
Grease
Have and use a Ouija Board for the brave at heart
Have a Dress up or costume contest
Lip sync/Karaoke Contest
Yo-Yo contest
Limbo contest - how low can you go

?

Get a long dowel from a hardware store, paint it up and you are ready to go.
Make your own microphone
Have a photobooth - have lots of props for your guests of glasses, handheld hair and hat masks, records, big funky boots, and some cool clothing
Go rollarskating
---
Disco Party Food and Drink

Serve whatever you would normally serve at your parties but if you want include the following:
Cheese fondue as an appetizer and chocolate fondue for dessert
Flavored popcorn
Sugar cookies that look like records
Disco ball cake pops
Smiley face cake
Hippie car cake
For Alcoholic drinks serve:
Tequila Sunrise
Tom Collins
Southern Comfort and 7-Up
Low gin fizz
Tang
7-up
Dr. Pepper
Coke or Pepsi
Punch
Snapple
---
Disco Party Favors
Happy face keychain
Glitter glue
Tiny fake gems or craft beads for homemade jewelry
Peace and happy face stickers
Glow jewelry
Mood rings or necklace
---
Related Party Idea