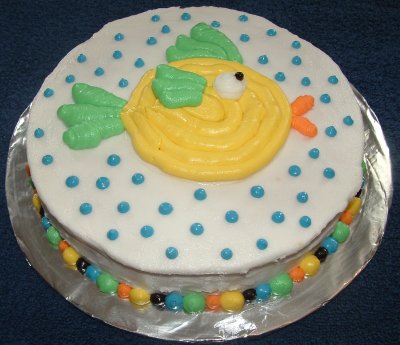 I made this fish cake for a fun, beside the pool afternoon. We had a new floating pool fish which was my inspiration for the cake.

I made 2 yellow round 8 inch cakes. I leveled the cakes with a cake leveler. Then I filled the cake with a chocolate pudding fill. To do this I first outlined the circle shape with my white icing using tip number 12, then I filled in the middle of that circle with the chocolate pudding mix. The icing helps to hold in the chocolate fill. I then placed the cake onto the cake spinner for icing (always first put your cake onto a cake board – if you don't have one trace your pan onto cardboard and line with tinfoil).

I iced the cake with a thick white icing and then I let it sit until the cake's icing went a little stiff. Once you feel the difference I smoothed the cake using parchment paper and a spatula (so the spatula does not touch the cake). I then drew the drawing of the fish with piping gel (clear and tasteless). I used tip 12 to make the fish. Move your piping bag slowly to make the fish puffy. I also used tip 12 to make the fins, tail, mouth and eye. Then I used tip 5 to make the eye dot. To finish off the cake and make it look fun I used a mixture of colors and sizes of tip (between size 3 – 12) to make the dots around the outside of the cake. Once this was complete I made a mixture of warm water and cornstarch and dipped my finger in the mixture and patted down each ball around the outside to make it smooth.

This was a fun fill afternoon by the pool. There is nothing better in the summer than relaxing poolside and enjoying a delicious piece of fish cake.