Nemo Cake
Finding Nemo Birthday Cake
Nemo Cake ... Yummy! by Andrea (Ilderton)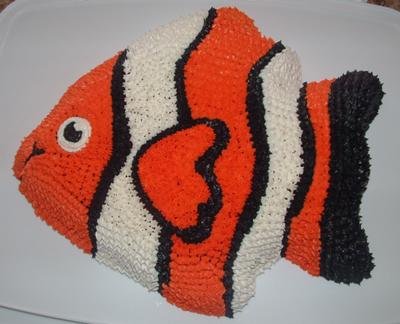 For my son Anthony's 2nd birthday party we hosted a Nemo Party. For the party I made a Nemo Birthday Cake. I used a Nemo birthday cake pan and made a chocolate cake. The Wilton Cake Pan left indents for where I needed to fill in the different types and colours of icing (black, orange and white). I used the Wilton icing tip #3 to make Nemo's eye, and the Wilton icing tip #16 to make the rest of the Nemo birthday cake. The cake looked just like him! The only thing that I would change for next time would be to make the end of the tail orange because it was a lot of black icing which did turn the kid's teeth a little purple for part of the party (oops). The Finding Nemo birthday cake tasted and looked fantastic!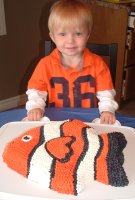 Submit Your Cake Pictures Here
Have you ever had a cool cake at one of your parties? Show it off and share it here!

By submitting your cake and story, you grant PerfectPartyIdeas.com permission to alter, republish and create derivatives in any media whatsoever.

** Sometimes because of awesome cameras, the photos are too large to submit here. Oops!! If you are having trouble downloading your cake photo, please send it to perfectpartyideas@gmail.com. We would love to see it!!

From Nemo Cake To More Fun Birthday Cakes,
Cupcakes and Other Fun Cake Ideas
Click Here From Finding Nemo Party Ideas!
Teen Party Ideas
Adult Party Ideas |
Perfect Party Supplies
Discount Newsletter |
Share Your Party Ideas
Party Blog |
Site Map |